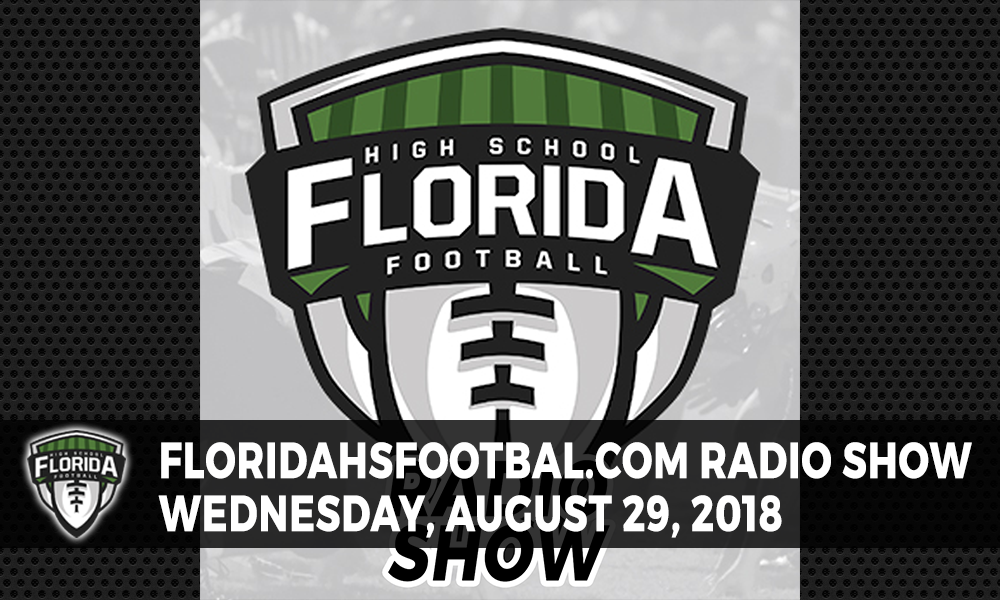 [spreaker type=player resource="show_id=3078575″ width="100%" height="200px" theme="light" playlist="false" playlist-continuous="false" autoplay="true" live-autoplay="true" chapters-image="true" episode-image-position="right" hide-logo="false" hide-likes="false" hide-comments="false" hide-sharing="false" ]
The FloridaHSFootball.com Radio Show enters Week 2 with host Joshua Wilson setting the table for this week's slate of high school football games from 8 p.m. until 10 p.m. Eastern.
Listen to last week's show to hear what you missed and then come back here tonight to listen to the show LIVE!
NOTE: When the show goes "LIVE" the player above will automatically tune into the show live. You can also down the Spreaker app on your Android or iOS device and listen to the show live that way, plus you can chat with us on the show through the app. Just search for FloridaHSFootball.com in the Spreaker app.
Here is tonight's rundown:
Segment 1: Top 25 Scoreboard from last week, Riddell Player of the Week announcements.
Segment 2: Jeff Martin from XOS Digital, one of the leading recruiting services in the nation, is a part of the Freedom Bowl taking place this weekend up in Georgia where six teams from the Sunshine State will go up against some of the top teams in the Nation. He joins us to talk about the matchups and how the Freedom Bowl came about around 8:20 p.m. ET.
Segment 3: Jeff Fisher from High School Football American joins us to talk about his HSFA 100 National Rankings and how it is different than other national rankings across the country. He joins us around 8:40 p.m. ET.
Segments 4: Coach Rich Bedesem has been a successful head coach in the Orlando-area, but the program he has really put on the map is the Wekiva Mustangs in Apopka, leading them to their deepest playoff run last season. This season so far the Mustangs are already 1-0 but face their toughest test in school history on Saturday when they travel to Georgia to face North Gwinnett High in the Freedom Bowl. Coach Bedesem joins us at around 9:00 p.m. ET.
Segment 5: With a large number of teams located in Central Florida, there is no better person to turn to talk about the ins and outs of the Central Florida high school football scene than J.C. Carnahan of the Orlando Sentinel. He will join us at 9:20 p.m. ET.
Segment 6: Games of the Week discussion, other news items to mention.