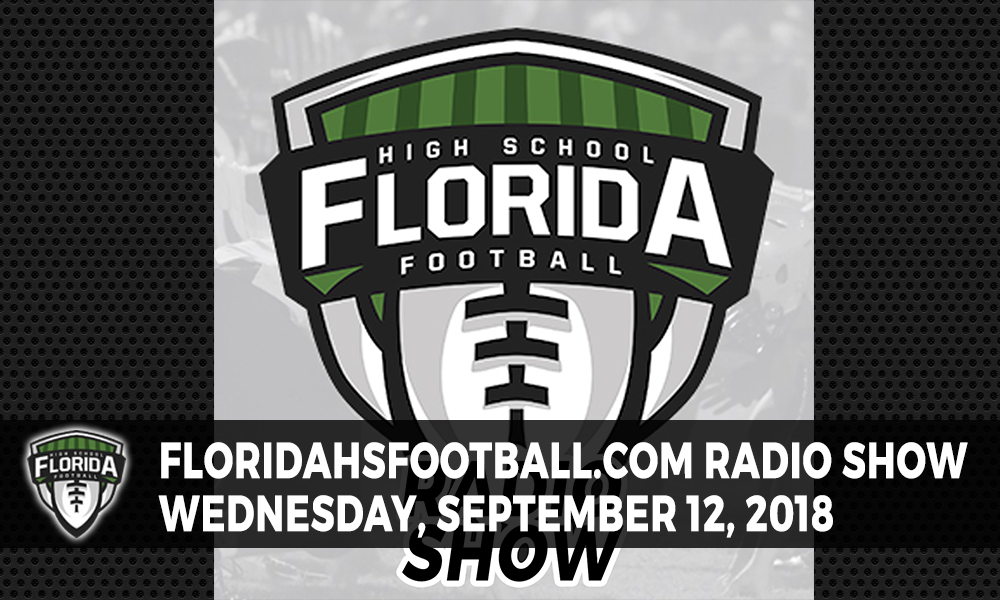 [spreaker type=player resource="show_id=3078575″ width="100%" height="200px" theme="light" playlist="false" playlist-continuous="false" autoplay="true" live-autoplay="true" chapters-image="true" episode-image-position="right" hide-logo="false" hide-likes="false" hide-comments="false" hide-sharing="false" ]
The FloridaHSFootball.com Radio Show enters Week 2 with host Joshua Wilson setting the table for this week's slate of high school football games from 8 p.m. until 10 p.m. Eastern.
Listen to last week's show to hear what you missed and then come back here tonight to listen to the show LIVE!
NOTE: When the show goes "LIVE" the player above will automatically tune into the show live. You can also down the Spreaker app on your Android or iOS device and listen to the show live that way, plus you can chat with us on the show through the app. Just search for FloridaHSFootball.com in the Spreaker app.
Here is tonight's rundown:
Segment 1: Top 25 Scoreboard from last week, Riddell Player of the Week announcements.
Segment 2: Alan Zlotorzynski from Space Coast Daily stops by to talk football along the Space Coast and his broadcasts that his crew is doing with the Friday Night Locker Room. He joins us around 8:20 p.m. ET
Segment 3: Jon Santucci from the TC Palm drops in to talk about the ins and out of football along the Treasure Coast area. He joins us around 8:40 p.m. ET
Segments 4: Adam Fisher from the Naples Daily News joins us to talk more about Southwest Florida football, especially Collier County with some of the surprising starts some teams have had down there. He joins us around 9:05 p.m. ET
Segment 5: Brandon Odoi is doing big things with his website Football Hotbed and his hosting his own show on Fox Sports Florida. He joins us around 9:25 p.m. to talk about his show and some South Florida football.
Segment 6: Games of the Week discussion, other news items to mention.