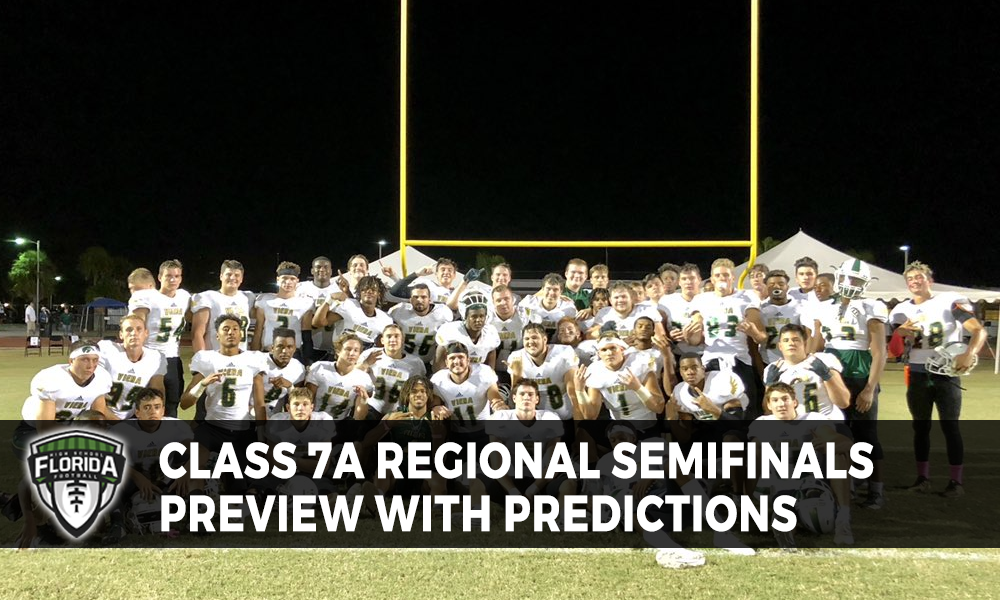 Nothing outside of the expected happened in Class 7A last week in terms of who should have won outside the Bloomingdale-Riverview matchup, leading to some great regional semifinal matchups for this week.
All games are scheduled for Friday, November 16 with a 7:30 p.m. ET kickoff unless noted
THE ONE TO WATCH
REGION 1
No. 5 Robert E. Lee (9-1) at No. 1 Columbia (10-1)
Tiger Stadium, Lake City
A District 7A-2 rematch from Week 4 which saw Columbia defeated Lee at home, 42-37… this is the only the second playoff meeting between Columbia and Lee, Lee winning the last one in 2016 by a score of 43-7 …  Last week the visiting Generals defeated No. 4 seed Hagerty, 48-7 … The host Tigers defeated No. 8 seed Fletcher, 38-10 … For Lee, keep an eye on quarterback Cameron Sapp who scored four total touchdowns (three passing, one rushing) last week … With Columbia, the name to know and watch is quarterback Jordan Smith who scored five total touchdowns (four passing, one rushing) on 26-of-48 passes for 449 yards while adding 95 yards rushing … In the last playoff meeting between the two schools in 2016, Derrick Jones and Cameron Wakefield were the forces behind stopping Columbia, according to Florida high school football historian, Richard Burton.
Prediction: Columbia 38, Lee 31
POLL: Who wins Friday night?

CLASS 7A-REGION 1 SEMIFINAL
No. 5 Robert E. Lee (9-1) at No. 1 Columbia (10-1)@JaxLeeAthletics @TigerTownCHS @sports_CHSLC

— FloridaHSFootball.com (@FlaHSFootball) November 14, 2018
THE REST OF THE SLATE
REGION 1
No. 7 Edgewater (10-1) at No. 3 Lincoln (7-4)
Gene Cox Stadium, Tallahassee
This will be the second playoff meeting between the two schools … Lincoln won the first meeting back in 1999 by a score of 47-0 … Last week, Edgewater went on the road and stunned No. 2 seed Buchholz, 65-31 … Lincoln squeaked by Oakleaf, 38-31, in a triple overtime game … For the visiting Eagles, quarterback Robert Harvey will be one to watch as he accounted for five touchdowns (three passing, one rushing, one receiving) in last week's win … The host Trojans will rely on the strengths of quarterback Chris Beard who accounted for three touchdowns in the thrilling win last week. Prediction: Edgewater 35, Lincoln 20
POLL: Who wins Friday night?

CLASS 7A-REGION 1 SEMIFINAL
No. 7 Edgewater (10-1) at No. 3 Lincoln (7-4) at Gene Cox@EdgewaterFBall @GoEHSEagles @Linc_TrojansFB @LHSTrojanNation @CoachQGray @BSmooth48

— FloridaHSFootball.com (@FlaHSFootball) November 14, 2018
REGION 2
No. 5 Kathleen (6-4) at No. 1 Lakeland (11-0)
Bryant Stadium, Lakeland
This is District 7A-7 rematch from Week 10 … Lakeland won that matchup for the district championship in a very convincing 50-0 shutout … Kathleen last week relied on a lot defense as they defeated No. 4 seed Harmony, 13-6 … Lakeland easily took down No. 8 seed Wiregrass Ranch last week, 43-7 … the visiting Red Devils will try to rely on its rushing unit led by Torean Sealey who scored one of the touchdowns last week. The rushing unit had over 300 yards last week … for the host Dreadnaughts, Demarkucs Bowman's legs will be part of the speed package as he rushed for over 153 yards and three touchdowns on just four carries last week. Prediction: Lakeland 45, Kathleen 10
POLL: Who wins Friday night?

CLASS 7A-REGION 2 SEMIFINAL
No. 5 Kathleen (6-4) at No. 1 Lakeland (11-0)@KHS_Football @LHSDreadnaughts

— FloridaHSFootball.com (@FlaHSFootball) November 14, 2018
No. 3 Plant (10-1) at No. 2 Viera (8-3)
Hawks Stadium, Viera
This is the third consecutive playoff meeting between Plant and Viera … Plant leads the playoff series 2-0 … Last week the visiting Panthers escaped past No. 6 seed Gaither, 36-16 … the host Hawks ran past No. 7 seed Sickles, 39-0 … For Plant, the duo of quarterback Tucker Gleason and running back Walter Wilborn III will be the biggest weapons. Both combined for over 230 yards of offense and four touchdowns in last week's win … Viera will rely on one of the deepest playmakers they have had in Bryce Norton who is one of the top quarterbacks in Class 7A. Prediction: Plant 35, Viera 31
POLL: Who wins Friday night?

CLASS 7A-REGION 2 SEMIFINAL
No. 3 Plant (10-1) at No. 2 Viera (8-3)@PlantFootball @PlantHighSchool @bopuckett @VieraHawks @VHSHawkAthetics @chowan6464 @RichardZacke

— FloridaHSFootball.com (@FlaHSFootball) November 14, 2018
REGION 3
No. 5 Braden River (9-2) at No. 1 Venice (10-1)
Powell Davis Stadium, Venice
For the fourth consecutive year in a row these district rivals will meet once again in the playoffs … Venice defeated Braden River back in Week 6, 24-21 which led to the District 7A-11 championship … Braden River took down a tough No. 4 seed in Plant City, 28-23, last week … Venice easily walked past No. 8 seed Tampa Bay Tech, 59-23 … Brian Battie will be the one to keep an eye on for the visiting Pirates as he had 349 yards rushing and four touchdowns in last week's win … The name to know for the host Indians is quarterback Hayden Wolf who has over 2,000 yards and 20 touchdowns passing on the season. Prediction: Venice 30, Braden River 27
POLL: Who wins Friday night?

CLASS 7A-REGION 3 SEMIFINAL
No. 5 Braden River (9-2) at No. 1 Venice (10-1)@BR_PirateFB @VeniceIndianFB @VHSIndianSports

— FloridaHSFootball.com (@FlaHSFootball) November 14, 2018
No. 7 Palmetto (8-3) at No. 6 Bloomingdale (10-1)
Charley Harris Stadium, Valrico
This is the first playoff meeting between Palmetto and Bloomingdale … Last week the visiting Tigers defeated No. 2 seed Pinellas Park, 38-21 … The host Bulls picked up their first playoff win in school history with a 45-8 thumping of No. 3 seed … Keep an eye on quarterback Anthony Marino for Palmetto. He threw for 188 yards and scored three touchdowns (two passing, one rushing) in last week's win … For host Bloomingdale which runs almost exclusively out of the wildcat formation has several weapons they will use to create trouble for the opposing Tigers. Prediction: Bloomingdale 38, Palmetto 31
POLL: Who wins Friday night?

CLASS 7A-REGION 3 SEMIFINAL
No. 7 Palmetto (8-3) at No. 6 Bloomingdale (10-1)@PalmettoHigh @CoachDaveMarino @Bdale_Football @BdaleathleticBC

— FloridaHSFootball.com (@FlaHSFootball) November 14, 2018
REGION 4
No. 5 Fort Lauderdale (9-2) at No. 1 St. Thomas Aquinas (10-1)
Brian Piccolo Stadium, Fort Lauderdale
This is a regular season rematch between the two teams … St. Thomas Aquinas won the Week 8 meeting between the two schools, 49-0 … Last week Fort Lauderdale easily marched past No. 4 seed Doral Academy, 54-7, picking up the school's first playoff win since 1966 … St. Thomas set a new school record for most points scored in a playoff game as they crushed No. 8 South Miami, 77-20 … The visiting Flying L's has a variety of talent they will be relying on both side of the ball to try to make this a more competitive game than the game in the regular season … For the host Raiders, they will lean on guys like running back Daniel Carter (732 rushing, 16 touchdowns) and quarterback Curt Casteel (1,036 passing, 19 touchdowns) to help lead the way. Prediction: St. Thomas Aquinas 42, Fort Lauderdale 7
POLL: Who wins Friday night?

CLASS 7A-REGION 4 SEMIFINAL
No. 5 Fort Lauderdale (9-2) at No. 1 St. Thomas Aquinas (10-1)@FlyinglsFB @FlyingLsAthlete @CoachDunbar49 @STA_Football @STA_Raiders @CoachHarriott

— FloridaHSFootball.com (@FlaHSFootball) November 14, 2018
No. 6 Palm Beach Lakes (8-3) at No. 2 Dwyer (10-1)
Rick Hubbard Field at Blum Stadium, Palm Beach Gardens
This is a District 7A-13 rematch from the regular season … Dwyer won that matchup in Week 4, 41-13 … Last week the visiting Rams pulled off a stunning upset over No. 3 McArthur, 6-3 … The host Panthers easily handled things last week against No. 7 West Broward, winning 43-0 … The key factor for Palm Beach Lakes will be the defense which is what helped them win the game last week led by Jeshon Ingraham's interception in the end zone on the last play of the game … For Dwyer, quarterback Gio Richardson will be the one to keep an eye on as he had several long touchdown pass plays in last week's win. Prediction: Dwyer 35, Palm Beach Lakes 21
POLL: Who wins Friday night?

CLASS 7A-REGION 4 SEMIFINAL
No. 6 Palm Beach Lakes (8-3) at No. 2 Dwyer (10-1)@PblakesF @DwyerFootball @DwyerHS

— FloridaHSFootball.com (@FlaHSFootball) November 14, 2018
Last Week's 7A picks record: 13 correct, 3 boos out of the stadium