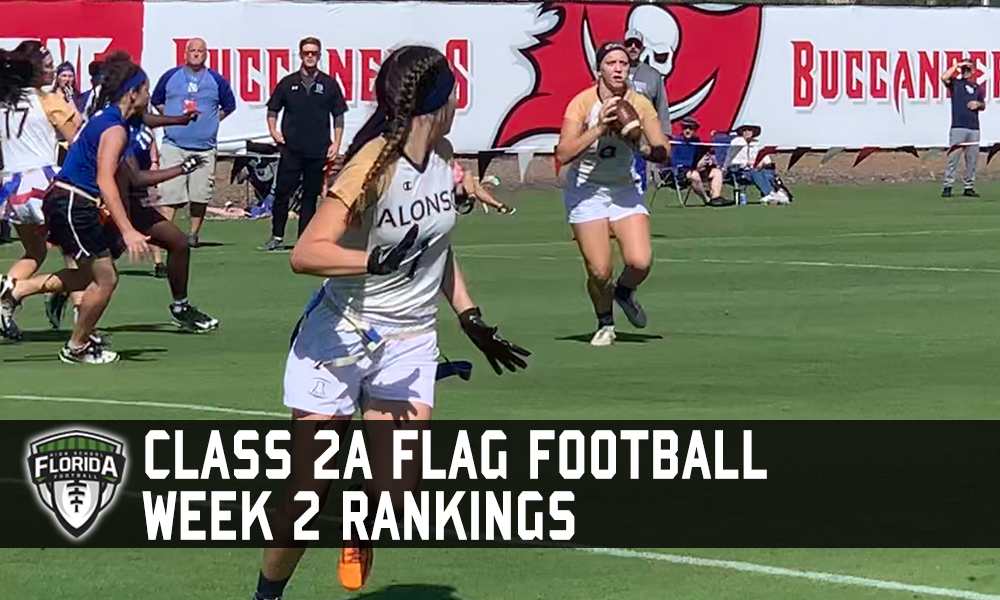 Each week during the season we update the Top 25 rankings in Class 2A providing our Top 10 teams as well as provide The Next 15 teams that we have ranked to complete the Top 25 rankings. Information used to determine the rankings include record, quality wins, defeating ranked opponents and strength of schedule (after Week 1). It is important that teams update their information with scores with us on a regular basis each week by emailing us score reports at flag@floridahsfootball.com, sending us a direct message on Twitter @FlaHSFootball or updating scores in the ScoreStream app.  Lack of information (scores) reported by the teams will only hurt their chances of being ranked, especially if they are having a solid season.
THE TOP 10
1. Alonso (Tampa)
Record: 1-0
Last Week: 1
NOTE: Easily defeated Sickles last week 20-6 with two highly anticipated matchups with No. 23 Plant and 1A No. 1 Robinson before heading into spring break.
2. Seminole Ridge (Loxahatchee)
Record: 0-0
Last Week: 2
NOTE: The Hawks open the season this week with matchups against Palm Beach Central and Palm Beach Gardens before going on spring break.
3. Wekiva (Apopka)
Record: 2-0
Last Week: 3
NOTE: The Mustangs have picked up things again and have already flexed a muscle taking down previous No. 6 Dr. Phillips and Ocoee to open the season. A crosstown matchup on the road with rival Apopka awaits this week before commencing for spring break.
4. Cooper City
Record: 2-0
Last Week: 4
NOTE: The Cowboys showed they will be a force once again with a 21-0 shutout over Everglades and a 20-12 win over Nova to start the season. It should be noted that a last-second touchdown by Nova was the result of a closer score. District matchups with McArthur and South Broward await this week.
5. Riverview (Riverview)
Record: 1-0
Last Week: 5
NOTE: No surprise at all that the Sharks had to battle hard against previous No. 9 Bloomingdale to earn the first win of the season. Now matchups with district foes, No. 13 Newsome and Strawberry Crest await before going into spring break.
6. St. Cloud
Record: 1-0
Last Week: 7
NOTE: The Bulldogs easily took down Poinciana 32-0 to open the season and will host Gateway and Celebration in district games this week before going on spring break.
7. Jupiter
Record: 1-0
Last Week: 8
NOTE: An early-season Top 10 matchup between district foes and previous No. 10 Dwyer saw the Warriors come out on top 7-0 to take an early lead in the District 2A-9 standings.
8. Steinbrenner (Lutz)
Record: 2-0
Last Week: 12
NOTE: Steinbrenner is one of two new teams to move into the Top 10 and the Warriors opened up the season with impressive performances over Leto and Gaither, giving up only six points while putting up 104 points in the first week. A key test will come this week when they host No. 23 Plant in a district matchup but should find a matchup with Tampa Freedom not much of a challenge before going on spring break.
9. Bloomingdale (Valrico)
Record: 1-1
Last Week: 9
NOTE: Hard to move the Bulls out of the Top 10 after falling short by 1 to another Top 10 team in their own district, falling to No. 5 Riverview, 7-6. However, the Bulls did easily defeat Lennard, 29-0 to have their record at an even .500 to start off the season. District matchups with Strawberry Crest and Durant are on the table this week before spring break starts.
10. Western (Davie)
Record: 2-0
Last Week: 14
NOTE: There was some initial concern that Western might be a little off, but that appears to not be the case as they easily handled matchups against Coconut Creek and Stranahan to open the season. Matchups with Piper and Cypress Bay this week will likely keep the Wildcats undefeated two weeks in.
RELATED: All-Classification Top 25 Flag Football Rankings for Week 2
THE NEXT 15
11. Dwyer (Palm Beach Gardens), 1-1, 10
12. Park Vista (Lake Worth), 2-0, 15
13. Newsome (Lithia), 2-0, 13
14. Dr. Krop (Miami), 1-0, 16
15. Dr. Phillips (Orlando), 1-1, 6
16. Apopka, 1-0, 20
17. Miami Southridge, 1-0, 22
18. Sandalwood (Jacksonville), 0-0, 23
19. Mandarin (Jacksonville), 1-0, 25
20. Martin County (Stuart), 1-0, 24
21. East Bay (Gibsonton), 2-0, NR
22. Coral Springs, 2-0, NR
23. Plant (Tampa), 1-1, 21
24. Blanche Ely (Pompano Beach), 1-1, 18
25. Lakewood Ranch (Bradenton), 0-1, 19
DROPPED OUT: No. 11 Lake Nona (Orlando), 0-1; No. 17 West Boca Raton, 0-2