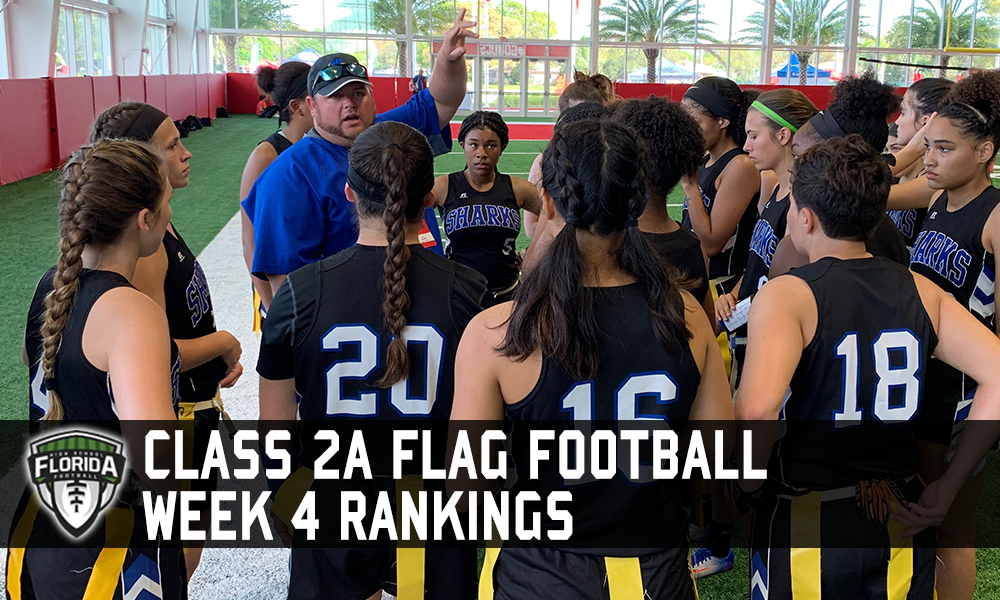 Each week during the season we update the Top 25 rankings in Class 2A providing our Top 10 teams as well as provide The Next 15 teams that we have ranked to complete the Top 25 rankings. Information used to determine the rankings include record, quality wins, defeating ranked opponents and strength of schedule (after Week 1). It is important that teams update their information with scores with us on a regular basis each week by emailing us score reports at flag@floridahsfootball.com, sending us a direct message on Twitter @FlaHSFootball or updating scores in the ScoreStream app.  Lack of information (scores) reported by the teams will only hurt their chances of being ranked, especially if they are having a solid season.
RELATED: All-Classification Top 25 Flag Football Rankings for Week 4
THE TOP 10
1. Riverview (Riverview)
Record: 3-0
Last Week: 1
NOTE: The top-ranked Sharks are back in action this week following spring break with two key district games against Plant City and Tampa Bay Tech on the schedule for this week.
2. Seminole Ridge (Loxahatchee)
Record: 2-0
Last Week: 2
NOTE: Seminole Ridge returns to the field this week as the Hawks will have key district games this week against Palm Beach Lakes and what appears to be a much improved Royal Palm Beach squad.
3. Wekiva (Apopka)
Record: 3-0
Last Week: 3
NOTE: The Mustangs are back on the field this week with only one game on the docket this week with Flagler Palm Coast for a district tilt.
4. Cooper City
Record: 6-0
Last Week: 4
NOTE: Cooper City rolls into spring break undefeated after taking down Coral Springs and previously undefeated Hollywood Hills.
5. Steinbrenner (Lutz)
Record: 4-0
Last Week: 5
NOTE: Only one game on the schedule this week against a struggling Wharton program as the Warriors return to action.
6. Alonso (Tampa)
Record: 1-2
Last Week: 6
NOTE: This week will tell if the Ravens were able to regroup during spring break with key district contests against Wharton and Gaither waiting on the schedule.
7. Jupiter
Record: 2-0
Last Week: 7
NOTE: The Warriors are back in action this week with district games against Palm Beach Central and Palm Beach Gardens on the schedule.
8. Park Vista (Lake Worth)
Record: 4-0
Last Week: 8
NOTE: The Cobras return to the gridiron this week with key district games against Boca Raton and Atlantic (Delray Beach) on the schedule.
9. Bloomingdale (Valrico)
Record: 3-1
Last Week: 9
NOTE: The Bulls get back to work this week with key district games against Tampa Bay Tech and Newsome awaiting on the schedule.
10. Western (Davie)
Record: 5-0
Last Week: 10
NOTE: Western picked up a district win over Nova to move them one game closer to officially clinching the No. 1 overall seed in the District 2A-12 tournament next month.
THE NEXT 15
11. Dwyer (Palm Beach Gardens), 2-1, 11
12. Dr. Krop (Miami), 4-0, 12
13. Miami Southridge, 4-0, 13
14. St. Cloud, 2-1, 14
15. Mandarin (Jacksonville), 3-0, 16
16. Miami High, 3-0, 21
17. Newsome (Lithia), 3-1, 17
18. Martin County (Stuart), 3-0, 18
19. Dr. Phillips (Orlando), 2-1, 19
20. Apopka, 2-1, 20
21. Gateway (Kissimmee), 3-0, 22
22. Fleming Island (Orange Park), 3-0, 24
23. Plant (Tampa), 2-2, 25
24. Centennial (Port St. Lucie), 3-0, NR
25. Hollywood Hills, 5-1, 23
DROPPED OUT: 15. Sandalwood (Jacksonville), 2-1