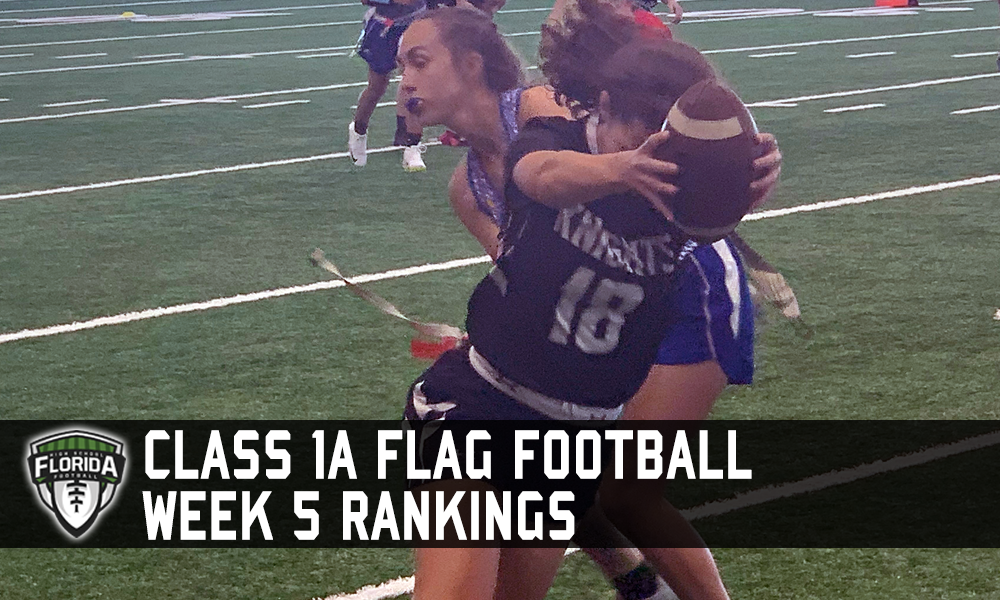 Each week during the season we update the Top 25 rankings in Class 1A providing our Top 10 teams as well as provide The Next 15 teams that we have ranked to complete the Top 25 rankings. Information used to determine the rankings include record, quality wins, defeating ranked opponents and strength of schedule (after Week 1). It is important that teams update their information with scores with us on a regular basis each week by emailing us score reports at flag@floridahsfootball.com, sending us a direct message on Twitter @FlaHSFootball or updating scores in the ScoreStream app.  Lack of information (scores) reported by the teams will only hurt their chances of being ranked, especially if they are having a solid season.
RELATED: All-Classification Top 25 Flag Football Rankings for Week 5
THE TOP 10
1. Robinson (Tampa)
Record: 4-0
Last Week: 1
NOTE: There is a reason why the Knights are the top-overall team in the Sunshine State… they continue to win and win big! They picked up a big win over rival Plant last week as well as win over Gaither who replaced Hillsborough on the schedule at the last second. This week Robinson will take on 2A No. 1 Riverview before heading to Tallahassee for a three-game stand at the Capital City Classic.
2. Godby (Tallahassee)
Record: 5-0
Last Week: 2
NOTE: What a week it was for Godby picking up a win over Leon in district play before picking up two wins in the first games played between a Florida team and an out-of-state team with those coming against New Dorp and Tottenville. The Cougars now prepare for a three-game stand as the host school for the Capital City Classic this coming weekend.
3. Clay (Green Cove Springs)
Record: 5-0
Last Week: 3
NOTE: The Blue Devils continue to stay undefeated after picking up wins against Westside and Ed White last week. Now the Blue Devils will take on Baldwin and a much-improved Middleburg squad this week in key district games.
4. Miami Edison
Record: 4-0
Last Week: 4
NOTE: Spring break is over for the Red Raiders, but right at this moment, there is not another scheduled game for Edison until April 12 against Miami Northwestern, which would result in a very long layoff.
5. Monsignor Pace (Miami)
Record: 5-0
Last Week: 6
NOTE: The Spartans took care of some serious business on the road last week at Glades Central, shutting out the previous No. 5 Raiders. Now Monsignor Pace will focus on playing two district games this week against Hialeah Educational and Miami Carol City to try to wrap up the No. 1 seed in District 1A-14.
6. Florida High (Tallahassee)
Record: 6-0
Last Week: 9
NOTE: The Seminoles are guaranteed a spot in the District 1A-2 Tournament as they locked up wins against Rickards and Wakulla last week to stay undefeated on the season. A key district game awaits early this week for Florida High. However, instead of participating in the Capital City Classic this week as in year past, the Seminoles will take a trip over to Orange Park to play Class 2A No. 19 Fleming Island.
7. Seabreeze (Daytona Beach)
Record: 5-0
Last Week: 8
NOTE: The Sandcrabs improved their record to 5-0 this past week with wins over Matanzas and Atlantic (Port Orange) while not having a full roster available. This week district games against Pine Ridge and Deltona await and if they win at least one of them, Seabreeze will be guaranteed a spot in the District 1A-9 tournament.
8. Brandon
Record: 4-0
Last Week: 14
NOTE: The Eagles are soaring high right now having an undefeated record heading into Week 5. They picked up district wins over Lennard and Middleton with district games against Spoto and Armwood this week that should give them the No. 1 overall seed in the District 1A-6 tournament if they win both of them.
9. Glades Central (Belle Glade)
Record: 5-1
Last Week: 5
NOTE: The Raiders picked up two wins last week over Sebring and Okeechobee but was dealt their first loss to previous No. 6 Monsignor Pace at home last Friday. This week Glades Central tries to bounce back from that first loss with a game on Monday against Palm Beach Central.
10. Jensen Beach
Record: 4-1
Last Week: 10
NOTE: The Falcons picked up three wins last week to move to 4-1 on the season with those wins coming against Sebring, Port St. Lucie and previous No. 22 Fort Pierce Westwood in a 6-0 victory. This week only one district game is on the schedule with a game against a struggling Pahokee team.
RELATED: Class 2A Top 25 Flag Football Rankings for Week 5
THE NEXT 15
11. Harmony, 5-1, 11
12. Osceola (Seminole), 5-0, 15
13. Choctawhatchee (Fort Walton Beach), 4-1, 19
14. Lincoln (Tallahassee), 4-2, 7
15. Madison County (Madison), 2-1, 12
16. Miami Jackson, 3-1, 16
17. Pembroke Pines Charter, 2-1, 17
18. Niceville, 4-2, 13
19. Crystal River, 4-0, 20
20. Tarpon Springs, 4-1, 18
21. Suncoast (Riviera Beach), 3-0, 21
22. Mainland (Daytona Beach), 5-0, 23
23. Booker T. Washington (Miami), 5-0, 25
24. Fort Pierce Westwood, 4-1, 22
25. Rickards (Tallahassee), 3-1, 24
DROPPED OUT: None