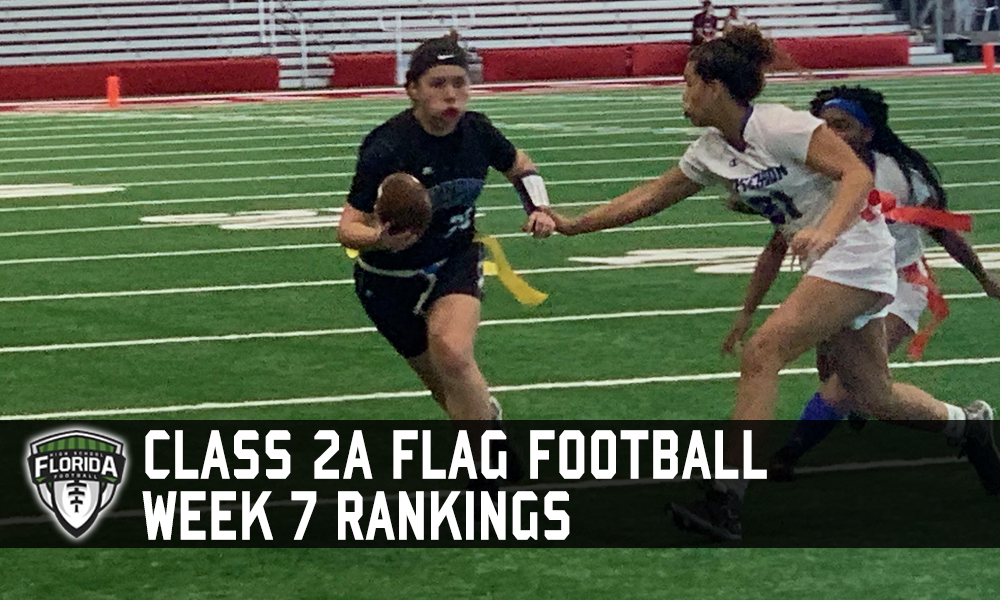 Each week during the season we update the Top 25 rankings in Class 2A providing our Top 10 teams as well as provide The Next 15 teams that we have ranked to complete the Top 25 rankings. Information used to determine the rankings include record, quality wins, defeating ranked opponents and strength of schedule (after Week 1). It is important that teams update their information with scores with us on a regular basis each week by emailing us score reports at flag@floridahsfootball.com, sending us a direct message on Twitter @FlaHSFootball or updating scores in the ScoreStream app.  Lack of information (scores) reported by the teams will only hurt their chances of being ranked, especially if they are having a solid season.
RELATED: All-Classification Top 25 Flag Football Rankings for Week 7
THE TOP 10
1. Riverview (Riverview)
Record: 11-1
Last Week: 1
NOTE: The Sharks closed out the regular season last week with a 4-0 stretch including winning three games in the Bloomingdale Tournament with wins over Plant, previous No. 22 Dr. Phillips and Lakewood Ranch. So far this season, Riverview has only given up 33 points total and has posted 9 shutouts in their 12 games played.
2. Park Vista (Lake Worth)
Record: 11-0
Last Week: 3
NOTE: The Cobras easily cruised past previous No. 23 Santaluces and John I. Leonard to stay undefeated on the season and moves up to the No. 2 spot holding the No. 1 overall seed in District 2A-10 with just one regular season game left against 1A No. 5 Monsignor Pace this week.
3. Alonso (Tampa)
Record: 7-3
Last Week: 4
NOTE: Alonso moves up this week after picking up a solid win over Freedom (Tampa) to clinch the No. 1 overall seed in District 2A-7. Two games remain on the schedule with Jefferson and Brandon to close out the regular season.
4. Cooper City
Record: 10-0
Last Week: 5
NOTE: Out of three games scheduled last week, the Cowboys were able to finish two to completion with one being scrapped due to the thunderstorms. The wins they did pick up were over Jones as part of an Orlando trip and West Broward to wrap up the No. 1 seed in District 2A-13 with Cypress Bay just the lone game remaining on the regular season schedule.
5. Western (Davie)
Record: 8-0
Last Week: 8
NOTE: The Wildcats locked up a win over Everglades last week while South Plantation canceled a district game for the second time this season, but even if the game is not played, Western has the No. 1 overall seed for the District 2A-12 tournament. Games scheduled for the final week of the regular season include Douglas, Archbishop McCarthy, and Miramar.
6. Jupiter
Record: 7-1
Last Week: 13
NOTE: Jupiter pulled off what is probably the most shocking (or maybe not so shocking) upset of the week by shutting out Seminole Ridge, handing the Hawks their first district loss in many years. They also had a win over Centennial to get to their seventh win of the season. Overall, the Warriors have the No. 1 seed in the District 2A-9 tournament for next week.
7. Seminole Ridge (Loxahatchee)
Record: 7-2
Last Week: 2
NOTE: The Hawks finally met their match last week picking up one win against Pahokee before dropping games to 1A ranked Suncoast and to previous No. 13 Jupiter in their first district loss in many years dropping them to the No. 2 seed for District 2A-9. Also, this was the first time in a very long time that Seminole Ridge has lost back-to-back games. Worth noting on the Jupiter game that they were shutout which is also a rare thing to see as well. Games with Atlantic (Delray) and Glades Central are the two games left on the district schedule.
8. Wekiva (Apopka)
Record: 8-2
Last Week: 6
NOTE: The Mustangs took a setback last week, slipping up against a DeLand program, but some of that came without their starting quarterback in the game. However, they managed to correct things and get a win against Jones to close out the week. Now games with a much-improved Evans squad as well as Windermere are on the schedule for this week.
9. Bloomingdale (Valrico)
Record: 10-1
Last Week: 9
NOTE: The Bulls easily took care of business at their own tournament over the weekend beating Tampa Catholic, Leto and Plant to get to 10 wins on the season with just one regular season game remaining this week with Brandon.
10. Dr. Krop (Miami)
Record: 7-0
Last Week: 12
NOTE: The Lightning wrapped up the No. 1 seed for District 2A-14 last week with a win over Reagan and will now wait for the GMAC tournament bracket to be set for later this week for a possible three additional games to the schedule.
RELATED: Class 1A Top 25 Flag Football Rankings for Week 7
THE NEXT 15
11. Miami Southridge, 9-0, 11
12. Gateway (Kissimmee), 9-1, 13
13. Steinbrenner (Lutz), 7-3, 7
14. Miami High, 5-1, 12
15. St. Cloud, 8-2, 15
16. Mandarin (Jacksonville), 7-2, 14
17. Hollywood Hills, 8-1, 17
18. Timber Creek (Orlando), 9-1, 20
19. Fleming Island (Orange Park), 6-1, 20
20. Martin County (Stuart), 7-1, 21
21. Evans (Orlando), 9-2, 19
22. Dr. Phillips (Orlando), 8-3, 22
23. Newsome (Lithia), 8-4, 23
24. Spanish River (Boca Raton), 7-3, NR
25. Santaluces (Lantana), 7-2, 23
DROPPED OUT: No. 25 Royal Palm Beach, 6-3