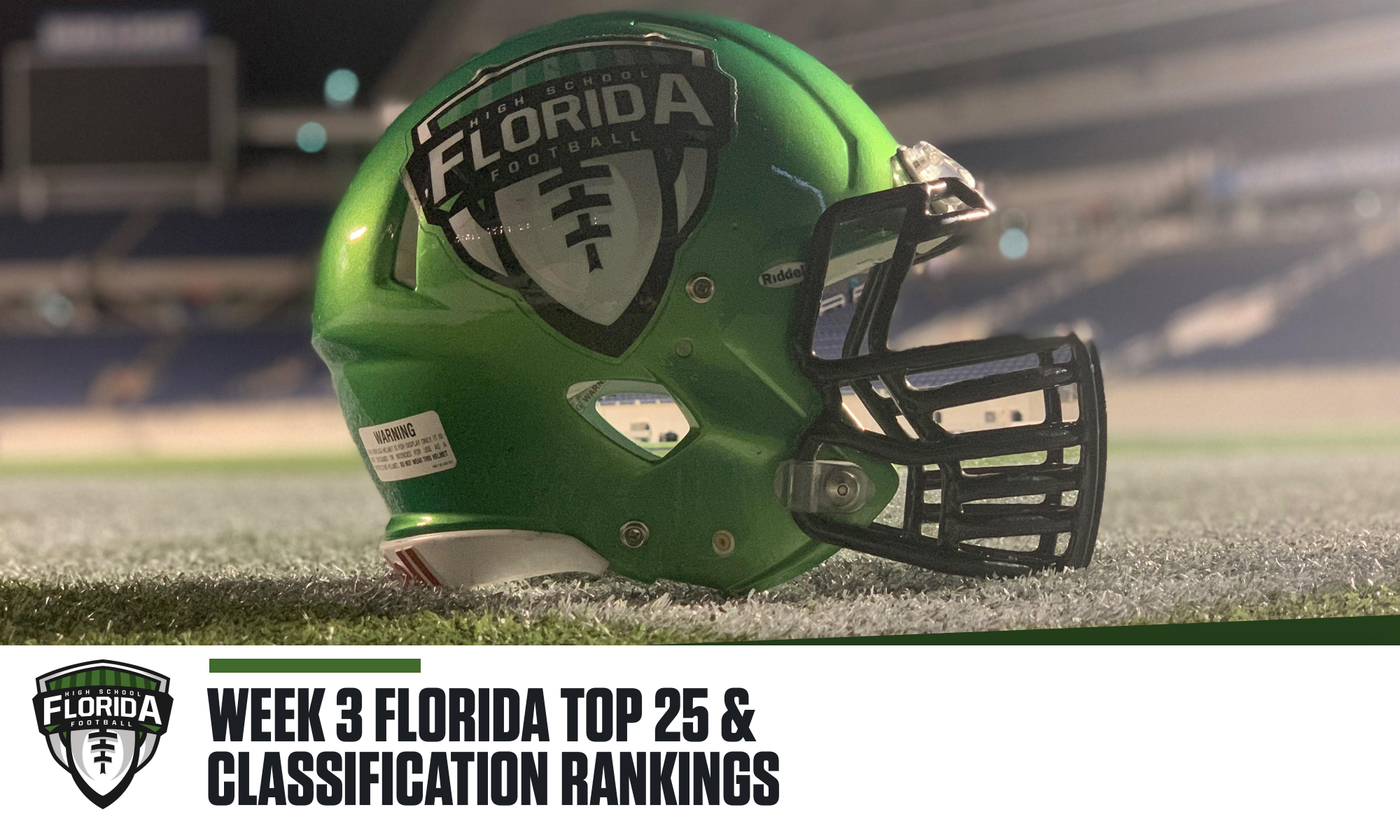 Welcome to the third edition of the FloridaHSFootball.com Rankings for the 2019 season. Florida Top 25 is presented first with this week's ranking, classification for the ranked team, record and previous ranking from the week before.
After that, you can find the Top 10 rankings for all eight classifications that included rankings, record and previous ranking the week before, plus a list of the first five teams outside each classification ranking in our First Five Out.
Rankings are updated every Monday night following "Under The Lights: Florida High School Football Final" on Fox Sports Florida during 2019 football season.
FLORIDA TOP 25
Rank, Team, Classification, Record, Previous Ranking
Lakeland (7A), 2-0, 1
St. Thomas Aquinas (7A), 2-0, 2
Miami Northwestern (5A), 2-0, 3
Columbia, (6A), 2-0, 4
Miami Central (6A), 1-1, 8
Chaminade-Madonna (3A), 2-0, 9
Miami Carol City (4A), 1-1, 7
Columbus (8A), 2-0, 10
Trinity Christian (Jacksonville) (3A), 1-1, 11
South Dade (8A), 2-0, 14
Edgewater (7A), 2-0, 16
Armwood (7A), 1-1, 5
Mandarin (8A), 2-0, 12
Vanguard (5A), 2-0, 17
American Heritage (Plantation) (5A), 1-0, 8
NSU University School (3A), 2-0, 13
Venice (7A), 1-1, 18
Rockledge (5A), 2-0, 19
Jones (5A), 2-0, 20
Western (8A), 1-0, 24
Escambia (6A), 2-0, NR
Seminole (Sanford) (8A), 2-0, NR
Cardinal Gibbons (4A), 1-1, NR
Booker T. Washington (4A), 1-1, 23
Madison County (1A), 2-0, 25
CLASS 8A
Rank, Team, Record, Previous Ranking
Columbus, 2-0, 1
South Dade, 2-0, 3
Mandarin, 2-0, 2
Western, 1-0, 5
Seminole (Seminole), 2-0, 10
Vero Beach, 1-0, 6
Riverview (Sarasota), 1-1, 8
Apopka, 1-0, NR
Miami Palmetto, 1-1, 7
Osceola (Kissimmee), 1-1, 9
First Five Out: Deerfield Beach, 0-2; Steinbrenner, 2-0; Bartram Trail, 2-0; Palm Beach Gardens, 2-0; DeLand, 1-0
CLASS 7A
Rank, Team, Record, Previous Ranking
Lakeland, 2-0, 1
St. Thomas Aquinas, 1-0, 2
Edgewater, 2-0, 4
Armwood, 1-1, 3
Venice, 1-1, 5
Atlantic (Delray), 1-0, 6
Navarre, 2-0, 7
Wekiva, 2-0, 8
Plantation, 1-0, 9
Palm Beach Lakes, 1-0, NR
First Five Out: Tampa Bay Tech, 2-0; Lincoln, 1-1; Niceville, 2-0; Wiregrass Ranch, 2-0; Bloomingdale, 1-0
CLASS 6A
Rank, Team, Record, Previous Ranking
Columbia, 2-0, 1
Miami Central, 1-1, 2
Escambia, 2-0, 4
Naples, 2-0, 3
Gaither, 2-0, 8
Charlotte, 2-0, 7
Palmetto, 2-0, 6
Dillard, 2-0, 9
Miami Southridge, 0-1, 5
Mainland, 0-1, 10
First Five Out: Clearwater, 2-0; Port Charlotte, 2-0; Ponte Vedra, 2-0; Lake Gibson, 2-0; St. Augustine, 2-0
CLASS 5A
Rank, Team, Record, Previous Ranking
Miami Northwestern, 2-0, 1
Vanguard, 2-0, 3
American Heritage (Plantation), 1-1, 2
Rockledge, 2-0, 4
Jones, 2-0, 5
Lake Wales, 2-0, 7
North Marion, 2-0, 6
Raines, 0-1, 8
Wakulla, 2-0, 9
Jesuit, 1-1, 10
First Five Out: Pine Forest, 1-0; Dunnellon, 2-0; Coconut Creek, 1-0; Hardee, 1-1; Jensen Beach, 2-0
CLASS 4A
Rank, Team, Record, Previous Ranking
Miami Carol City, 1-1, 1
NSU University School, 2-0, 2
Cardinal Gibbons, 1-1, 6
Booker T. Washington, 1-1, 4
Cocoa, 1-1, 3
Glades Central, 2-0, 5
Gulliver Prep, 2-0, NR
American Heritage (Delray), 1-1, 9
South Sumter, 2-0, NR
The Villages, 2-0, 10
First Five Out: Tampa Catholic, 2-0; Lakewood, 2-0; Bolles, 0-1; Monsignor Pace, 1-1; Marianna, 2-0
CLASS 3A
Rank, Team, Record, Previous Ranking
Chaminade-Madonna, 2-0, 1
Trinity Christian (Jacksonville), 1-1, 2
Florida High, 2-0, 3
Berkeley Prep, 2-0, 4
Benjamin, 1-0, 5
Pensacola Catholic, 2-0, 6
King's Academy, 2-0, 8
Bishop Verot, 2-0, NR
Holy Trinity, 2-0, NR
Trinity Catholic, 2-0, NR
First Five Out: Father Lopez, 1-0; Cardinal Mooney, 1-1; Clearwater Central Catholic, 0-2; Miami Edison, 1-1, Discovery, 1-0
CLASS 2A
Rank, Team, Record, Previous Ranking
Victory Christian, 2-0, 3
Champagnat Catholic, 1-1, 1
University Christian, 1-1, 2
North Florida Christian, 0-1, 4
Admiral Farragut, 1-1, 5
Cambridge Christian, 2-0, 6
Foundation Academy, 1-1, 8
First Baptist (Naples), 2-0, 9
Evangelical Christian, 1-1, NR
St. Joseph, 2-0, NR
First Five Out: Seffner Christian, 0-2; Miami Christian, 0-1; Orangewood Christian, 1-0, Zephyrhills Christian, 1-1; Maclay, 1-1
CLASS 1A
Rank, Team, Record, Previous Ranking
Madison County, 2-0, 1
Baker, 2-0, 2
Pahokee, 0-1, 6
Blountstown, 1-0, 9
Vernon, 1-1, 7
Port St. Joe, 1-1, 5
Lafayette, 2-0, 8
Hawthorne, 1-1, 3
Sneads, 2-0, NR
Dixie County, 2-0, NR
First Five Out: Union County, 2-0; Northview, 1-1; Fort White, 1-1; Crescent City, 1-1; Wildwood, 1-1