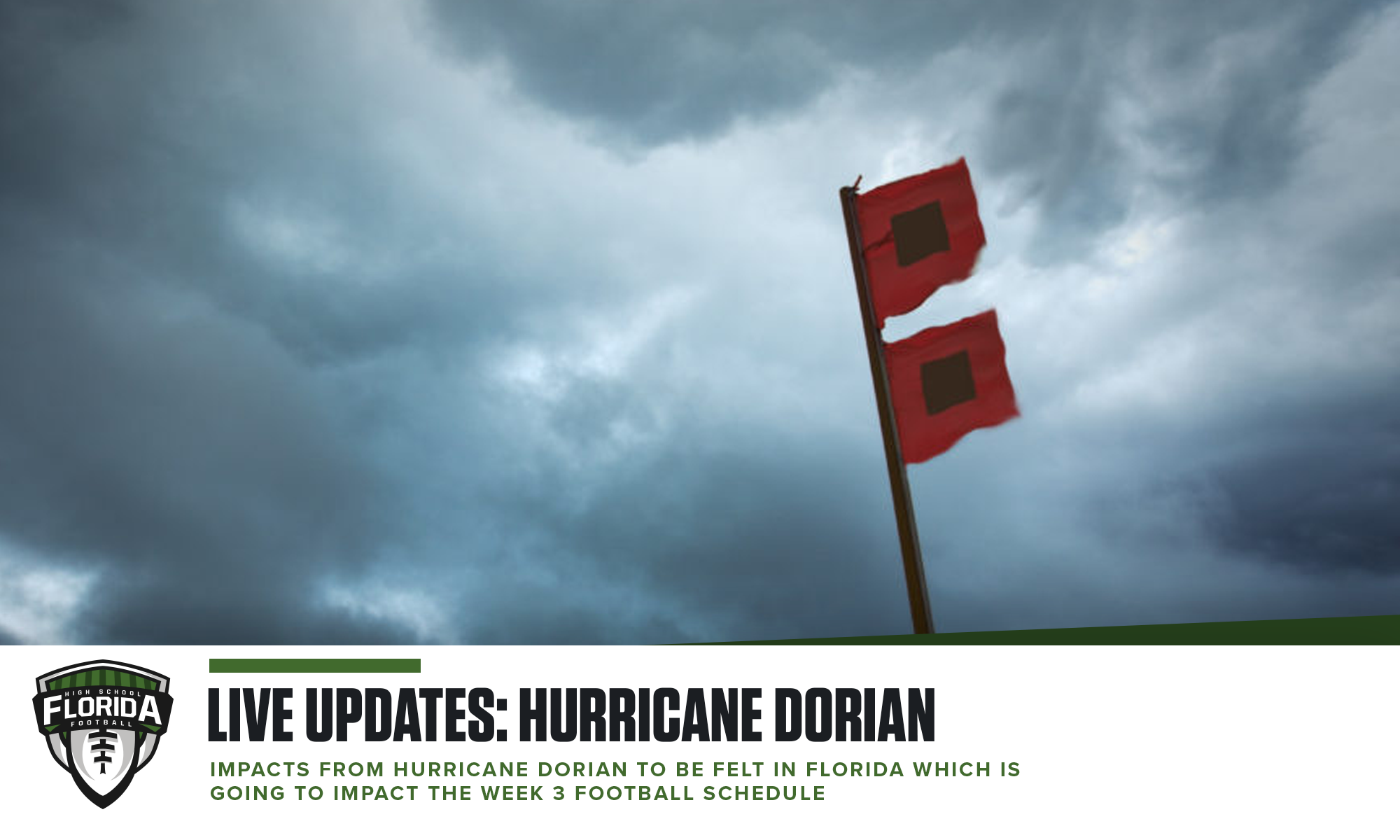 This will be updated with information regarding game changes and cancellations for Week plus include a list of school districts that are closed in regards to Hurricane Dorian. If you have anything to add, please leave a comment below in the comment box, send us a DM on Twitter (@FlaHSFootball) or email Joshua Wilson at joshua.wilson@floridahsfootball.com.
Last updated at 3:58 p.m. – Thursday 9/5
SCHOOL DISTRICT STATUS

Most school districts are now returning to normal operating status over the next two days. Please check with your local school district for details.
WEEK 3 FOOTBALL SCHEDULE CHANGES
• A'kelynn's Angels Christian at Columbia – Friday 9/6 to Saturday 9/7 at 7:30 p.m.
• Atlantic Coast at Ed White – Friday 9/6 to Friday 10/4 at 6:00 p.m.
• Armwood at Bloomgindale – Friday 9/6 to Saturday 9/7 at 7:00 p.m.
• Auburndale at Pasco – Friday 9/6 to Saturday 9/7 at 7:30 p.m.
• Baldwin at Westside – Friday 9/6 to Monday 9/9 at 6:00 p.m.
• Bishop Snyder at Oak Hall – Friday 9/6 to Saturday 9/7 at 6:00 p.m.
• Boyd Anderson at Sebastian River – Friday 9/6 to Monday 9/9 at 6:00 p.m.
• Brandon at Riverview (Riverview) – Friday 9/6 to Monday 9/9 at 7:00 p.m.
• Cambridge Christian at Lake Highland Prep – Friday 9/6 to Monday 9/9 at 7:00 p.m.
• Central (Brooksville) at Belleview – Friday 9/6 to Monday 9/9 at 6:30 p.m.
• Central Florida Christian at Mount Dora Christian – Friday 9/6 to Saturday 9/7 at 7:00 p.m.
• Celebration at Titusville – Friday 9/6 to Friday 10/4 at 7:00 p.m.
• Christ's Church Academy at Trinity Christian (Deltona) – Friday 9/13 at 7:00 p.m. – This is a new addition to the schedule
• Clay at University Christian – Friday 9/6 to Friday 10/4 at 7:30 p.m
• Cocoa Beach at Warner Christian – Friday 9/6 to Monday 10/7 at 6:00 p.m.
• Creekside at Bartram Trail – Friday 9/6 to Saturday 9/6 at 6:00 p.m.
• Crystal River at Dunnellon – Friday 9/6 to Saturday 9/7 at 6:00 p.m.
• Dillard at Pahokee – Friday 9/6 to Monday 9/9 at 6:30 p.m.
• Dr. Phillips at West Orange – Friday 9/6 to Monday 9/9 at 7:00 p.m.
• Durant at Blake – Friday 9/6 to Monday 9/9 at 7:00 p.m.
• East River at Timber Creek – Friday 9/6 to Monday 9/9 at 7:00 p.m.
• Father Lopez at Satellite – Friday 9/6 to Tuesday 9/10 at 7:00 p.m.
• Flagler Palm Coast at St. Augustine – Friday 9/6 to Friday 10/4 at 7:00 p.m.
• Fleming Island at Palatka – Friday 9/6 to Saturday 9/7 at 10:00 a.m.
• Foundation Academy at Bradenton Christian – Friday 9/6 to Saturday 9/7 at 6:00 p.m.
• Gateway (Kissimmee) at St. Cloud – Friday 9/6 to Friday 9/27 at 7:30 p.m.
• Gainesville at North Marion – Friday 9/6 to Friday 9/20 at 7:30 p.m.
• Gaither at Plant City – Friday 9/6 to Saturday 9/7 at 7:00 p.m.
• Halifax at Pine Ridge – Friday 9/6 to Monday 9/9 at 7:00 p.m.
• Hardee at Avon Park – Friday 9/6 to Friday 9/20 at 7:30 p.m.
• Harmony at Palm Bay – Friday 9/6 to Friday 10/11 at 7:00 p.m.
• Hialeah-Miami Lakes at Bolles – Friday 9/6 at 7:30 p.m. – This game was originally scheduled for Week 2 and was canceled due to Hurricane Dorian. Will now be played this week as Bolles' game with New Hampstead, Ga. was canceled. 
• Hilliard at Episcopal – Friday 9/6 to Monday 9/9 at 6:00 p.m.
• Holy Trinity at Orangewood Christian – Friday 9/6 to Monday 9/9 at 7:00 p.m.
• Immaculata-La Salle at Benjamin – Thursday 9/5 to Friday 9/6 at 6:30 p.m.
• Jefferson at East Bay – Friday 9/6 to Saturday 9/7 at 7:00 p.m.
• John Carroll at American Heritage (Delray) – Friday 9/6 to Saturday 9/7 at 7:00 p.m.
• Jones at Edgewater – Friday 9/6 to Monday 9/9 at 7:00 p.m.
• King at Leto – Friday 9/6 to Monday 9/9 at 7:00 p.m.
• Lake Howell at Hagerty – Friday 9/6 to Friday 9/20 at 7:00 p.m.
• Lake Minneola at Eustis – Friday 9/6 to Friday 9/20 at 7:00 p.m.
• Lake Nona at Ocoee – Friday 9/6 to Monday 9/9 at 7:00 p.m.
• Lake Weir at Hernando – Friday 9/6 to Saturday 9/7 at 10:00 a.m.
• Lakeland Christian at Lake Placid – Friday 9/6 to Monday 9/9 at 7:30 p.m.
• Leesburg at Wildwood – Friday 9/6 to Saturday 9/7 at 7:00 p.m.
• Martin County at Jupiter – Friday 9/6 to Monday 9/9 at 6:00 p.m.
• Miami Central vs. Miami Carol City – Friday 9/6 to Saturday 9/7 at 7:00 p.m.
• Miami Northwestern at IMG Academy – Friday 9/6 at 7:30 p.m. – Game now moved to Traz Powell Stadium in Miami
• Moore Haven at Okeechobee – Friday 9/6 to Friday 9/20 at 7:00 p.m.
• North Florida Educational at Wolfson – Friday 9/6 to Friday 10/4 at 6:00 p.m.
• Matanzas at Middleburg – Friday 9/6 to Thursday 9/12 at 6:00 p.m.
• Melbourne at Bayside – Friday 9/6 to Monday 9/9 at 6:00 p.m. – moved to Melbourne High
• Mount Dora at Trinity Catholic – Friday 9/6 to Saturday 9/7 at 10:00 a.m.
• Newsome at Alonso – Friday 9/6 to Saturday 9/7 at 7:00 p.m.
• Oakleaf at Ridgeview – Friday 9/6 to Monday, 9/9 at 6:00 p.m.
• Olympia at Wekiva – Friday 9/6 to Monday 9/9 at 6:00 p.m.
• Orange Park at Baker County – Friday 9/6 to Friday 10/11 at 7:00 p.m
• Paxon at Cedar Creek Christian – Friday 9/6 to Monday 9/9 at 6:00 p.m. – Moved to Paxon SAS.
• Robert E. Lee at Raines – Friday 9/6 to Tuesday 9/10 at 6:00 p.m.
• Robinson at Freedom – Friday 9/6 to Monday 9/9 at 7:00 p.m.
• Royal Palm Beach at Lake Worth – Friday 9/6 to Monday 10/28 at 6:30 p.m.
• St. Thomas Aquinas at Mandarin – Friday 10/4 – This is a new addition to the schedule
• Sickles at Middleton – Friday 9/6 to Monday 9/9 at 7:00 p.m.
• Somerset Canyons at Somerset Academy (Pembroke Pines) – Friday 9/6 to Monday 9/16 at 4:00 p.m.
• Steinbrenner at Spoto – Friday 9/6 to Monday 9/9 at 7:00 p.m.
• Suncoast at Spanish River – Friday 9/6 to Monday 9/9 at 6:30 p.m.
• Treasure Coast at Jensen Beach – Monday 9/16 at 6:00 p.m. – This is a new addition to the schedule
• Tampa Bay Tech at Hillsborough – Friday 9/6 to Saturday 9/7 at 7:00 p.m.
• Umatilla at Tavares – Friday 9/6 to Thursday 10/3 at 7:00 p.m.
• West Port at Forest – Friday 9/6 to Saturday 9/7 at 10:30 a.m.
• Wharton at Lennard
• Windermere at University (Orlando) – Friday 9/6 to Monday 9/9 at 7:00 p.m.
• Winter Park at Umatilla – Friday 9/6 to Monday 9/9 at 7:00 p.m.
• Venice at Trinity Christian (Jacksonville) – Friday 9/6 at 7:30 p.m. – This is a new addition to the schedule
WEEK 3 FOOTBALL CANCELLATIONS
• Apopka vs. Centennial – possibly could be rescheduled for a later date
• Atlantic (Delray) at Boca Raton – possibly could be rescheduled for a later date
• Bishop Kenny at New Smyrna Beach
• Bolles at New Hampstead, Ga.
• Boynton Beach at West Boca Raton – possibly could be rescheduled for a later date
• Bradford at Keystone Heights – possibly could be rescheduled for a later date
• Buchholz at Ponte Vedra
• Christ's Church at St. John Lutheran
• Columbia, Ga. at Rockledge
• Crescent at The Villages
• Cypress Creek (Wesley Chapel) at Bishop McLaughlin
• DeLand at Mandarin
• Deltona at Winter Springs – possibly could be rescheduled for a later date
• Dwyer at Palm Beach Gardens – possibly could be rescheduled for a later date
• Fletcher at Terry Parker
• Forest Hill at John I. Leonard – possibly could be rescheduled for a later date
• Fort Dorchester, S.C. at Viera
• Fort Pierce Central at Port St. Lucie – possibly could be rescheduled for a later date
• Hialeah-Miami Lakes at Spruce Creek – possibly could be rescheduled for a later date
• Heritage (Palm Bay) at First Coast
• Jensen Beach vs. Fort Pierce Westwood – possibly could be rescheduled for a later date
• Lyman at Seminole – possibly could be rescheduled for a later date
• Menendez at Merritt Island – possibly could be rescheduled for a later date
• Olympic Heights at Palm Beach Central – possibly could be rescheduled for a later date
• Osceola (Kissimmee) at Cocoa
• Oviedo at Evans – possibly could be rescheduled for a later date
• Palm Beach Lakes at Glades Central – possibly could be rescheduled for a later date
• Park Vista at Wellington – possibly could be rescheduled for a later date
• Rocky Bayou Christian at St. Johns Country Day – possibly could be rescheduled for a later date
• Ribault at Trinity Christian (Jacksonville) – possibly could be rescheduled for a later date
• St. Edward's at Merritt Island Christian – possibly could be rescheduled for a later date
• St. Joseph at Taylor (Pierson) – possibly could be rescheduled for a later date
• Seabreeze at Atlantic (Port Orange)
• Seminole Ridge at Santaluces – possibly could be rescheduled for a later date
• Space Coast at Eau Gallie
• Stanton at Providence – possibly could be rescheduled for a later date
• Treasure Coast vs. Mainland
• Trinity Christian (Deltona) at Cornerstone Charter
• University (Orange City) at Nease
• Vanguard at Sandalwood – possibly could be rescheduled for a later date
• Venice at Vero Beach – possibly could be rescheduled for a later date
• West Oaks Academy at Admiral Farragut
LIVE UPDATES