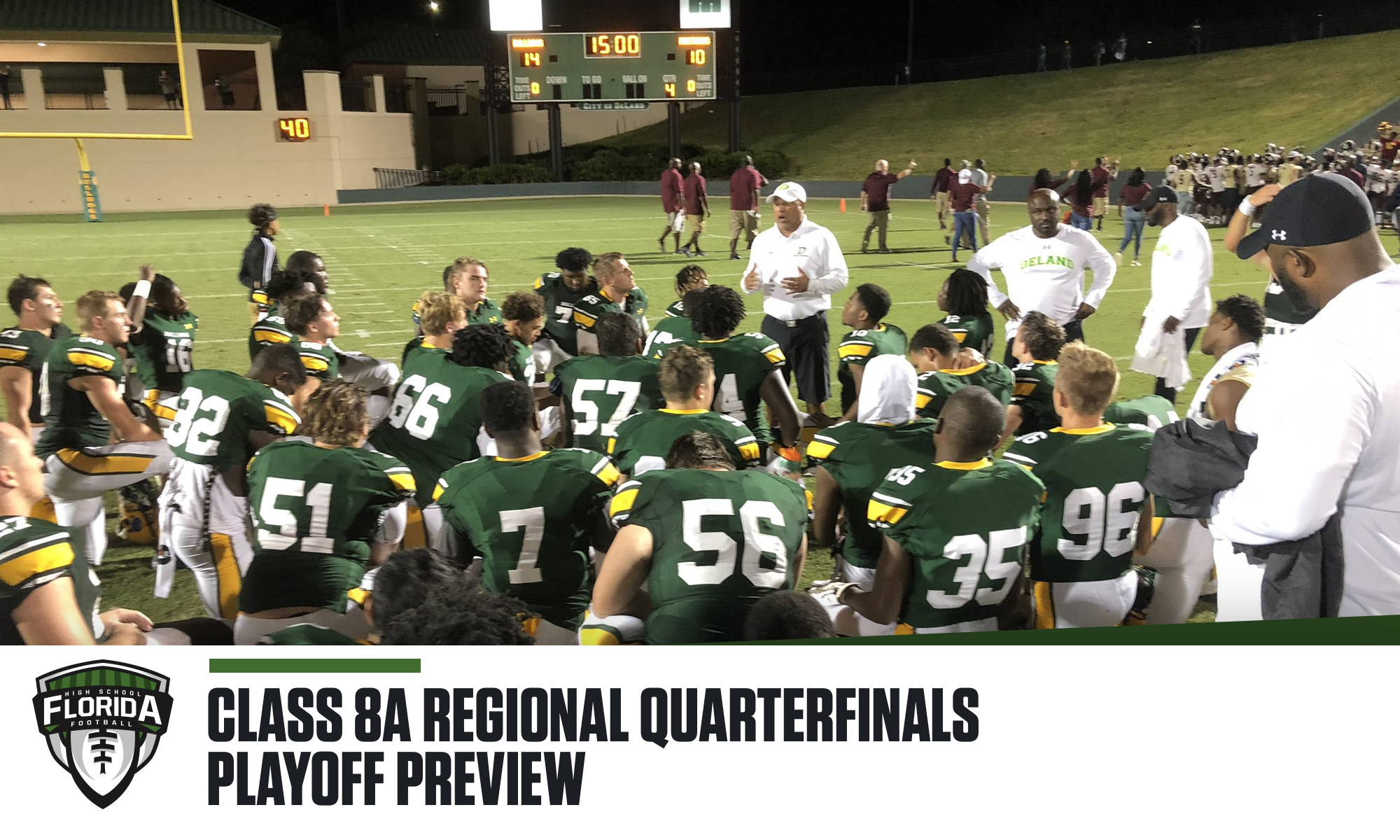 Here is our Class 8A Regional Quarterfinals Playoff Preview with predictions for all 16 games in the classification.
GAME TO WATCH
CLASS 8A-REGION 1
No. 5 DeLand (7-2) at No. 4 Timber Creek (9-1)
When: Friday
Where: Timber Creek Stadium, Orlando
Kickoff: 7:30 p.m.
The Skinny: DeLand bounced back strongly after first being on the outside of the top eight in the region rankings to get the No. 5 seed. … Timber Creek took care of business by winning the District 8A-3 championship outright to make the playoffs, the only team from its district to do so this year. … Key players for the visiting Bulldogs will include star safety Avante Williams, plus will have the help of Myzel Williams and Ben Knox who have made the defense electrifying for DeLand. … Ian Schoenwetter, Ty Woulard, and Matt Moore are other names to watch among the Bulldogs athletes. … For the host Wolves, quarterback Jake Johnson who has set a couple of school records this year will look to continue on his blazing ways of torching defenses. However, with the DeLand defense as stout as it is, things may not go totally as planned. … Other players to keep an eye on include running back Adrian Florez, receiver, Mookie Elmahoud, linebacker Aiden Lewin, and linebacker Jonah Migliore.
Prediction: DeLand 27, Timber Creek 17
OTHER PREDICTIONS
All games on Friday at 7:30 p.m., unless noted.
REGION 1
No. 8 Mandarin (7-3) at No. 1 Seminole (Sanford): Defending state champions start the postseason defense and as much we talked about parity in Class 8A, it will catch up here as Seminole is just much better talent-wise in this game. Prediction: Seminole 30, Mandarin 14
No. 6 Flagler Palm Coast (8-2) at No. 3 Apopka (8-1): Tough tall task for the visiting Bulldogs as they go up against one of the top powerhouse teams in Central Florida and all of Florida for that matter. It is hard for most teams to into Roger Williams Field and win there and the outcome will be the same here. Prediction: Apopka 27, Flagler Palm Coast 13
No. 7 Spruce Creek (6-3) at No. 2 Bartram Trail (10-0): The Bears look better than the team that ran all the way to the 2017 Class 7A State Championship Game before finishing at the runner-up. As for Spruce Creek, they are probably happy to have made the playoff field, but this draw of the Bears is going to be a tough one. Prediction: Bartram Trail 31, Spruce Creek 14
REGION 2
No. 8 Lake Nona (7-3) at No. 1 Riverview (Sarasota) (8-2): Don't let the 8-2 record fool you. Riverview could easily be a 10-0 team right now. If you look at these two teams on paper, one has played a much tougher schedule than the other and it is going to show up here in this game, unfortunately. Prediction: Riverview 38, Lake Nona 10
No. 5 Newsome (8-2) at No. 4 Steinbrenner (9-1): So many ways this game could go that it is not even funny. This is pretty much a toss-up between a Newsome program that has seen the postseason many times compared to Steinbrenner who just claimed their first-ever District Championship. Prediction: Steinbrenner 27, Newsome 24
No. 6 Riverview (Riverview) (8-2) at No. 3 Osceola (Kissimmee) (8-1): What a huge improvement for Riverview this year but drawing Osceola in the first round will be a tough challenge. The Kowboys who have been in the playoffs many times over the years, know what it takes to win at each round and that is going to show here in this one. Prediction: Osceola 35, Riverview 17
No. 7 Lennard (7-3) at No. 2 Dr. Phillips (8-2): Tino Hunt is the big playmaker for the visiting Longhorns, but Dr. Phillips knows a thing or two about the playoffs because they have seen a thing or two about the playoffs. The experience of the playoffs alone is going to decide this game easily. Prediction: Dr. Phillips 35, Lennard 14
REGION 3
No.  8 Boca Raton (8-2) at No. 1 Vero Beach (9-0): Who would have thought Boca Raton would make the playoffs this year? Not us, but adversity for the visiting Bobcats is what got them to an 8-2 record and the last wildcard spot available for the region. However, going against Vero Beach is probably not the opponent you want here who has already shown that their defense can win games, even if the offense seems to be lacking some. That is going to be a huge difference here. Prediction: Vero Beach 34, Boca Raton 13
No. 5 Treasure Coast (8-1) at No. 4 Santaluces (7-2), 7: Treasure Coast's high-powered offense is likely going to be the show of this game. Thee have been times this season where Santaluces has been hard to figure out what they are as a team and drawing a team like Treasure Coast for the first round was probably not the idea they had in mind. Prediction: Treasure Coast 31, Santaluces 20
No. 6 Palm Beach Gardens (7-2) at No. 3 Deerfield Beach (7-3): With some uncertain things going on for the visiting Gators, this is a matchup against a team that has found their stride since coming out of the gate this season on the slow side of things. For the host Bucks, Jaylon Knighton will likely lead the way for them once again on the field. Prediction: Deerfield Beach 31, Palm Beach Gardens 24
No. 7 Centennial (5-4) at No. 2 Palm Beach Central (8-2): Centennial enters the game having played one of the more tougher schedules among the wildcard teams in the region, but Palm Beach Central has shown they can take down teams when people want to count them out. Expect the host Broncos to control this game. Prediction: Palm Beach Central 34, Centennial 20
REGION 4
No. 8 Taravella (5-5) vs. No. 1 Miami Palmetto (9-1) at Tropical Park, 7: Taravella slipped into the playoffs after being on the outside looking in for all the weeks that we had RPI updates. With the hosts Panthers dominating games in recent weeks, this will likely be the case here once again. Prediction: Miami Palmetto 42, Taravella 7
No. 5 South Dade (7-3) at No. 4 Western (7-2): This is a really intriguing game given South Dade's slip of three losses in a row to end the season on while Western's two tough games equated into loss, while not giving up any points in their seven wins. The question will be is South Dade ready to pick things back up or is Western ready to show that giving up no points in those wins is no fluke. This one is a true toss-up. Prediction: Western 27, South Dade 20
No. 6 Miami High (7-3) at No. 3 Douglas (8-1): This is another intriguing game as both teams appear to be evenly matched. However, the comparison probably ends at this point with Miami High has played a tougher schedule in our view compared to that of Douglas, who their only toughest test came against Plantation outside of a close win over Monarch earlier in the season. Another true toss-up. Prediction: Miami High 24, Douglas 20
No. 7 Coral Gables (4-6) vs. No. 2 Columbus (6-4) at Tropical Park, Thursday, 7: A rematch from the regular season in district play, this game is likely to not be entirely close given the previous result. While Coral Gables did play a tough schedule, there have been times where they have not looked good at all on the field. Some could say Columbus has struggled this season, which is the case, but the Explorers will survive to see another week. Prediction: Columbus 35, Coral Gables 10
WHO WINS TONIGHT?

CLASS 8A – REGION 4 QUARTERFINAL@CAVALIERNATION1 vs. @ColumbusFtball
Tropical Park
7 PM ET

8A PREVIEW: https://t.co/NO8lRFN4q2

— FloridaHSFootball.com (@FlaHSFootball) November 7, 2019