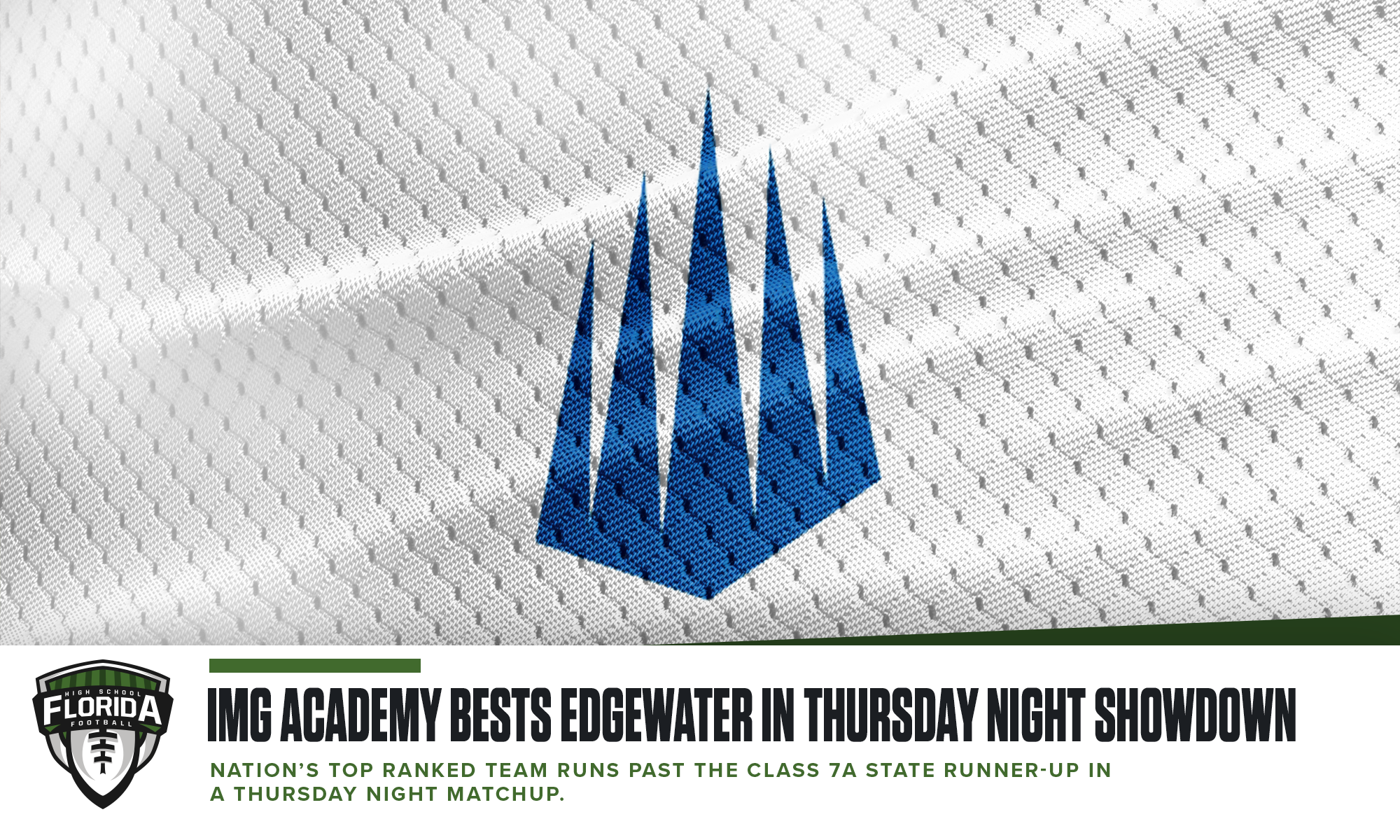 Florida high school football is some of the nation's best, so when two top-five teams play, you watch. Edgewater proved why it could threaten Florida's Class 7A last year and in the future, IMG Academy proved why it is the country's top-ranked team right now.
Friday's 42-7 win puts the Ascenders at 2-0 on the season, and it looks like they are only improving.
The Game
IMG Academy boasts five players ranked in the top 121. As usual, an abundance of elite talent makes a difference.
Although both teams were scoreless in the first quarter, the Ascenders got on the board at the start of the second. Quarterback JJ McCarthy, a Michigan commit, slung the pigskin 25 yards to wide receiver JaCorey Brooks, an Alabama commit for a touchdown.
Alabama WR commit Jacorey Brooks with the TD grab for IMG Academy @c7_brooks @bamainsider pic.twitter.com/i1O58G1PoG

— Rivals (@Rivals) September 17, 2020
Shortly after, running back Lovasea Carroll, a Georgia pledge, took off for 65 yards to extend IMG Academy's lead. A one-yard sneak on the keeper by Edgewater quarterback Canaan Mobley put the Eagles on the board.
Edgewater drives via misdirection and short passing extensions of the run game before punching it in on a sneak. 14-7 IMG 5 min left in the half. pic.twitter.com/SmYOxrVAs0

— John Garcia, Jr. (@JohnGarcia_Jr) September 17, 2020
The Ascenders ran up another score before halftime, thanks to running back Kaytron Allen. 21-7, IMG Academy.
Allen struck again in the third quarter. This time, he matched Carroll's 65-yard run. Sophomore RB Xavier Terrell found the end zone in the fourth.
Allen fittingly capped off the last score of the game, 42-7, IMG Academy.
Another Kaytron Allen score and it's 28-7 IMG with 4:25 left 3Q pic.twitter.com/MyO0TzS5gN

— John Garcia, Jr. (@JohnGarcia_Jr) September 18, 2020
Final Thoughts
Once again, IMG Academy committed a lot of penalties. The Ascenders are no doubt physical, but a gorgeous game is somewhat diluted by errors. Regardless, the team will likely maintain that No. 1 spot this season — almost certainly in Florida, but maybe in the country, as well. Edgewater only managing a touchdown was a surprise. IMG Academy has a superstar roster, and the players seem to feed off each other. It is a scary sight for future opponents.
Edgewater will likely drop out of the state's top five this week. Playing IMG will cause the team not to free fall, but silly penalties and mistakes will factor in. However, it will probably only go up from here. The Eagles do have a bevy of talented players, and they look promising. Once they find their groove, they will likely meet or exceed their preseason expectations.