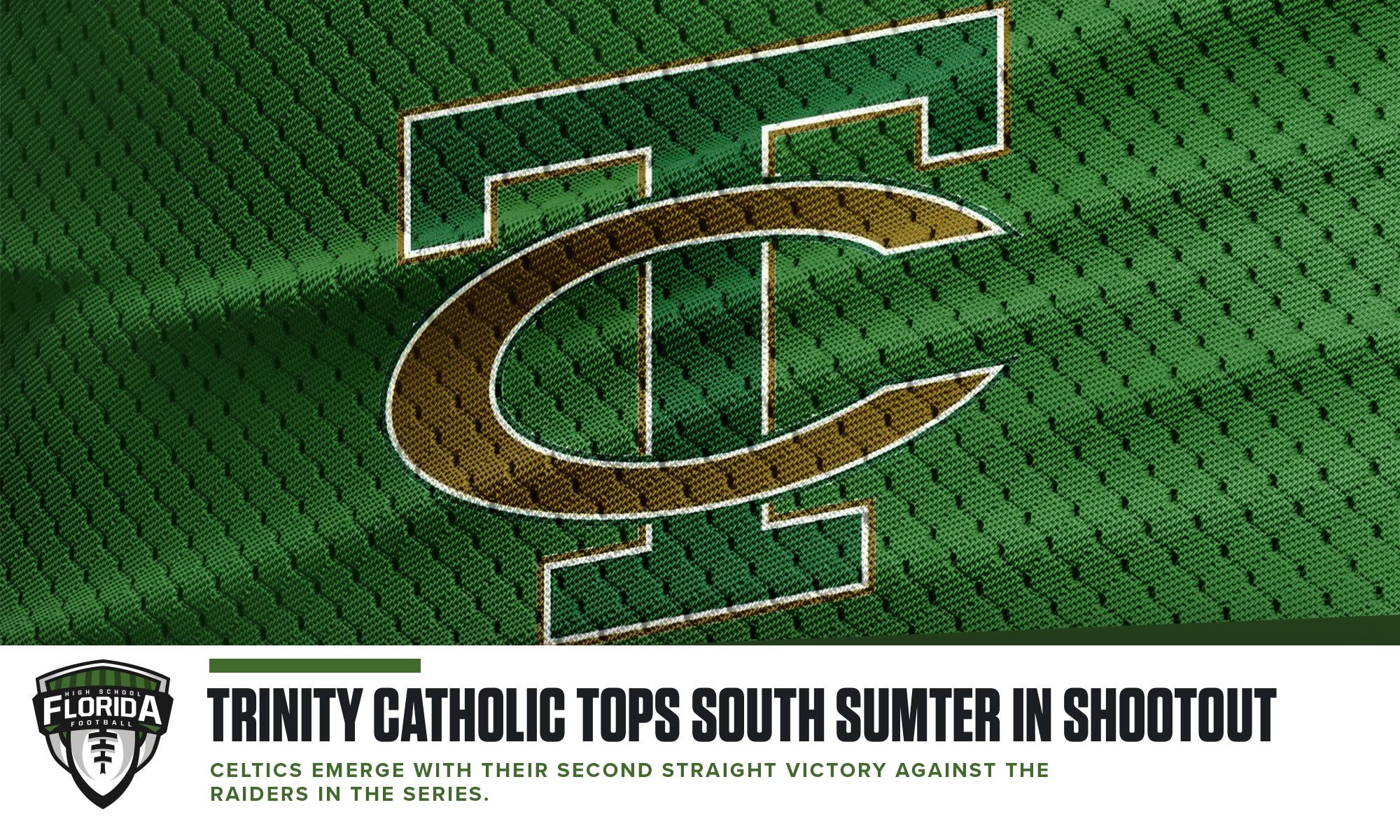 Some games are just meant to be touchdown exchanges, and that is exactly what happened between Trinity Catholic and South Sumter Friday night. Although the Trinity Catholic Celtics came out on top 48-31, South Sumter kept pace throughout the whole match.
The Game
The first quarter was relatively quiet. First, Trinity Catholic kicked a field goal. Then, running back Jamarian Samuel found the end zone to put the Celtics up 10-0.
During the second quarter, things picked up — quickly. South Sumter fullback Malachi Presley put the raiders on the board with a touchdown.
This stop is followed by a short, South Sumter score. PAT is good.

10-7, Celtics | 10:40 to play in 2Q pic.twitter.com/LokK0ZbNjU

— Ainslie Lee (@AinsliesTwoBits) September 18, 2020
The next three scores gave the Celtics a large lead in the second quarter. Quarterback Cole Gonzales threw a 74-yard dime to the house. Samuel followed up with a six-yard rush. Finally, Trinity Catholic kicked another field goal. So, the Celtics were up 27-10.
Then, South Sumter regained some control. A Raiders strip-sack on Gonzales allowed Davion Smith to scoop and score on a 70-yard attempt.
The defense came alive in the third quarter, and neither team got on the board.
South Sumter running back Trenton Taylor found the end zone early in the fourth quarter to give the Raiders within spitting distance. However, Trinity Catholic's Samuel had an answer in the form of another touchdown.
Cornerback Daijhae Abate registered a pick-six to continue the Celtics' reign. Taylor scored again for the Raiders, but Samuel also scored again for the Celtics.
Trinity Catholic put an exclamation point on its opener with the 48-31win.
Final Thoughts
Moving to 0-2 on the season, South Sumter is now going to be to find a way to emerge from two competitively tough games. The Raiders are going to be hard-pressed to repeat last season's 9-3 record. However, the team does have a good amount of athletes who can put points on the board but will have to find ways to overcome the points being scored against them.
Trinity Catholic meshed well for its first game of the season. Gonzales is transitioning nicely with the Celtics after coming over from Oak Hall during the offseason. He has an arm that is capable of doing many things. If he can continue to connect with his receivers, he can be a threat this year. Plus, giving Samuel, a three-star recruit, some scoring help makes for a one-two punch duo that will be hard to contain by a lot of teams. However, allowing 31 points from a now 0-2 team could be tricky in the future if the defense is not shored up.
Up Next
The Raiders will host Bishop Moore at home next Friday, which will kickoff at 7:30 p.m. ET while the Celtics will have a short week to get ready for Gainesville on the road for a Thursday night tilt at Citzens Field. That game will kickoff at 7:30 p.m. ET.