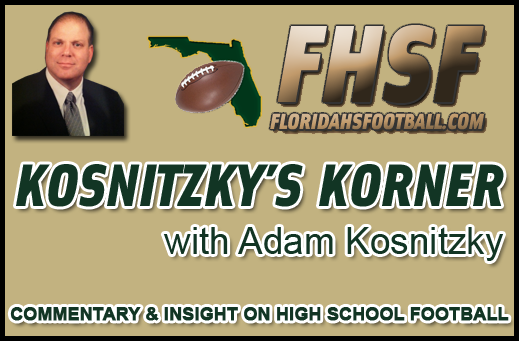 As we close the season, it seems as if only a few weeks ago, we were focusing on the conclusion of 7-on-7 tournaments instead of all-star games. I look back at some of my questions from August and now can share those answers.
Would the large Tampa area schools dominate as they did last year? In my eyes, Plant and Bradenton Manatee were expected to contend again for state dominance. I am still in denial that Bradenton Manatee did not repeat this year.
Would St. Thomas return to dominance? I congratulate St. Thomas Aquinas on their state title as I wrongly thought they would not survive the 3rd round this year. This program seemed to improve as the season progressed. Their victory over Bradenton Manatee surprised many.
Would Miami Central get their second state title? Last year's 6A state runner-up did not look beyond their region and despite two early losses, proved they were a worthy champion concluding with their victory against Gainesville in the final.
Would Norland be the same without Duke Johnson? While Norland did play competitive football, they were often mere mortals when they faced playoff-caliber teams. When Jackson upset Plantation American Heritage in round 1, they did have a realistic opportunity to go much father in the playoffs but the Generals ended that dream.
Would Southridge get past Columbus this year on the road to Orlando? Southridge had a fine season at times and I congratulate district foes South Dade and Killian for shaking up 16-8A. It will be interesting to see the Spartans' future as they embark into 7A.
Would Booker T. Washington finish their journey this time around? Aside from one mediocre half against Miami Central, the Tornadoes dominated everyone and won their rematch against Jacksonville Bolles in the state final. They are a worthy champion.
Would Cypress Bay move past Miramar and be the team they were in 2010? The answer is yes and yes. The Lightning exceeded expectations and despite a heartbreaking loss to Apopka in the final, the team had a season to remember.
I am not sure of where you may find Kosnitzky's Korner in the future. However, I can promise that I will continue to look at this great sport from different views. Sometimes telling a story or sharing a reaction has more value than the story itself. I look forward to learning with you in the future.