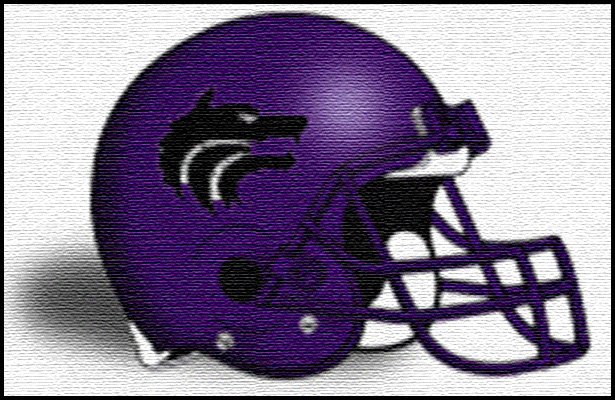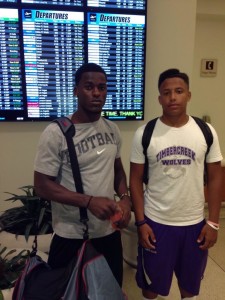 After spending four days on college campuses in the Midwestern part of America, the Timber Creek trio of Mitchell Estrada (2014 linebacker), Jacques Patrick (2015 running back) and Javonte Seabury (2014 wide receiver) are finally done with their college tours.
The duo of Estrada and Seabury took visits to both Western Michigan and Northwestern on the 10th. Also on the 10th, Estrada took an unofficial visit to Bowling Green and Toledo. Estrada then joined Seabury at the Cincinnati camp, where Seabury ran a 4.3 second 40 yard dash. After visiting the aforementioned universities, Estrada and Seabury went with Patrick to visit Head Coach Urban Meyer and the Ohio State Buckeyes on the 11th.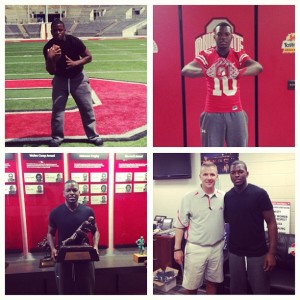 Patrick will return to Ohio to visit the Buckeyes once more for the Penn State game on October 26 that will kick off at 8:00 p.m. ET on one of the ABC/ESPN family networks.
Estrada has also set up an unofficial visit on June 29th with the University of Massachusetts.
The Orlando based trio stopped by Michigan State on June 12th, and the University of Michigan on the 13th.
On June 14th, Seabury and Estrada participated in the "Sound Mind Sound Body" football camp by Adidas in Southfield, MI. According to the event's website, the event is a showcase to approximately 200-300 coaches from all levels of football, from all across America. At this event, Seabury was clocked at 4.4 seconds during the 40 yard dash.
June 14th also marked an important date for Seabury as he received his first Division I football scholarship from Kent State, who also has offered his brother Patrick.
Seabury was not the only player of the trio to pick up a scholarship offer on the journey. Patrick received offer number 42 from Indiana on the 13th and number 43 on the 14th from Minnesota.
Although Estrada is still on the search for his first scholarship offer, he did pick up new interest from Eastern Michigan, Ferris State, and Western Michigan.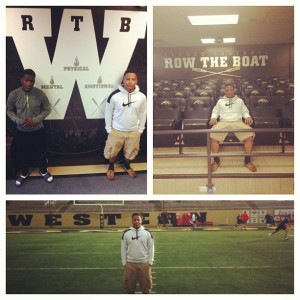 Below are comments from the trio regarding their unofficial visits summer road trip.
• Estrada on participating in the Sound Mind Sound Body showcase: "[The showcase] was not only a great place for exposure and recruiting, but a great learning experience being coached by the Michigan and Michigan State and other Big 10 Conference linebacker coaches. I am really happy that I got to participate in [the event] and [the event] helped my recruiting."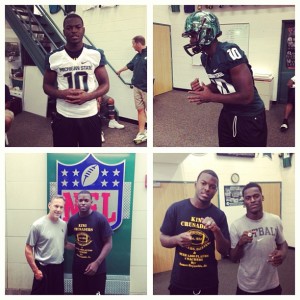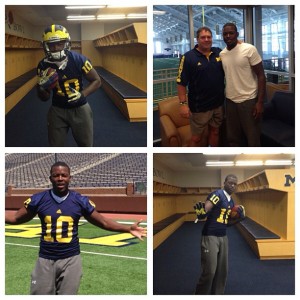 • Estrada on his most enjoyable university visit: "Western Michigan. I enjoyed the facility and the fields – indoor and game field; they are renovating everything football involved. Coach Fleck brings so much intensity and excitement to the program."
• Patrick on receiving offers number 42 and number 43: "It is a blessing to keep continuing to get these opportunities and I thank God for it!"
• Patrick on his brother Seabury receiving his first Division I football offer: "I am so happy for him man and it is a relief that it finally came now, [so] he can just focus on the school side of things more and have a great season."
• Seabury on the road trip: "[The trip] was great. We went to Ohio State, Michigan, Western Michigan, [among others], and I got love from everybody."
• Seabury on getting his first Division I football offer: "I was getting really frustrated because recruiting was starting to get really slow, but with help from reporters and my cousin Terel Patrick [I landed my first DI offer]. I am so excited and I hope for many more to come."
• Seabury on participating in the Sound Mind Sound Body showcase: "It was a great camp. I have learned alot there and it helped me out alot with my recruiting."
• Seabury on the university visit that he enjoyed the most: "Ohio State definitely, but certain colleges had their disadvantages and advantages."
Estrada and Seabury taking time off from working their butts off to obtain scholarship offers and have a little fun dancing with a street corner band in Detroit: