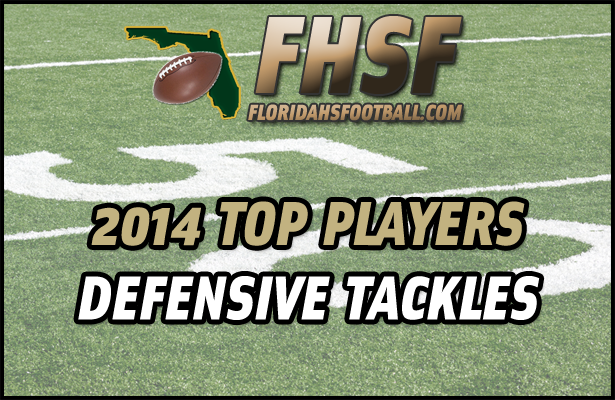 Today kicks off our look into the top players around the state for the Class of 2014 and today we tackle the top defensive tackles. There are some great defensive tackles out there around the state, but these guys have been showing it what they have to be at the top of the list. They will be featured on our Florida HS Football Class of 2014 Top 150, coming out later this month.
List compiled by Recruiting Analyst Nash Williams & the Florida HS Football staff
1. Travonte Valentine | 6'4 | 295 | Champagnat

Verbal Commitment
The Scoop
Committed to Miami (FL)
Valentine adds a solid boost to the defensive line for this small school Class 2A team, that competes in the same district with 2012 2A Runner-up Dade Christian. Already committed to staying near home, Valentine is expected to have a huge season.
2. Anthony Moten | 6'4 | 279 | St. Thomas Aquinas

Verbal Commitment
The Scoop
Committed to Florida
Moten provides St. Thomas Aquinas a nice defensive weapon on the front lines and was instrumental in St. Thomas Aquinas' Class 7A State Championship team last season. Look for him to continue on the same track again this season.
3. Khairi Clark | 6'3 | 325 | Chaminade-Madonna

Verbal Commitment
The Scoop
Committed to Florida
Clark is a disruptive player off the line and has been a huge asset to his team the last couple of years. With the strength's he has, he should be a key player to helping Chaminade-Madonna possibly win a district title.
4. Demarcus Christmas | 6'3 | 287 | Manatee

Verbal Commitment
The Scoop
Committed to Florida State
Christmas is a big force on Manatee's front line and will be the veteran this year showing a lot of the new starters what it takes to compete at the highest level he has seen in the last couple of seasons.
5. Adam Torres | 6'5 | 275 | Lake Mary

Top College Choices (via 247Sports)
The Scoop
Florida State
Miami
South Carolina
South Florida
Torres provided some nice defensive blocking for his team last season that was in playoff contention right up until the last second. He will be called upon to help do the same thing this year as the district gets tougher.
IN THE BUBBLE
Edgar Cerenord – American Heritage (Plantation)
Keiwan Jones – Dunnellon
Chris Nelson – Victory Christian
Josh Rimes – LaBelle