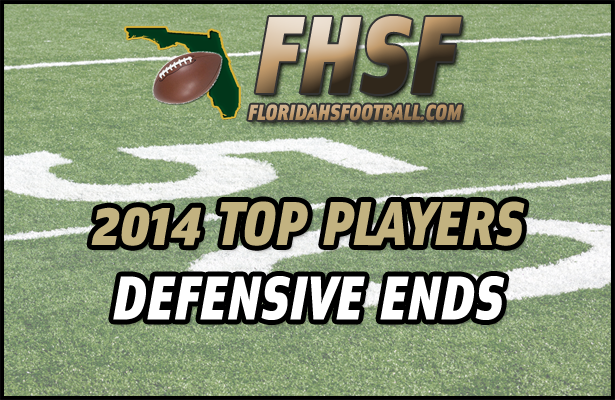 Today, we continue our at look at the top players around the state by visiting the defensive ends section. Defensive ends are one of the most important pieces to the defensive line. If you don't have a defensive end, then your team is going to get cut through by opposing offenses with no questions asked every single time you are on the field. In the Class of 2014, the Sunshine State has a respectable amount of defensive ends that are getting their name out there with the quality level of play they put on the field. These guys listed below will once again be a force on their teams this season.
List complied by Florida HS Football Staff
1. Chad Thomas | 6'5 | 240 | Booker T. Washington (Miami)

Top College Choices (via 247Sports)
The Scoop
Florida State
Louisville
LSU
Miami (FL)
Thomas has been one of the biggest forces on the Booker T. Washington's defensive line, including the last two seasons that have seen the Tornadoes make two state championship appearances and a win for the 2012 Class 4A title.
2. Denzel Ware | 6'3 | 220 | Crestview

Verbal Commitment
The Scoop
Committed to Kentucky
Crestview was going to have to fill the big shoes Ware left behind after he transferred to Opp, Alabama during the offseason, but Ware eventually came back home. Ware will be a key player to help get the Bulldogs into the playoffs this season.
3. Trent Harris | 6'2 | 226 | Winter Park

top College Choices (via 247Sports)
The Scoop
Florida
Miami (FL)
While Winter Park did suffer through a losing season last year, things are looking up and Harris is one of them. Look for him to help put the Wildcats back in the playoff hunt this season.
4. Mike Smith | 6'3 | 230 | Miami Northwestern

Verbal Commitment
The Scoop
Committed to Miami (FL)
Smith's name has been rising during the offseason and just choose very recently to stay close to home for his college career. Expect Smith to help guide the Bulls through a tough schedule this season including a district schedule that can go more way than can be counted on both hands.
5. Justus Reed | 6'3 | 220 | Clearwater Central Catholic

Top College Choices (via 247Sports)
The Scoop
Florida
Florida State
Reed was a clear dominant force in the Marauder's huge season last year and will be there once again. A lot of people believe this could be the year that Reed's team makes it to the Class 3A state final.
IN THE BUBBLE
Keyon Brown – Hardee
Blake McClain – Sandalwood
Rocel Mc Williams – West Florida
Sedrick King – Plant City
Kevin Bronson – Village Academy
Rashawn Shaw – Fort Pierce Central