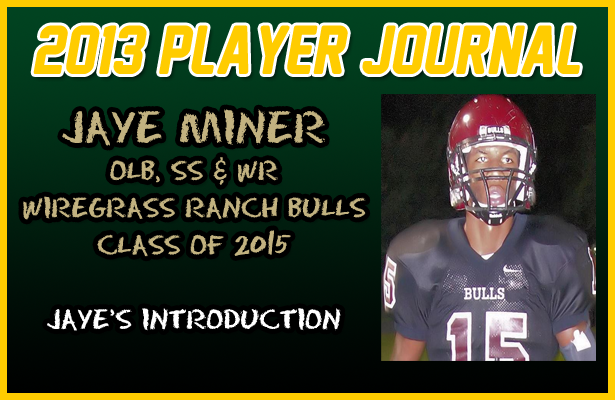 EDITOR'S NOTE: We have left the players journal unedited to allow the players to express themselves in the best possible way that they can do so. 
My name is Jaye Miner; I am a 6'3" 195 lbs. junior strong safety, linebacker and Wide Receiver at Wiregrass Ranch High School in Wesley Chapel Florida. I have been on the varsity roster since my freshman season and have been a starter since my sophomore season.
I am part of a team that is in transition. Over the past two seasons we were 0-20. Coach Shobe who coached our team the past two seasons is no longer with our program, I would always be grateful to Coach Shobe for giving me the opportunity to play on the varsity team as a freshman. Our new Head Coach Mike Lawrence played his collegiate football at Kansas State University which is a big time college football program. Since Coach Lawrence has played at the level that I am trying to get to I will be very receptive to everything he has to say.
From day one when Coach Lawrence took over the team he instilled in us a winning attitude, some of the phrases that we had to memorize as a team was, "Perfection is unattainable, but if you chase perfection, Excellence will be achieved." And "Winning is not a sometime thing it is an all-time thing." That winning attitude has absorbed by all of my teammates. Our team did not have an off-season this year we all wanted to become a better team. The players on my team would meet at the park, the gym, LA Fitness etc. to workout so that we can become better players for our team we are holding ourselves accountable. Majority of the football players decided to be part of the track team so that we could work out together.
When it came time for spring practice it was a lot different than in the past. Disciplined would be the one word I would use to describe to atmosphere of our practice during the spring. Every player and coach was focused on our objective for the spring which was to beat Chapel (Wesley Chapel, we don't respect them enough to say the whole name) and Sunlake.
For the spring game the team was so amped up. We played Chapel the first two quarters they are our arch rivals we are friends off of the football field, but on the football field we don't like them and they don't like us. This year the rivalry became more intense because two of our former coaches; Head Coach Tico Hernandez who was my middle school football head coach and was on our staff the last two years along with Coach John Holley who was one of my favorite coaches now coach for Chapel. Now they are the enemies. The game was close we were up 3-0 going into the last minute of the game they had the ball in our territory and driving. I was playing middle linebacker their quarterback threw the ball toward the left sideline; I ran as fast as I could toward the receiver and got the interception right in from of some college scouts that were at the game. For the first time in my high school football career I have tasted victory 3-0 even though it was a spring game. For the next 2 quarters we played Sunlake which is one of the most successful teams in the county and we beat them 7-0 in two quarters. So now we believe that we can play on the field with any team.
This summer I have been extremely busy between workouts, showcases and college football camps. My summer travels started out at the University of Miami Football Camp. I feel that I did well at Miami. I was with the linebackers I was told by one of the coaches that I should come back do a campus visit and come to a game this fall. "I will be back for sure". The next camp I attend was FIU they held their camp at the Tampa Bay Buccaneers practice facility, it felt good to be on the same field that some of the NFL greats practiced on. It started pouring down raining so I didn't get a chance to get any feedback from their coaching staff. The next event I attended was the Big County Preps E7 showcase. I was really excited about this event because mostly everyone I know goes to the BCP website on a daily basis and some of the best recruits in the Tampa Bay area get their first exposure from BCP. I won the Linebacker MVP award and came in 2nd place in the Gauntlet obstacle course by .59 seconds ahead of some of the top WR, RB and DB's in Tampa Bay.
My first out of state camp was Charleston Southern I did great there, one of the coaches there though that I was a rising senior and said, "I may not be able to talk to you at this time next year because you are about to blow up." That comment made me feel really good about my progress. The next day my travels took me to Coastal Carolina University I really liked the campus and facilities there, regardless if I attend Coastal Carolina or not I will always remember their slogan of "B.A.M" BE A MAN. Be accountable for your actions and don't make excuses. I will remember that for life. The last camp that I attended was FAU I performed well there in the one on one drills I had a couple of interceptions. Upon returning home my team had a camp as well I enjoyed this camp the most because my little brother who is a rising eighth grader was on the field with me along with my adopted brothers "The Wiregrass Bulls Football Team" we have sweated together, pushed each other to the limits physically and mentally, laughed and cried together. My teammates are my brothers for life.
I have heard from quite a few schools. Some of the schools that shown interest are: UMASS, Coastal Carolina, Rutgers, Arkansas, Miami, Maryland, Virginia, Penn State, Michigan, Michigan State, UNLV, Nevada, Arizona State, Florida State, FAMU, Stetson, Charleston Southern and Wofford. I plan on going on a bus trip with Unsigned Preps next summer to visit some other schools
Now that practice for fall football has started we have close to 80 players on the field I can't wait for our fall classic game vs. Mitchell HS 8/22 at Wiregrass Ranch HS.