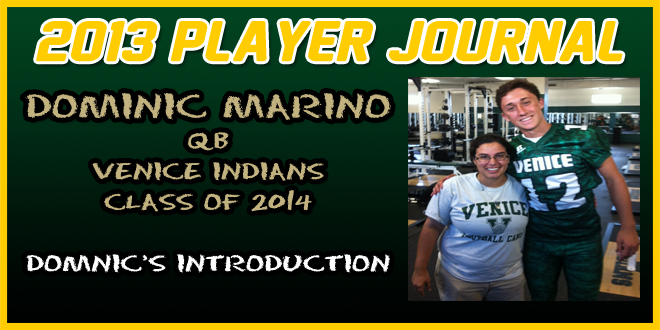 EDITOR'S NOTE: We have left the players journal unedited to allow the players to express themselves in the best possible way that they can do so. 
Hello, My name is Dominic Marino. I am a senior in the class of 2014 at Venice High School in Venice, Florida. I am a 6'2" 185 lb quarterback and this will be my third year as a varsity football player.
The Venice Indian football program is one with a long history of tradition, toughness, and excellence. Venice has produced many successful division 1 athletes such as Trey Burton, Clay Burton, Dino Fanti, Beckett Wales, Forrest Lamp, Josh Boyle, Kale Youtzy, and Heisman trophy watch-list candidate Dri Archer. I hope to someday add my name to this list of greats to come from our town. There's been only one team in Venice history to win a state title, my teammates and I have aspirations to be remembered just as the 2000 team is.
Many players today blame failure and lack of success on their coaches. At Venice high it is tough to make such an accusation. Across the board, through out all positions, from head coach to equipment manager each part of our staff is filled with knowledge, experience, and a talent to help high school students become good citizens and great football players. Our head coach, John Peacock is in his seventh season at the helm. He's 54-17 as the head coach at Venice, where he started out as an assistant in 1999.
For our spring game we traveled up to Lakeland High school to take on the Dreadnaughts. With only 5 starters last year graduating, spring practice picked up right where it left off. This carry-over led to an advantage of us being ahead of other teams as far as execution and team chemistry. With high expectations for us this year, Lakeland would be a good test to see where we are and where we need to be. On that hot august night, Friday the 24th, we took the 2 hour ride to the intimidating turf field with a jumbo-tron score board at Lakeland stadium. The outcome being in our favor, 21-0, produced optimism on both sides of the ball. Defensively, shutting out an explosive offense like Lakeland's is quite the accomplishment. With a almost a whole returning unit on the O-line and a height average of 6'3" things looked promising as far as making room to run for All-state honorable mention running back Terry Polk. Ty Gauthier, Dane Dabney, Bo Rydecki, Alex Hoag, and (in competition) Clayton Walker/Jesse Tinkler provide enough time for me to make a sandwich, write a novel, then find my read and deliver a throw which is a nice luxury that not many quarterbacks at the high school level get to enjoy. As far as my receiver go, reliable hands are found at every position. X, Y, Z, H, tight end, all have my confidence that they will catch the ball. These components provided plenty of reason to work even harder during the summer.rl
Contrary to most seniors in high school, my last year as a Venice Indian will also be my first. January of 2013, I transferred from Riverview high school, to Venice at the end of the semester. Saturday January 12th I played for the Riverview basketball team against Braden River in the Manasota Basketball Classic at Lakewood Ranch. The upcoming Wednesday would be my first day of school at Venice. Unlike any normal student transferring schools, my decision was unnecessarily over publicized. Me leaving a school that I had been a ball boy at for from age 8-14, my dad taught and coached at, and dreamed of playing there was anything but an easy choice. Me leaving was highly criticized, highly resented and was an experience that certainly made me a better person. Comment boards on websites left 100+ posts ridiculing me for leaving my team, but not caring to find out why this decision was made. The experience brought upon new friends and showed who really cared about me enough to support me, even if they were the friends that I was leaving and I thank the ones who were there for me. Continuous news paper articles fed the public bits and pieces to why I left, but only enough information to provide ideas to people's heads for them to make false assumptions. All of this craziness and attention is just more of a reason for my team and me to be successful this year.
This summer has been strictly football. From waking up at 5:30 for workouts to running 110's in 98 degree weather to running from school to the beach and having agility workouts there, these past couple months have been a blessing to spend most of the time with my team mates. Every one has shown great improvements in the weight room. With 100% completion for our fundraising and almost everyone in the "Iron Man" club (perfect summer-workout attendance) the commitment level towards this team is tremendous.
With a brand new school and locker room just built, my teammates and I are more than ecstatic to have the Southeast Seminoles come into the teepee this Friday and kick-off what's going to surely be a season to remember.