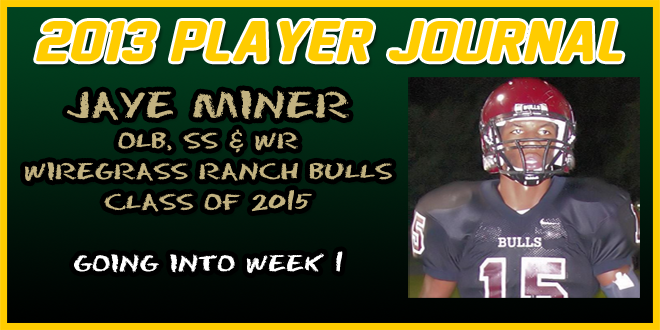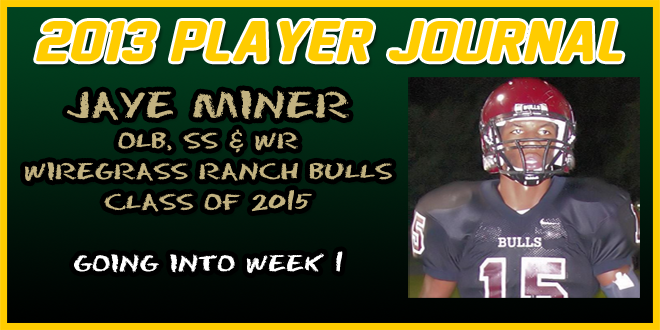 EDITOR'S NOTE: We have left the players journal unedited to allow the players to express themselves in the best possible way that they can do so.
Last week my journal finished with what I did during the summer between working out and camps. Even though I have been playing on the varsity team since freshman year nothing was promised with Coach Lawrence and his new staff. Coach Lawrence has assembled a great coaching staff that is very experienced. The coach that I have the most contact with is Coach Steven Cash who is our Defensive Coordinator and Linebackers Coach, Coach Cash is a legend in my opinion he has coached at every level of football there is. In the short time he has been on staff my football IQ has increased quite a bit. Also we have on our defensive staff Coach Mike Blandford is a very experience coach as well, Coach Dominic Lane whom played college football in the SEC at Ole Miss, and Coach Frank Lanza who was my position coach in middle school.
I said in the previous paragraph nothing was promised to anyone on the team whether you were a senior or an incoming freshman. Even if you were on varsity last year you were not promised to be on varsity this year. This year just showing up on August 1st and expecting to be part of our team wasn't an option unless you just moved into the area. You had to earn the right to be a part of this program by doing a 1.5 mile run in 11 minutes for skilled position players and 13 minutes for lineman. During the run I was so proud of all my teammates even after running 1.5 miles we went back on the track to run with some of our slower teammates to encourage them to complete their run in time, which we all did. Also I was 1 of 7 players on my team that was declared an IRONMAN. To be an IRONMAN I had to complete my run in 10 minutes or less and have a total of over 800 pound in bench press, squat, and clean and jerk.
This week was the first week we were back to school. That's a task in itself balancing school, homework, football, proper nutrition, and staying hydrated from 6am when I wake up until 6pm. One of the things that have helped me with hydration is Pedialyte yes the stuff babies drink. One of our linemen Vinny Haider told me about it during our trip to Charleston Southern. I have been drinking one bottle a day since and it helps. Also I have 7th period lunch so I can go home before practice and get a good meal.
During practice our task was to beat Mitchell. Mitchell is a good team in Pasco County that beat us 27-0 in the preseason classic last year at their field. They are known to have a great running game. Last year they ran a wing-T and ran on us at will. So our scout offense ran the wing-T the past two weeks preparing for Mitchell. Our game was supposed to be Thursday night at our field. Majority of the school was excited to see the NEW WIREGRASS BULLS play but Mother Nature had other plans. Tentatively the game was going to be rescheduled for Friday afternoon at 3pm at our field but due to bussing issues that didn't happen either. The game now rescheduled once again to Saturday morning at Mitchell now we lost home field advantage. I haven't played on a Saturday morning since Pop Warner days. Now our team was frustrated because we are tired of hitting each other. Friday afternoon due to a misunderstanding between one of my coaches and myself I was punished and had to sit out the first quarter of the game. I was mad that I let my coaches, teammates and family down due to a misunderstanding. The coaches made me a leader (captain) of our team and I let them down. Never Again!
Friday night I couldn't sleep because of the anticipation of the game. Saturday I had to be at school at 6:45 am to catch the bus to Mitchell HS for the game. During the bus ride I listen to Meek Mill on my I-Pod to get my mind ready for the game. During the Preseason Classic the varsity team only played the 1st 3 quarter then JV played the 4th quarter. So I only got to play the 2nd and 3rd quarter. The 2nd play from scrimmage our QB my best friend since middle school Shane Bucenell hit WR James Jackson for an 87 yard TD pass our sideline went crazy. Then a few drives later in the 1st quarter Mitchell scored. At this time I'm watching the time on the clock, pacing waiting on the 1st quarter to end so that I can get in the game. After the first quarter score tied 7-7.
Second quarter starts I'm in the game now at the "Mike" middle linebacker the "LTW" (Lay That Wood) Boys of Jordan Mutcherson, Christian Borak, Elijah Brooks-Davis and I are in the game. I'm not saying once I got in I was the difference maker, (our DB's had 3 interceptions as well) but they didn't score the rest of the game and we scored again and won 14-7. I finished with 6 tackles 2 TFL. Excited is an understatement I have been part of a team that has gone 0-22 the past two years including preseason classics. So being on the winning side of scoreboard since middle school, (not including the spring game a few months back) Am I happy? Heck Yeah. Even after the win I seen comments on Twitter and Facebook from some people at other schools and even some of my former teammates that was part of the 0-22 saying "Wiregrass won, It was only a preseason game." Yes it was only a preseason game but our team have worked all summer played our butts off and came out victorious. I know it don't mean anything as far as regular season record go but since Coach Lawrence took over our team we have won the following spring game vs. Wesley Chapel 3-0, spring game vs. Sunlake 7-0, and Fall Classic vs. Mitchell 14-7.
Next week we play our first regular season game on the road against Gulf HS, like us they were 0-10 last year. So they know how we feel and they are going to be just as hungry as we are. We can't take any team for granted just like no team can take us for granted.