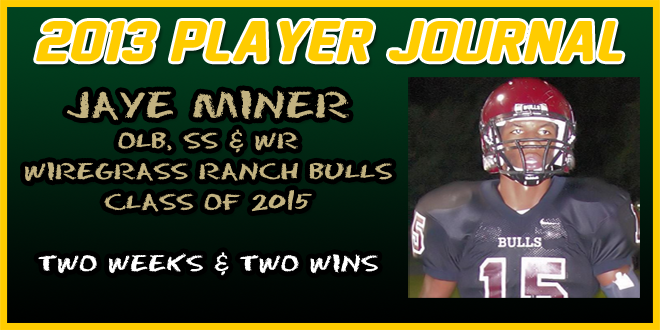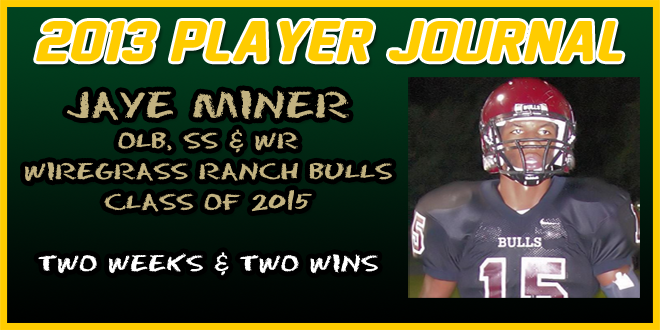 EDITOR'S NOTE: We have left the players journal unedited to allow the players to express themselves in the best possible way that they can do so.
Since my last journal entry a lot has happened on and off the field for me. We have played 2 games and we are now 2-0. "The 22 game losing streak is over." (Not According to Coach Lawrence) because he wants us to keep our hunger. Since September 1st the first day colleges can contact juniors recruiting has heated up as well.
First game of the season we were on the road against Gulf High School. Like us they were 0-10 last year, so we knew that they were going to be just as hungry as us. It was good to look in the stand at an away game to see our side of the stands full. We score first then they tied the game up at 7-7. Then went on and scored 35 unanswered points and earned our first regular season win since 2010. Was I excited? YES. But we didn't show it. Coach has told us "We have to act like we have been there before." I finished that game with double digit tackles but I did let an interception (pick-6) slip through my hands.
September 1st I woke up and seen that I received an email at 12:01 am from the recruiting coach from the University of Virginia. I took an unofficial visit to Virginia during spring break I really liked the coaches, campus and the indoor practice facility. I like the direction that Coach London and his staff have UVA going in. So I was honored that they reached out to me at 12:01am. Later that day I received emails Florida State and Coastal Carolina. Coastal Carolina recruiting coach was at my spring game so that meant a lot as well. Tuesday after practice Coach gave me letters from Ohio State and Auburn. (Big 10 and SEC) this process is getting exciting. Since September 1st I have heard from the following schools (FSU, Miami, FAU, UNLV, San Diego State,Rutgers, Virginia, Ohio State, Auburn, Arkansas, Coastal Carolina, and Duke.) I have been in contact mostly with Duke. I plan to go to take some more unofficial visits this fall Duke, Miami, FSU, FAU and Coastal Carolina so far.
Our 2nd game was against Hudson at home we knew that this was going to be a tough game. Hudson has a good run game. It was pouring raining during the game and we had 7 starter suspended for the first quarter but our kicker Bryce Wilson along with our defense holding Hudson gave us a 6-0 halftime lead. Hudson then came out and scored at the end of the 3rd quarter we were down 7-6. We then score 18 unanswered points. I was one of the players that scored. I scored on a fumble recovery on defense. I had my best game every 17 tackles 1.5 sacks and a fumble recovery for a TOUCHDOWN!!!!!! It's good to hear from your teammates and family that I did well, it's even better when the player on the other team tell you that you did good. Six players from Hudson followed me on Twitter and told me I did good including their QB Joey Caruso told me "You are the real deal" I have a lot of respect for the Hudson team.
We are starting to get some new BULLievers . The students and staff are proud of their school football team. It feels good to see supporter in the stand even in the rain.
Jaye Miner #15
Linebacker
Wiregrass Ranch High School
Twitter @jayeminerbulls