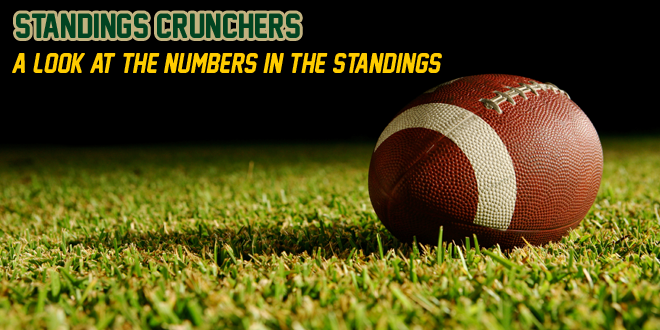 After three weeks of high school football already in the books we take an in depth look at the numbers from the standings and the points scored. A lot of this information you may not see right off the bat when look at a standings page so this where we do the work to bring you that information.
There are only four teams in Class 8A that have qualified for the 100/42 Club after three weeks in. It is a very elite group that rewards both offenses and defense for a job well done on the field. However, you ask where did we get 42 from. 42 is the number of points allowed with in the first three weeks which averages out to just 14 points per game allowed. Minimum three games played was required.
Here are the teams in the 100/42 Club after Week 3:
Hialeah – 100/30
Manatee – 102/41
Miramar – 128/21
Vero Beach – 122/20
However, there were several teams that missed the cut in joining the 100/42 Club. Here they are: Mandarin (111/46); Sandalwood (101/52); West Orange (145/44); Monarch (102/49)
As you can see Mandarin just miss the cut by 4 points, West Orange by just 2 points and Monarch by just 7 points.
What about Apopka you ask? Well Apopka has scored 226 points total on offense so far, but remember they are one game ahead of most teams and won't see their first of two bye weeks come until a few more weeks down the road. Apopka could be in the club even with four games, but the defense has surrendered 109 points in these four games. That averages out to 27 points per game the defense has given up to opposing teams. That is not exactly the 14 points or less we are looking for on average per game for the 100/42 club.
UNDEFEATED TEAMS LEFT IN 8A AFTER WEEK 3: 23
Teams giving up the most amount of points? It is there and we hate to point this out, but with the good there is also comes the bad in some of these numbers. Here are the teams that have given up over 100 points so far this season.
West Port – 121 (Record 0-3)
Apopka – 109 (Record 3-1)
Boone – 131 (Record 0-3)
Cypress Creek – 102 (Record 0-3)
Spanish River – 129 (Record 0-3)
Taravella – 110 (Record 0-2)
Here are some other crunchers to chew on for now
– Only three teams have given up 7 points or less with in the first three weeks of the season. This include North Miami (0 points given up); Deerfield Beach (Only 6 points given up, all to Blanche Ely); University – Orlando (only 7 points given up so far)
– Three teams in District 8A-3 remain undefeated with Oviedo, University (Orlando) and Winter Park all sitting at 3-0.
– Teams in District 8A-4 have scored 437 points total while only giving up 261 points through 13 games played so far.
– Dr. Phillips is the only team with a winning record in District 8A-5, sitting at 3-0 overall.
– Bloomingdale remains the only undefeated team in District 8A-6, despite the fact that Plant does have a half game lead on them thanks to the tied game against Sandy Creek, GA in Week One.
– Deerfield Beach, Monarch and Douglas are a combined 7-0 after the first three weeks and it is surprising that we are talking about them being undefeated (exception is Deerfield Beach we expected them to be good), but they have been doing the work to get the job done each week.
– Coral Gables, Miami Senior and Miami Beach are a combined 6-0 overall, while district favorite for this year, Columbus, is sitting at 1-2 overall.