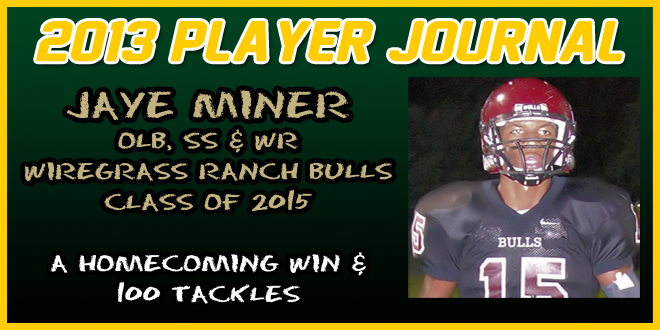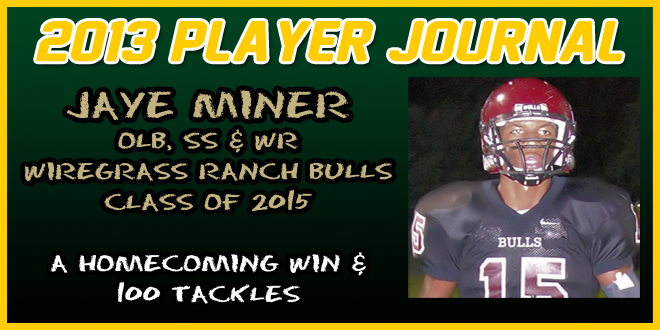 In the game of football just like in life there are ups and downs. We played our second district game against Gaither whom I felt that we could beat. We were up 14-10 in the 3rd quarter driving to score again then due to penalties we were backed up and forced to punt. I think if we would have scored we would have been up 21-10 and the whole game would have changed, we lost 34-14.
This week was homecoming week. In the history of our school we have never won a homecoming game vs. Ridgewood. My teammates and I were very determined to change that this year. We had a very intense practice this week along with the school activities leading up to the homecoming game.
Game day we usually go into the field house to get ready after our team meal about 2 hours before the game. I usually get dressed and find somewhere to but my headphones on listen to my music and sleep until time for pregame. When I came out of the locker room I seen so many people there in the stands and lined up to lead us on the field, I have never seen that many fans at one of our games. So I felt that all eyes were on us not to let our school down again.
We jump out to an early 27-0 lead so I guess that frustrated Ridgewood so on the kickoff of the second half one of their players hit one of the LTW "Lay That Wood" Boys (Nickname for our Linebackers) Christian Borak who had just won Homecoming King helmet to helmet blindsided so that really amped me as well as my teammates up. I was going after whoever had the ball. We won the game 37-14 I knew I had a good game but did not know how well until after the while at Beef O Brady's with my teammates and I saw on twitter that one of the reporters said that I had 25 tackles. My goal in preseason was to get 100 tackles. I got 100 tackles in 6 games.
Recruiting is going as well as expected I hear from some schools on a daily basis some maybe once a week I feel once my film from this year is sent out things are going to get crazy. I can't worry about that right now because we still have some unfinished goals and some big games ahead of ourselves.
[divider] Here is what happened in Weeks 5 & 6 from Jaye as well.
The past two weeks have been a little tough, the prior two weeks I was on top of the world with two big wins. Now the dream of an undefeated season is over with two straight losses.
First loss was to River Ridge 21-14. Not taking anything away from the River Ridge players and coaches because they were well prepared and wanted more than we did, but I feel that we beat ourselves more than they beat us. We made TOO MANY mistakes as a team and River Ridge capitalized on them. Even after all of the mistakes we made we still had a chance in the last seconds of the game to tie it up. Our quarterback Shane Bucenell scrambled 85 yard in the last 18 seconds of the game but we needed 87 yards. I would definitely say that Shane has the most heart of any player that I have played with or against.
The mood of my teammates after the game I would say was "Disappointed", Coach didn't have too much to say after the game but "See you gentleman at 5:00 am." I could not sleep that night thinking about what Coach is going to make us do at 5 o'clock in the morning. The next morning all of my teammates arrived well before 5am, we all sat in the locker room for about 15-20 waiting on Coach to come in. Once he comes in he tells us to go to the "Bull" that sits in front of the school. I thought that he was going to have us exercise or something outlandish we all stood by the Bull and he asked each of us. What does this Bull and what does playing for this school mean to you? We just sat there as a team and had a team bonding session.
Next game was Tampa Bay Tech, I was looking forward to the challenge of this game because I knew that they are loaded with "D-1" talent Tajee Fullwood, Deon Cain, Fred Russ, Micah Tucker, and Deon Thompson whom I played Pop Warner with to name a few. I wanted to see how I would perform against top tier talent such as the players on Tech. We held them close in the first half 12-0. I guess their coaches made 2nd half adjustments and won 32-0. Even though we lost by such a big margin the game was a lot closer than the score indicated we had the ball in the red zone a couple of times but penalties and turnovers hurt us. I was proud of myself and my teammates because we all played 4 quarters and did not quit. My first tweet after the game was to Tech QB Deon Cain congratulating him on the victory and for being a true leader of his team and he advised me that I did my thing also #Respectamongstplayers Also my dad is friends with one of the coaches for Tech and he also gave positive feedback on my performance.
As far as recruiting is concerned it feels great to hear from so many coaches from various teams across the country. Since my last journal in addition to the schools I have previously heard from I have heard from Akron, Cincinnati, NC State, Georgia State, Mizzou, Mississippi State, Penn State, Boise State and Florida. It is a very good feeling to go to your mailbox and see handwritten material addressed to you from coaches at these big named universities. I look back to when I first started playing youth football for the New Tampa Wildcats when I was 8 years old along with a couple of players that are now D-1 prospects Tre Watson (Tampa Catholic) Scott Patchan (Tampa Freedom) I would have never thought in a MILLON years that I would be in the position where I am now because I was an 8 play kid back then. I have worked very hard year after year to get better. None of this is possible without God. God is Great!!