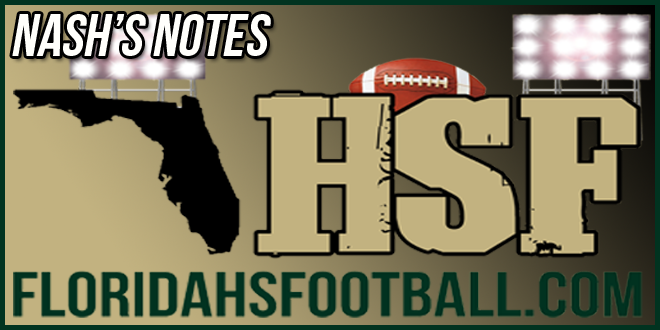 On Saturday, The B2G Sports 7-on-7 tournament took over Joseph C. Carter Park in Fort Lauderdale and 16 of the top 7-on-7 club teams from all-around Florida showed off their
With over 300+ athletes on hand, some that weren't as known before, got to make a name for them selves. There were also a ton of future BCS-stars still doing what they do best, by dominating on the field.
Top performers:
2015 Miami Central wide receiver Da'Vante Phillips:
At six-foot-one, 185-pounds, Phillips runs some of the smoothest routes I've seen. Phillips is not one of those guys who is strictly a camp guy and only performs well in a t-shirt and shorts. He dominates in pads too and is a quarterback's best friend. Going against some of the top defensive backs in the state all day, Phillips had numerous jump-ball catches for the Florida Fire. He is a Florida State lean early in his recruitment.
2015 Haines City safety Derwin James:
At six-foot-two, 200-pounds, James is an absolute beast. He is all over the field making plays with his physicality for the Pro Impact 7-on-7 team. James has now been committed to Florida State for over a year now and doesn't appear to be wavering anytime soon as he has a Florida State tattoo on his arm and plans to be an early-enrollee.
2015 Jacksonville Trinity Christian Academy safety Deontai Williams:
Williams, who I had yet to see live until this event, was destroying opposing receivers. Williams not only played great zone coverage, but he even lined up and pressed opposing receivers. I think Williams could earn early playing time at Florida, where he is currently committed, by playing in the nickel formation. At six-foot, 175-pounds, Williams is one of the best defensive backs in the state.
2015 Miramar safety Josmar Diaz:
It was hard to ignore Diaz's presence on the field. Not as widely known as fellow Miramar defensive backs, Tyrek Cole, Kendrell McFadden and Jeffery Hill, Diaz is just as talented. Diaz, who had three interceptions on the day, came through big for his Florida Fire team as he made a name for himself. Good ball skills and nice instincts are Diaz's best traits.
Other top performers:
2016 Gulliver Prep WR Dionte Mullins
2017 Booker T. Washington WR Clevan Thomas
2015 Monarch WR Calvin Ridley
2015 Miramar CB Tyrek Cole
2016 Atlantic Coast ATH Jaylon McClaiin-Sapp
2015 Ed White ATH Javarius Davis
2015 Trinity Christian Academy CB Kevin Tolliver
2016 Champagnat Catholic QB Kato Nelson
2015 Flanagan DB Adrienne Talan
2016 Flanagan DB Devin Gil
2015 Miami Central CB Adam Mattison
2016 Miami Central DB Jamel Cook
2016 Northeast WR Binjimen Victor
2016 Gulliver Prep WR Dionte Mullins
2016 Mater Academy ATH Zach Moss
2015 Miramar CB Jeffery Hill.