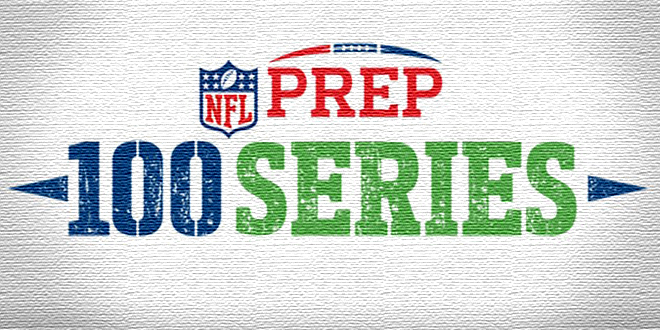 DAVIE — With the launch of the NFL player engagement program, the NFL has focused on training and mentoring the top high school football players from across the country.
The player engagement program started a series of football camps in respective NFL cities across the country. These camps are called the NFL Prep 100.
On Saturday, April 5, just over 100 of the top players attended the camp to not only receive mentoring and guidance from current and former pro stars, but to also compete and enhance their skills on the football field.
The first portion of the day took place at the Renaissance Hotel to learn more about life after football, and the value of education.
Listening to speakers such as, Miami Dolphins running back Marcus Thigpen and former NFL linebacker Chris Draft, the athletes spent 4 hours in a classroom environment. This environment was a good experience for the athletes to understand that their lives will not be just football and the necessary work to make it to the next level of football.
After lunch, the players were shuttled to the Miami Dolphins practice facility where they showed off their skills.
There was one player in particular that all eyes were on. That player was 2016 Gulliver Prep wide receiver Dionte Mullins.
Known for his acrobatic one-handed catches, Mullins was the day's top performer. All throughout the day, whether it be in the classroom, or in 1-on1's, or 7-on-7, Mullins was locked in and looking to improve his craft.
When it's all said and done, Mullins will have an offer from nearly every major program in the country. I got the chance to talk to him and he mentioned that "Florida State, Clemson, Alabama, and Ohio State" are really sticking out early in the recruiting process.
However, one school in Broward county was represented particularly well at Saturday's camp. That school being the Dillard Panthers who were represented by the best quarterback and defensive lineman at the camp in my opinion. Those two being, 2015 quarterback Jason Collins and 2016 defensive lineman Aaron Thompson.
Collins displayed fantastic footwork, a smooth release, and good decision making throughout the course of the day. While he is still without an offer, Collins could one day turn into a decent college quarterback.
Thompson is the second best defensive lineman in the county for the class of 2016 which is saying something. He was relentless in his pass rush as he made good use of his hips to whip past opposing lineman and good use of his hands.
Among the other top performers at the camp was 2016 Zion Lutheran lineman Chris Judge. Judge plays on both sides of the line for his high school but on Saturday he lined up at center and was quite possibly the best offensive lineman I saw all day on Saturday. Quick footwork, nice bend and long arms are the name of the game for "The Judge."
Other Top Performers:
2015 Gulliver Prep LB Dominic Sheppard
2015 American Heritage S Christian Irving
2015 Westminster Academy QB Joseph Vairo
2016 Miami Northwestern QB Osky Serbin
2015 North Miami RB Duane Hill
2016 Miami Southridge DL Nathaniel Cushine
2016 Miami Jackson DL Javon Hunt
2016 Boyd Anderson WR Demetrius White
2015 Stranahan LB Leroy Anderson
2015 Dillard RB Christian Bouie
THE VARSITY MESSAGE BOARD: Discuss your thoughts about the NFL Prep 100 combine on our message boards