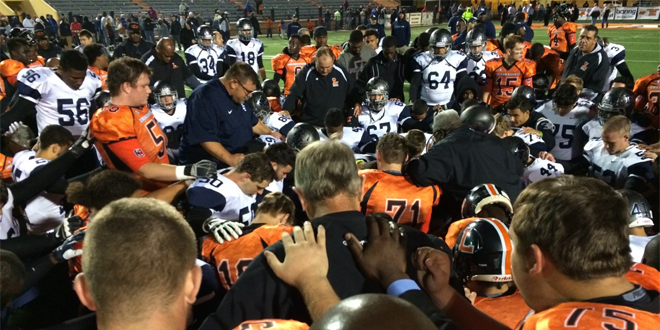 The first round of the playoffs for this season has been completed and here are five takeaways we took from the Class 7A Regional Quarterfinals from the first round.
Tate pulls the upset on Lincoln
Didn't see this one coming, but Tate played hard and caught Lincoln looking ahead to Niceville and shoved the Trojans out of the playoffs last night with a 34-24 win. Tate has shown they have improved a lot this year and the big thing getting this win now is that the Aggies will get the rematch they want with Niceville next week. But looking back at Lincoln, was the schedule weaker for them this year in providing a true, battle tested team before the playoffs started? It might be possible.
Lake Nona really put the metal to the pedal on Lakeland
Tucker Israel refused to end his senior year without a fight and he certainly gave the undefeated Dreadnaughts a run major run for their money last night. Lake Nona which led for most of the game, shown they had every single right to be in the playoffs, but they couldn't off Lakeland near the end to be able to get a rematch next week against Osceola-Kissimmee. Lakeland won by the score of 48-38.
Viera got exposed by Charlotte
Viera had ran the table on their schedule, going undefeated, but the schedule itself didn't provide one challenge for the Hawks and things finally caught up with themselves. Charlotte made the trip from the left coast last night and literally trounced Viera in a 48-0 blowout on the Hawks' field. The biggest surprise is no one expected this big of a blowout, let alone a shutout being pitched in this game.
District 7A-14 gets shown the door quickly
Royal Palm Beach and Atlantic-Delray Beach shut the door quickly on District 7A-14 on having a chance of advancing in the playoffs with Royal Palm Beach routing Fort Lauderdale while Atlantic played Blanche Ely in a tighter contest, but were the victor in the end. There has not been much to love about District 7A-14 this season as Blanche Ely was the only team to have a winning record of the four teams, but strength of schedule across the entire district was just bad.
American still can't find a way to get past Plantation
Once again this year, American, which improved record wise to 9-1, still couldn't find an answer for Plantation in the opening round of the playoffs. The Colonels rolled up the Patriots 34-13, and effectively along with  St. Thomas Aquinas rolling by Mater Academy in shutting the door totally on any Miami-Dade County teams surviving in the Class 7A playoffs.