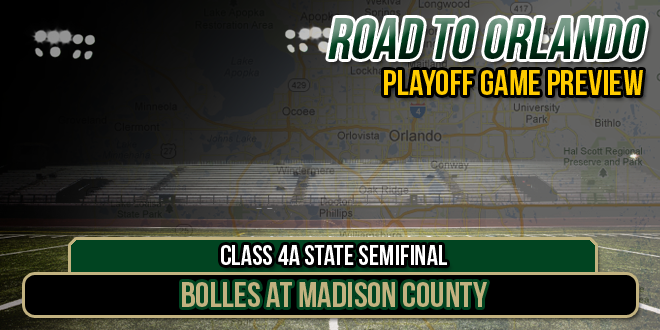 Win Tickets to an FHSAA State Championship Game! Click here to register!
Bolles (10-2) at Madison County (9-3)
Last Week's Results: Bolles def. Raines 20-13; Madison County def. Florida High, 37-30
Looking Ahead: Winner plays the winner of the Booker T. Washington/Cocoa game in the Class 4A state championship game.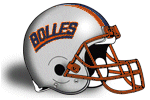 About Bolles: After flying through the first round shutting out Umatilla on the road, Bolles found their way to Raines where the Bulldogs found another challenge from the Vikings waiting on them. Sure enough it took all four quarters to put the district champion away and get the victory in the playoffs instead of the regular season, but now the Bulldogs are back on the road again. The bus this week will take them to Madison County where they will have to get off and play inside Boot Hill Stadium where the environment is truly tough and where a win is hard to escape with. However, if one is to look at the schedule that Bolles has played this season, they would say they could go up almost against anything and come out fine and they would be right. Bolles is surrounded by playmakers including the multitalented Christian Bermudez who can line up in a various number of rolls for the Bulldogs while receiver Dexter Carter, Jr. can certainly make plays through catches on the air or or coming out of the backfield. Certainly expect the Bulldogs to try to play their best football in what should be a tight ball game.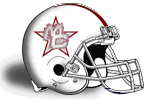 About Madison County: Head coach Mike Coe certainly knows you can win and make runs to the state finals and can lose and miss the playoffs. He has seen both over the last few years and he certainly know that he can do everything to boost a team back up and have them sitting one game away from their third trip to Orlando in four years. That is what is at stake here for the Cowboys and there is no better place to achieve a win than at home at Boot Hill. However, with Bolles coming in this will not be an easy task as the Bulldogs look for their fourth consecutive berth to the Class 4A state championship. For Madison County, they will certainly have to play well in all aspects of the game to get the win. The first two rounds proved that all you need is to be ahead by just a few points to win and that was the case against Walton in round one and Florida High in round two. Madison County will come into the game with a dual-threat quarterback in senior Akevious Williams who has not only thrown for 1,150 yards so far this season, but has laid out another 1,100 yards on the ground with 26 touchdowns combined through the air or on the ground. Another weapon that Madison County will certainly use to their advantage is Eric Bright, Jr., who has also been instrumental on the ground with 1,772 yards rushing so far along with 16 touchdowns. If anything, offense is going to be the biggest key for Madison County to try and get a victory against Bolles on Friday night.
Prediction: Bolles