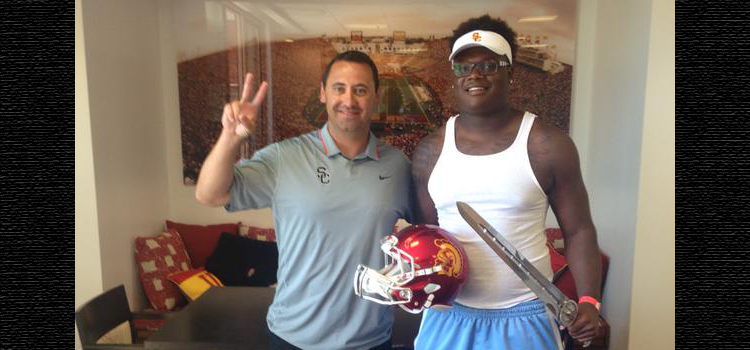 Originally posted on USA TODAY High School Sports
https://twitter.com/CAMPBOI_FRESZH1/status/614891341521244160
The land of Troy is spreading. Or perhaps just the lure of Troy? Either way, USC is suddenly in play again with stud recruits on the East Coast, and their latest addition may pave the way to a bright future in Los Angeles.
USC's Class of 2016 received a boost with the commitment of Keyshon Camp, an massive defensive tackle from Lake Gibson High in Lakeland, Fla. He currently stands approximately 6-foot-4 and 270 pounds, and he has the frame to continue adding weight and strength. All of that could come in handy at the collegiate level, but it's Camp's athleticism that drew attention from power programs in all five of the nation's biggest conferences, including the likes of Oregon, Alabama, Michigan and Miami, all before USC came along and blew him away.
MORE: For coverage of all high school sports, visit our partners at USATODAYhss.com
Whether Camp sticks with this commitment remains to be seen. He previously committed to Miami before de-committing and listing USC as a frontrunner.
Apparently an on campus visit and some quality time with head coach Steve Sarkisian, pictured above, was enough to push serious consideration into a full-on commitment, complete with a helmet and sword photo. Now we get to see if Sarkisian and company can translate early success in Florida into a sustained run of bi-coastal recruiting impact.
USA TODAY High School Sports is a partner of FloridaHSFootball.com. Follow on Twitter @USATODAYhss