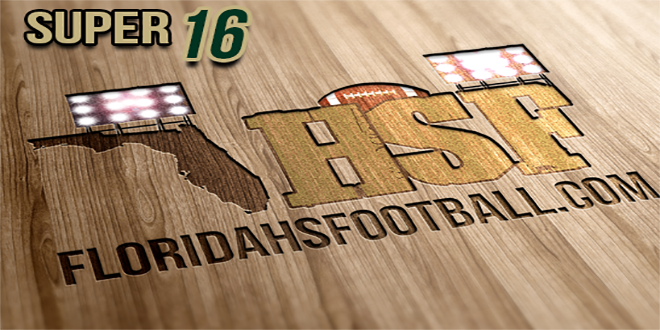 Instead of selecting a Preseason All-Region team, which a lot of preseason teams get based off recruiting rankings, we decided to think outside of the box. That thinking lead us to recognize 16 players from each region who were big play makers last season that should be able to match or exceed expectations for the 2015 season. As such, we call this list the "Super 16."
Here are the 2015 Super 16 selections for the West Central Florida Region
Woody Barrett (Sr., QB), West Orange
Why: The Auburn commit had a phenomenal year leading the Warriors to the school's first undefeated season and playoff win after accumulating 1,558 passing and 24 touchdowns while rushing for 813 yards and nine touchdowns.
Parker Boudreaux (Sr., OL), Bishop Moore
Why: The Notre Dame commit was one of the biggest reasons in giving the Hornets a huge push to the state semifinals last year before falling to the eventual Class 5A State Champion American Heritage in the final seconds of the game.
Demetri Burch (Jr., QB), Apopka
Why: As a young underclassmen, Burch stepped up huge for the Blue Darters guiding them to their second state title in three years finishing with 1,003 yards passing with nine touchdowns while rushing for 1,380 yards and 19 more touchdowns.
Ojay Cummings (Sr., RB), First Academy-Leesburg
Why: Cummings had a season to remember last season and returns as one of the leading rushers in the region after accumulating 1,678 yards and 17 touchdowns.
Zach Dickinson (Sr. QB), Mount Dora
Why: Dickinson came up big for the Hurricanes throwing for 1,576 yards and 21 touchdowns last season while leading them to the Class 5A Regional Quarterfinals.
Brett Heggie (Sr., OL) Mount Dora
Why: Higgie will be one of the main protectors for quarterback Zach Dickinson once again this season while helping the team collect up 2,336 rushing yards. Higgie who had a ton of Division I offers committed to Florida over the summer.
Bryan Johnson (Sr., RB), St. Cloud
Why: Johnson seemed to come out of nowhere and has people talking about St. Cloud again after gaining 1,478 yards and 18 touchdowns.
Eddie McDoom (Sr. WR), West Orange
Why: Woody Barrett's primary target this season will be McDoom who accounted for 792 yards and 14 touchdowns last season in helping the Warriors reach the Class 8A Regional Semifinals for the first time in school history.
Dylan Meeks (Jr., DE), Dr. Phillips
Why: Meeks is the kind of player offensive coordinators cringe over after terrorizing opposing offenses accounting for a school record 152 tackles, 20 tackles for loss and 7 sacks last season. Meeks is expected to top that level once again this season.
Cortez Pembleton (Sr., QB), Edgewater
Why: If not for some guy named Tucker Israel, Pembleton probably would have been the first team all-region quarterback last season. Pembleton finished with 2,489 yards and 33 touchdowns leading the Eagles back into the playoffs.
Jonathan Pollock (Sr., LB), Dr. Phillips
Why: Pollock made his presence known in the middle racking up 94 tackles, 11 tackles for loss, three sacks, two block punts and one interception. Pollock will be one of the key senior leaders on defense this season along with Dylan Meeks.
Craig Rucker (Sr., ATH), Edgewater
Why: Rucker was all over the field and made opposing defensive coordinators focus on solely where he lined up at all times finishing with 741 receiving yards and 7 touchdowns while rushing for 659 more  yards and 10 touchdowns.
Tyrek Tisdale (Sr., RB/WR), Oak Ridge
Why: Tisdale is the kind of player defensive coordinators have nightmares over, lining up at quarterback and tailback. He finished with 943 yards, nine touchdowns and just two interceptions under center, while also compiling 461 rushing yards and five touchdowns.
Buck Watkins (Sr., WR), Edgewater
Why: Eagles quarterback Cortez Pembleton has the luxury of having two dangerous weapons on the outside in Craig Tucker and Buck Watkins. Watkins accounted for 812 yards and 12 touchdown last season for the Eagles.
D'andre Weaver (Jr., QB), Oak Ridge
Why: When Tyrek Tisdale wasn't under center, it was Weaver who was and he delivered with 1,603 yards, 16 touchdowns and 1 interception.
Laderrien Wilson (Sr., RB), Kissimmee Osceola
Why: Anytime Osceola needed a big play on offense, Wilson was called upon and he delivered accounting for 1,902 yards and 28 touchdowns on 244 carries in leading the Kowboys to the Class 7A state championship last season.
Honorable Mention
Apopka: DeShawn Massey (Jr. RB)
Bishop Moore: Collin Hartman (Sr., QB)
Colonial: Kendal Williams (Sr., QB)
Dr. Phillips: Calvin Ashley (Jr., OL)
Edgwewater: Joe Clark (Sr., RB)
Foundation Academy: Gabe Walker (Sr., RB)
Kissimmee Osceola: Isaiah Wilson (Sr., QB), Parker Braun (Sr., OL), Carlos Becker (Sr., DB)
St. Cloud: Hunter Weismore (Sr., QB)
West Orange: Stone Forsythe (Sr., OL)
Photo Credits
247Sports: Barrett, Boudreaux, Heggie, McDoom, Meeks, Pollock, Tisdale, Watkins, Wilson
Hudl: Burch, Cummings, Dickinson, Johnson, Pembleton, Rucker, Weaver