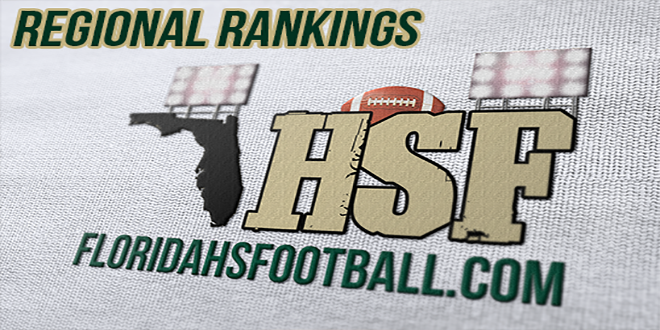 Here are the 2015 Preseason West Central Florida Regional Rankings from FloridaHSFootball.com
Like what you see? Subscribe now to our Premium Memberships to keep up with regional rankings for all 14 regions this season! For just around 10 cents a day you can keep up with all the action around the state! To subscribe, just click here!
1. Apopka Blue Darters
2014 Record: 11-4
Comment: Same gun, new bullets. Time for someone new to step up after several three year starters graduated. Junior quarterback Demetri Burch (2,383 total offensive yards, 28 touchdowns) and junior tailback Deshawn Massey (1,064 yards rushing, 17 touchdowns) are back and look to take over the reigns of the Blue Darter single wing trickery offense. The key will be the development of an offensive line that breaks in four new starters including two underclassmen.
2. Osceola Kowboys (Kissimmee)
2014 Record: 13-2
Comment: The Kowboys accumulated nearly 5,000 yards rushing and 65 touchdowns last season and return five of their top six rushers including Laderrien Wilson, Marcus Edwards, Nazayah Brown and Isiah Wilson. All four linebackers had to be replaced meaning the defense will look to new senior leaders free safety Tayshon Pinellas (62 tackles), lineman Terry Kelly (55 tackles, 10 tackles for loss, four sacks) and defensive back Carlos Becker (50 tackles, two interceptions, 13 pass deflections).
3. Dr. Phillips Panthers
2014 Record: 12-1
Comment: Several new seniors and underclassmen starters are having to step up following a heavy graduation class. Its time for several new play makers to take over including junior quarterback Marvin Washington, senior tailback Alvin Bryant, senior athlete Jaquarius Bargnare. The defense led by junior end Dylan Meeks (152 tackles, 20 tackles for loss, 7 sacks) will be way ahead of the offense.
4. Bishop Moore Hornets
Record: (13-1)
Comment: Bishop Moore played eventual Class 5A state champion Plantation American Heritage down to the closing seconds in a 20-17 loss last season. Now the goal of getting back and playing in the Citrus Bowl begins under the leadership of seniors quarterback Collin Hartman (940 yards, 12 touchdowns, 3 interceptions), offensive linemen Parker Boudreaux, defensive back Rayshad Lewis, tailback Joe Williams and athlete Nick Fries among countless other players returning this season for the Hornets
5. West Orange Warriors
2014 Record: 11-1
Comment: Warriors took a huge step with first undefeated season and first playoff win. Play makers Auburn commit senior quarterback Woody Barrett (1,558 passing, 813 rushing, 24 touchdowns) and senior wide receiver Eddie McDoom (792 yards, 14 touchdowns) are back.
6. Oak Ridge Pioneers
2014  Record: 9-2
Comment: Pioneer offense featuring lethal weapons Florida committ Tyrek Tisdale (943 passing yards, 461 rushing yards), D'andre Weaver (1,603 yards passing, 16 touchdowns) and Jeremy Crosby (909 yards receiving, 8 touchdowns ) are all back and looking to lead Oak Ridge to a deep playoff run.
7. Edgewater Eagles
2014 Record: 8-4
Comment: If not for a late safety in the final minutes, Edgwater would have upset Mainland advances to the regional finals last season. An arsenal of weapons return for the Eagles including seniors quarterback Cortez Pembleton (2,489 yards passing, 33 touchdowns), wide receiver Buck Watkins (812 yards receiving, 12 touchdowns), tailback Joe Clark (811 yards rushing, seven touchdowns) and athlete Craig Rucker (741 yards receiving, 659 yards rushing, 17 total touchdowns).
8. Mount Dora Hurricanes
Record: 8-3
Comment: Mount Dora came within a touchdown of knocking off host Merritt Island in the first round of the playoffs. Senior quarterback Zach Dickinson (1576 yards, 21 touchdowns) is back to lead the Hurricanes quest for the elusive district title.
9. St. Cloud Bulldogs
Record: 7-4
Comment: With stability in place now under third-year head coach Bryan Smart, this could be the biggest season coming up for the Bulldogs. The Bulldogs will be lead by a leading rusher in Bryan Johnson (1,478 yards rushing, 18 touchdowns) as well as a leading passer in Hunter Wesimore (1,929 yards passing, 15 touchdowns ). The special teams should be effective as well with kicker Andrew Bogaenko (12 field goals, 46 touchbacks on 49 kickoffs) back as well. The Bulldogs also had an impressive summer dominating several 7-on-7 events.
10. The First Academy Royals (Orlando)
Record: 10-2
Comment: 90% of the offense, which accumulated 3,721 rushing yards and 61 touchdowns is gone with the loss of three 1,000 yard rushers Kenneth Williams, Garrett Williams and Mason Plante. Its time for senior tailback Daquan Newkirk, senior RB/LB Destin Taht to step up on offense. In the meantime, linebackers junior Jonathan Griffin-Heard (112 tackles, 2 INTs), senior Jordan Hylton (105 tackles) and senior Jahquez Durham (104 tackles) will lead the team until the offense jells.
Next Five On The Bubble: Boone, Wekiva, Winter Park, Lake Nona, Timber Creek