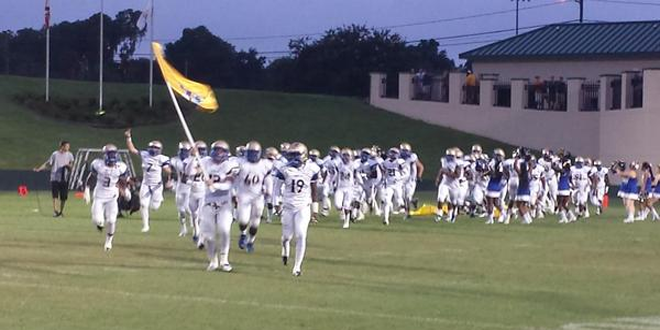 Top games to watch in the East Central Florida Region for 2015.
August 21
University (Orange City) at DeLand
Why: As if this rivalry needed any more ammunition between these nearby cities, several players transferred to the other over the summer. Jay Miller, LuLu Hamilton and Jimmy Nealy all left DeLand in the summer, while Qua Brown left University after the season, transferred to DeLand in the winter only to transfer back to University.
August 28
Lake Mary at Bolles
Why: What an opener for a young Lake Mary team going on the road against 11 time state champion Bolles, who has been state runner ups the last three years.
September 4
Dr. Phillips at Lake Mary
Why: The home opener figures to be a another learning experience for the Rams going up against one of the top defenses in Central Florida led by Dylan Meeks (152 tackles, 7 sacks), Jonathan Pollock (94 tackles, 3 sacks) and Tashaun Lindquist (90 tackles, 3 sacks).
Osceola at Oviedo
Why: Behind a stellar defense and lethal offense, Osceola rode the momentum all the way to the state finals. The road back to Orlando begins with a road trip against an Oviedo team led by quarterback Nick Carbone (1,115 passing yards, 918 rushing yards) who led the Lions to a 7-4 season and first round playoff loss to Apopka.
September 11
Hagerty at Oviedo
Why: Battle of Oviedo and the Mayors Cup trophy are on the line when these two meet up again with Oviedo holding a 6-2 lead in the all-time series. Oviedo has won four in a row outscoring its rival 132-47 the last three years.
Apopka at DeLand
Why: Spec Martin Stadium will be rocking when the defending 8A state champs Apopka Blue Darters come to town. Can a Bulldog defense be able to stop a tricky single wing offense featuring quarterback Demetri Burch and tailback Deshaun Massey?
September 18
Lake Mary at Lake Brantley
Why: When these two arch-rivals meet, all bets are off, throw out the records they say. This one is not only for annual bragging rights but more importantly a district title on the line. Lake Mary has won two in a row in the series but can they continue to stop the lethal triple option attack of the Patriots.
September 25
Mainland at Dr. Phillips
Why: By the time the playoffs come around, Dr. Phillips will be extremely battled tested after a three game brutal stretch that ends with the top team in Central Florida. A young Panthers team should be grown up by the time a loaded Mainland team, that has lost in the state semifinals to Miami Central three of the last four years, comes to town.
University (Orange City) at Lake Brantley
Why: If either hopes to clinch any of the two playoff spots up for grabs in this district, they better win this one. The trio of sophomore Lorenz Lingard (656 yards, 8 TDs), senior Quenell Rutledge (711 yards, 6 TDS) and senior Jonathan Boyd is stuff to stop will be a handful for a Patriots defense that gave up 36 points per game.
October 2
Palm Coast at Sandalwood
Why: If Palm Coast wants to claim the District 1-8A title and trophy, junior tailback Que'Shaun Byrd (1,555 yards, 21 TDs) must carry the Bulldogs offensively over a Saints team that will counter with Illinois commit senior quarterback Eli Peters (2,222 yards, 18 TDs, 496 rushing, 6 TDs) and Indiana commit senior wide receiver Phillip Bender (1,061 yards, 10 TDs).
October 16
DeLand at Lake Mary
Why: A loaded Deland team featuring play makers Stevionte Bull Brown (1,211 yards, 8 TDs), Stephon Brown (490 yards, 6 TDs) Dee Bruten (105 tackles, 15 tackles for loss, 1 sack, 1 INT), will be tough for a Rams defense to contain.
Deltona at Pine Ridge
Why: When Pine Ridge opened in the fall of 1994, it took students from nearby Deltona, thus instantly creating a natural city rival. The Battle of the Boulevard, since both share Howland Boulevard, was dubbed the name of the annual meeting each season. The two also play for the annual Mayors Cup, a large trophy with both schools emblems and colors on it.
October 23
University (Orange City) at Lake Mary
Why: Depending on what happens with prior district games, this could be for the district title or an elimination game. Can the Rams defense shut down Lingard, Rutledge and Boyd?
October 30
Sandalwood at DeLand
Why: If things go as planned this will decide the District 1-8A title or at least the runner-up spot. Both teams are full of athletes on both sides of the ball, the key matchup is how will a secondary of Dee Bruten, Jeremy Wilson and Alex Edwards contain Peters and Bender.
Mainland at Seabreeze
Why: The winner takes home the Spike Welshinger trophy, named after Mainland's coach who led the team to a 10-0 perfect season in 1949. Mainland has won four in a row in the series and six of the last seven meetings and leads the all-time series 32-17.
November 6
Bishop Moore at Lake Brantley
Why: A loaded Bishop Moore team comes to Altamonte Springs and will either play a role as a tune up for the playoffs for both or as the finale for Lake Brantley coach George Clayton.
Father Lopez at Victory Christian
Why: If Father Lopez is in the playoffs, this will be a huge test for the Green Wave and Jalen Spencer, Marquis Williams, Juwan Ross and Roman Mack going up against the defending Class 2A state champs.