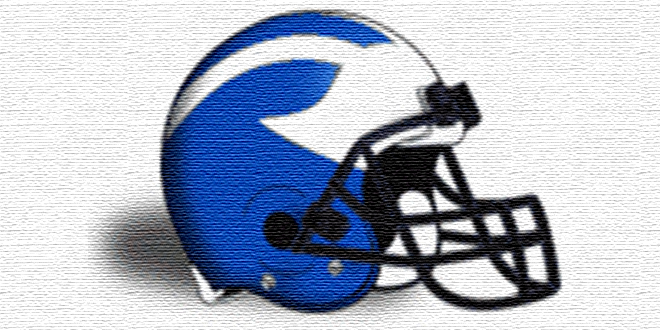 Team: Apopka Blue Darters
Sunshine State 25 Preseason Ranking: No. 9
Head Coach: Rick Darlington
2014 Record: 11-4
Join The Discussion: Sign up for a FREE user account | Discuss on our message boards here
Look Back On 2014
The Blue Darters marched to a 6-4 regular season record last year, but ran the gauntlet to the Class 8A state championship taking out teams like First Coast, West Orange and Manatee along the way. It was the Blue Darters second state championship in three years.
Players To Watch
QB Demetri Burch, Jr.; RB DeShawn Massey, Jr.; RB/WR Odunanyo Seriki, Sr.; WR/RB David Douglas II, Sr.; RB Dekwon Wilson, Sr.; FS Roddre Hardwick, Sr.; LB LaQuan Lewis-Hicks, Sr.; OL Will Barnes, Fr.; OL Ed Montilus, Fr.; OL Jonas Small, Jr.; LB Peyton Flores, Jr.; OL Julian Miller, Jr.; WR Correll Lynch, Jr.; DT Dante Johnson, Jr.
The Outlook
Same gun, new bullets as head coach Rick Darlington usually says.
That is pretty much going to be the case for the Apopka Blue Darters this season as they come in looking to defend their Class 8A state championship.
However, it will be no easy pickings on the schedule for the Blue Darters with teams like Deland, Edgewater, West Orange and Dr. Phillips all gracing the schedule. That is nothing new though for a team that has a small school feel with a large school enrollment tucked away in northwestern Orange County.
Facing a couple of reality checks with offensive lineman Martez Ivey and athlete Chandler Cox gone due to graduation, new leaders are having to step to fill in the big shoes left open. Demetri Burch has certainly stepped in his role as quarterback as he performed well in the spring game against Kissimmee Osceola. The offensive line itself has introduced a couple of freshmen to the lineup who also performed really well during the spring as well and should be able transition easily into the fall schedule with ease.
Defensively defensive tackle Dante Johnson will help anchor the defensive line while safety Roddre Hardwick and linebacker LaQuan Lewis-Hicks will be the senior leaders on the defense. There will also be quite a few juniors on the defense for the Blue Darters, but should be able to grow around the senior leadership and the coaching that Coach Darlington instills on his team week-in and week-out.
Another deep playoff run is expected, giving the standard that has been set at Apopka.
The District
District 8A-4 does not see much change with Olympia moving over to District 8A-5 while Wekiva rejoins Class 8A after a couple of years down in Class 7A. The Blue Darters will content with a strong West Orange team for the district championship, but are the favorites right now to win the district.
Three Games To Watch
Friday 9/11 at DeLand – A longtime rivalry along the Interstate 4 corridor is back on after a while of not being on the schedule. This game will pit a team that is working it is way back up to being a playoff power in DeLand while Apopka will look to snatch a victory away from the home team on the road. Given the history of these two programs when facing each other, this is going to be one game fans will not want to miss out on.
Friday 9/18 at Dr. Phillips – We will likely get to determine who the best team in the West Central Florida region here. Dr. Phillips is like Apopka in a lot ways when it comes to youth. However, the biggest advantage Apopka has over Dr. Phillips right now is the state championship experience the Blue Darters have had over the last three seasons. Although this is a non-district game for both teams, this could be a potential preview of possible rematch come the Class 8A North State Semifinals in early December.
Friday 10/2 vs. West Orange – West Orange won this game last year at home, but failed to beat Apopka for a second time in the playoffs. Given the rise of the Warriors, this game will be a pure battle. With both teams having their own talent and unique styles, the fans coming to this game will get more than their monies worth.
Join The Discussion: Sign up for a FREE user account | Discuss on our message boards here
Previous Sunshine State 25 Countdown Stories
N0. 10: Kissimmee Osceola
No. 11: Columbus
No. 12: Oakleaf
No. 13: Dr. Phillips
No. 14: Manatee
No. 15: Armwood
No. 16: Lakeland
No. 17: Niceville
No. 18: Delray American Heritage
No. 19: Dwyer
No. 20: Wakulla
No. 21: Naples
No. 22: Lake Gibson
No. 23: North Marion
No. 24: Palm Bay Heritage
No. 25: Bishop Moore