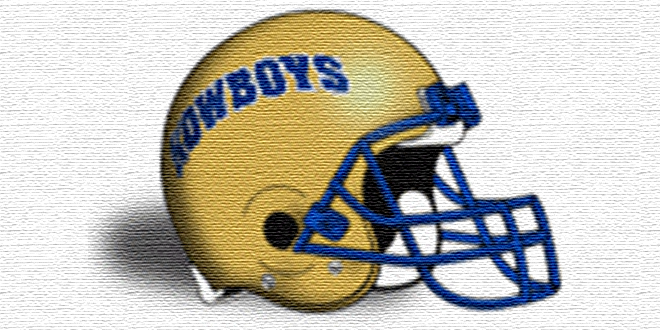 Team: Osceola Kowboys
Sunshine State 25 Preseason Ranking: No. 10
Head Coach: Doug Nichols
2014 Record: 13-2
Join The Discussion: Sign up for a FREE user account | Discuss on our message boards here
Look Back On 2014
Last year, the Kowboys were able to cross the hump of the previous two seasons to finally reach the Class 7A state championship game up the road in Orlando. The Kowboys were defeated by Class 7A State Champion St. Thomas Aquinas 31-0.
Players To Watch
DB Carols Becker, Sr; RB Laderrien Wilson, Sr.; S Devon Clarke, Sr.; OL Chase Gray, Sr.; DL TJ Kelly, Sr.; RB Nazayah Brown, Sr.; RB Marcus Edwards, Sr.; RB Malcome Davidson, Soph.; DL Jordan Redmond, Soph.; OL Nick Parsons, Jr.; DB Quayvon Brown, Soph.; QB Isaiah Wilson, Sr.
The Outlook
Osceola which is coming off its best season since 2007 finds itself facing some new challenges coming into the 2015 season.
The first challenge, is that Osceola has been moved up to Class 8A which has its own heavyweights in teams like Apopka, Manatee, Columbus and Flanagan. The playoffs route will certainly run through Manatee and Apopka for the Kowobys to have a chance of reaching the state finals again.
The second challenge, will be to replace three starting linebackers including filling the shoes of Riley Nicholson who graduated and accepted a scholarship offer from NC State.
However, not all is lost for Osceola. Actually a lot of good things are still around for the Kowboys.
The offense will be starting off more in front of the defense for a variety of reasons. One big reasons is that running back Laderrien Wilson is back for his senior season. Wilson last year torched defenses with 1,897 yards rushing and scoring 28 touchdowns for the Kowboys. Helping to create holes for him to run through will be a strong offensive line that returns four of five starters. The line will be lead by linemen Chayse Gray as he will step up in the leadership role after Parker Braun moved with his family out to Texas as his father took on a new coaching opportunity.
Defensively, the Kowboys will have TJ Kelly leading the defensive line while defensive back Carlos Becker and safety Devon Clarke will help anchor the defensive backfield. They will be relied upon to step up to make defensive plays while the linebackers find their grove within the defense.
Overall, it should be another big year for the Kowboys.
The District
The Kowboys move up to Class 8A in the newly created District 8A-7. The district includes crosstown rival Gateway as well as Polk County teams, Ridge Community, Haines City and George Jenkins. The district is very much for the Kowboys to win as they are by far the strongest team of the teams in the district.
Three Games To Watch
Friday 9/18 at Winter Haven – Winter Haven is one of the top teams in Polk County and this game will certainly provide its own tests for Osceola. The Blue Devils have a stellar quarterback leading their team and the Kowboys will need to do everything to stop him from doing damage.
Friday 9/25 vs. Heritage – This game should be a test for the Osceola defense as they go up against a team that returns several 1,000-yard running backs. If the Kowboys are undefeated coming into this game, there is a good change they will likely win this one without much issue, but this game will be worth going to see as a football fan.
Friday 10/16 vs. Gateway – The Kowboys likely face a test here from Gateway. Not only is this a city rivalry, this is a district game for both teams. If Gateway wants to make the district go into a crazy situation, this is the game the will want to win. However, the Kowboys are this point are early favorites as they should be.
Join The Discussion: Sign up for a FREE user account | Discuss on our message boards here
Previous Sunshine State 25 Countdown Stories
No. 11: Columbus
No. 12: Oakleaf
No. 13: Dr. Phillips
No. 14: Manatee
No. 15: Armwood
No. 16: Lakeland
No. 17: Niceville
No. 18: Delray American Heritage
No. 19: Dwyer
No. 20: Wakulla
No. 21: Naples
No. 22: Lake Gibson
No. 23: North Marion
No. 24: Palm Bay Heritage
No. 25: Bishop Moore