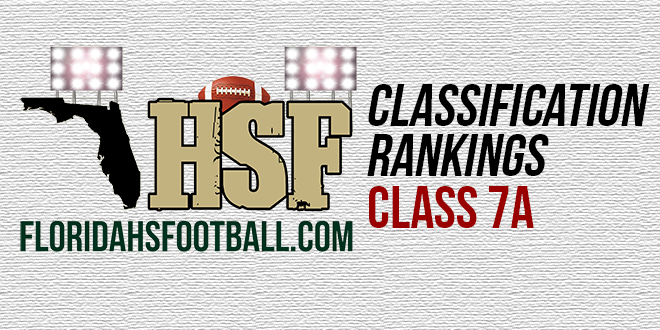 Here are the Class 7A Preseason Rankings from FloridaHSFootball.com.
Class 7A Top 10
1. St. Thomas Aquinas: By fa the best team in Class 7A and is the team to beat this season. With a lot of off season transfers as well as a new coach with St. Thomas Aquinas alum Roger Harriott taking over, this team is easily in the national title hunt for this year. Finished last season as the Class 7A state champions with an overall record of 14-1.
2. Oakleaf: The Knights showed up on the scene last year, finish with a 12-1 record after falling to Niceville in the regional finals. However, every is aware now of what Oakleaf can do and when you literally bring back almost the entire team from last season, plus add in a few key transfers, things point to a deep playoff run.
3. Lakeland: This could be the season where the Dreadnaughts bounce back and be considered a legitimate state title contender. They got quite a bit of talent including several Division I prospects that will lead the way. The only ding is the soft schedule that could hinder them in come the playoffs. Finished last year a 11-1 record.
4. Dwyer: Will return some players from last year team that went 7-3 and just missed out on the playoffs. However, the Panthers picked up transfer Toddy Centeio from Royal Palm Beach who will be the starter and showed a lot of confidence during a spring game win against Vero Beach.
5. Braden River: The Pirates finished their best season in school history last year with a 10-1 record, reaching the regional semifinals. The team is going to pretty strong on both sides of the ball with a lot of the key athletes back for their senior season. Will contend with Palmetto and Venice for the District 7A-11 title.
6. Plant: We once had considered Plant to be a top five team in Class 7A, but after the loss of quarterback Rex Culpepper, the stock in the Panthers took a tumble. The quarterback situation is still needing to be sorted out, but they will need to show some progress even with a daunting schedule ahead to start the season. Finished the 2014 season with a record of 11-2.
7. Venice: You lose a lot, you gain a lot. That is what it is for Venice this season as they have a lot of talent that is in the up-and-coming stages that will help carry the this year. The Indians face a daunting road trip to Texas Week 1 when they take on Stephenville, TX. Will contend with Braden River and Palmetto for the District 7A-11 title this year after finishing 9-2 last season in Class 6A.
8. East Lake: The Eagles about faced disaster as Bob Hudson stepped down during the summer, but the disaster was averted when Hudson came back quickly. Will easily be the favorite in their district after finish with a 13-1 record last year and a second consecutive trip to the Class 7A state semifinals.
9. First Coast: A lot of questions for First Coast this year as they team was hit by graduation losses and a couple of players transferring out of the program during the off season. Schedule will be tough as the Buccaneers move from Class 8A to Class 7A and is in a district that includes Columbia and Fletcher. Buccaneers finished the 2014 season with a 12-1 record.
10. South Fort Myers: The Wolfpack went through a coaching change during the spring for the first time in school history, but going with a coach  that was already in the building has ease the transition considerably. There is not much drop off to be expected and is by far the favorite to win in District 7A-12. Finished last season with a 10-3 record.
Class 7A Regional Rankings Breakdown
Region I
1. Oakleaf
2. First Coast
3. Columbia
4. Lincoln
5. Fletcher
6. Bartram Trail
Region II
1. Lakeland
2. Plant
3. Viera
4. Winter Haven
5. St. Cloud
6. Lake Nona
Region III
1. Braden River
2. Venice
3. East Lake
4. South Fort Myers
5. Countryside
6. Tampa Bay Tech
Region IV
1. St. Thomas Aquinas
2. Dwyer
3. West Boca Raton
4. Royal Palm Beach
5. Miami Springs
6. Mater Academy