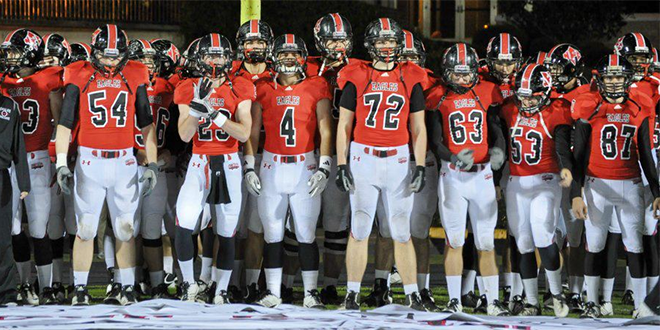 North Florida Christian at Eagle's Landing Christian
When: Friday August 21, 7:30 p.m.
Where: Commitment Field, McDonough, GA
Series: First meeting
2014 Records: North Florida Christian, 7-5; Eagles Landing Christian, 7-7
North Florida Christian Key Players: Avery Thomas (So., QB), Korey Charles (Sr., RB/DB), Tredez Jones (Sr., RB/LB), Ja'varius Harrison (Jr., RB/LB), Terrell Powell (Jr., RB/SS), Lyn Strange (Jr., FS/WR), Michael Scott (Jr., LB), Jayod Sanders (Jr., LB/TE), Marvin Scott (Sr., RB/QB)
Eagle's Landing Key Players: Chase Burdette (Sr., LB), Chandler Reeves (Sr., DE), Donald Hammond III (Sr., QB), Josh Mayes (So., RB), Trevor Gear (Jr., RB), Griffin Alexander (Sr., LB)
About North Florida Christian: The seven time state champs (1996, 1998, 1999, 2000, 2001, 2008, 2011) are in the midst of their second longest stretch of state title droughts. It's been four years since the Eagles brought home a state title, only a seven-year drought from 2001-2008 is the longest streak. Last season, the Eagles were on the verge of possibly ending the streak but fell 54-26 to eventual Class 2A state champion Victory Christian in the state semifinals. North Florida Christian is no stranger to playing against Georgia schools having played both Deerfield-Windsor and Valwood recently, however this will be the first meeting between these two programs. Potential difference makers could be either Thomas (2,004 yards, 17 TDs) or Charles (1,120 yards, 10 TDs, 1,571 all-purpose yards), a Miss State commit, who can burn teams in the backfield or by receiving passes.
About Eagle's Landing Christian: Under Jonathan Gess, the Chargers have been one of the most feared teams in Class 1A going 65-10 from 2008-2013, winning one state championship (2012), advancing to two state semifinals (2011, 2013) and an Elite 8 appearance in 2010. As the old saying goes, it's not how you start it's how you finish, which couldn't be more true for the Chargers; who started the season losing their first six games before turning it around and winning seven in a row to advance to the Class 1A state title where they were blasted 49-7 to Mount Paran Christian in the Georgia Dome. The difference in the season is when they started playing teams their own size and the offense went from 11.3 to 36.3 points per game. Gess hopes the team learned a valuable lesson and gets off to a better start this season.
Outlook: Eagle's Landing was able to get some valuable reps and an idea of what they needed to work on in a 30-16 win over Prince Avenue Christian August 14 in a scrimmage game which will go a long way in their season opener against North Florida Christian this week. While North Florida Christian hasn't played yet, you can expect Robert Craft's team to be fine tuned by the second half.
Prediction: North Florida Christian over Eagles Landing Christian