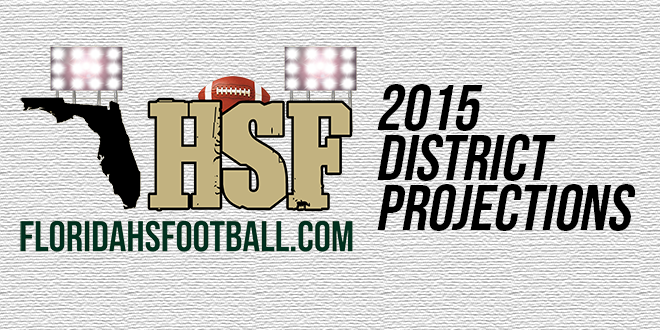 District projections for Class 7A – Region II for the 2015 season.
District 7A-5
1. St. Cloud
2. Lake Nona
3. Harmony
4. East River
5. Liberty (Kisssimmee)
6. Celebration
Comment: There is a good chance with this district that we will see the top four projected teams battle it out. However, St. Cloud has been on an upward climb on improvement and while still having rival Osceola on the schedule, it won't affect them now with district play. Lake Nona will be down this year as a lot of the key players involved in the Lions reaching the playoffs the last couple of years are all gone, but still should be in the hunt for the runner-up spot. Harmony and East River are also solid teams that will push for a playoff spot and if they can the right number against Lake Nona or even against St. Cloud, the playoff race could be very interesting. Liberty and Celebration could find it tough to navigate through the district race this season.
District 7A-6
1. Viera
2. South Fok
3. Melbourne
4. Martin County
Comment: Viera is the most experinenced team of this four team district and the trip to Allen, Texas early in the season should help the Hawks in dealing with the rest of the schedule. South Fork has a new head coach this season, but he is not exactly new as Mike Lavalle takes over from father Dennis. Melbourne also will have a new head coach in Scott Grish, but losing BJ Daniels during the off-season to Melbourne Central Catholic hurts. Martin County will have to be very much improved to be able to contend for a playoff spot this season.
District 7A-7
1. Lakeland
2. Winter Haven
3. Kathleen
4. Bartow
Comment: Look this and you say a four-team district, but this district is a juggernaut when really looking at it. Lakeland is the favorite at this point to win the district, but if the Dreadnaughts want to make sure they actually win it this year, they will need to make sure they secure the win against Winter Haven, who is also looking to be the top team in the district. Kathleen and Bartow will be trying to do everything they can to stop Lakeland and Winter Haven and the tradition each program has will only carry them through out the season.
District 7A-8
1. Plant
2. Sickles
3. Wiregrass Ranch
4. Gaither
5. Freedom (Tampa)
6. Wharton
7. Leto
Comment: Plant is the clear cut favorite of this district despite the loss of their quarterback during the summer. Sickles and Wiregrass Ranch will be two teams to watch for the runner-up spot as both will be competitive teams within the district. However, Gaither and Freedom will also try to have their say in the runner-up race and both could easily do just that. Wharton has been on a decline over the last couple of seasons, while we feel it could be an uphill battle for Leto to achieve any wins within the district.
Projected Regional Quarterfinal Matchups (Round 1)
South Fork (R6) vs. St. Cloud (W5)
Lake Nona (R5) vs.Viera (W6)
Sickles (R8) vs. Lakeland (W7)
Winter Haven (R7) vs. Plant (W8)
Projected Regional Semifinal Matchups (Round 2)
St. Cloud vs. Viera
Lakeland vs. Plant
Projected Regional Final Matchup (Round 3)
Viera vs. Plant
State Semifinalist
Plant