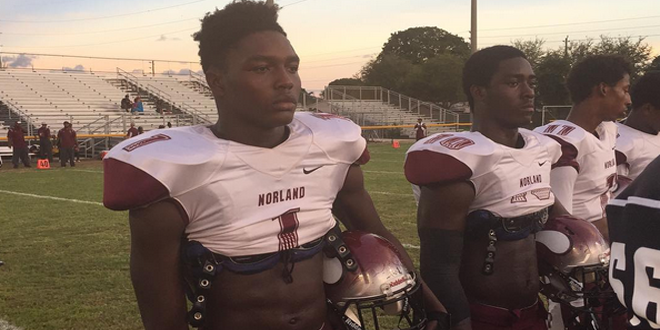 Week three in South Florida High School Football can be described best as a week of missed opportunities for programs aspiring to move to the next level.
Miami Norland, missed out on an excellent opportunity to assert itself as the 'team to beat,' this year in Florida's 6A state classification with a win over 8A South Dade. However, they lost a one point game because they didn't convert a field goal and a penalty negated the go ahead score with under a minute to play.
Miami Northwestern also missed an opportunity to capitalize on its young energy and resurgence as a program looking to return to the glory days of the late 90's and early 2000's, going on the road to face nationally ranked American Heritage. They played well, but also came up short.
Miami Southridge missed an opportunity to upset fellow 8A foe, Columbus. The Spartans were unable to capitalize on coaching changes that had everyone in Spartan country thinking about a state championship. They may still get there, but it will be tough with a three-game stint in consecutive weeks at Booker T. Washington, hosting Carol City and a road game against rival South Dade.
Ouch.
BIG GAME RECAP: Miami Norland's defense had been the talk of South Florida and the talk was merited but unsubstantiated by the opponents to date (Jacksonville Ribault and American).
No more.
South Dade was a legitimate foe to test the mettle of the Vikings vaunted defense.
Led by Emmett Rice, under the direction of Head coach Daryle Heidelburg and defensive coordinator Luther 'Uncle Luke' Campbell, the Vikings defense is as legit as they come. What makes them so effective is how deep they are at key positons, particularly at defensive line and defensive back.
Their biggest strength, however, is obviously at linebacker, where the starting three guys all have Division I scholarship offers.
Coming into the game, South Dade was deemed very good offensively and their massive offensive line was said to be the truest test for this Norland defense to date. Well, the Buccaneers met their match in the Vikings. But still managed to pull off the victory, mostly due to their excellent play in the second half.
On the game's opening series, Viking DB Bryon Brown intercepted a South Dade pass to get Norland the ball. That forced turnover immediately led to points for Norland as senior RB Chavis Wright scored on the ground taking advantage of great field position. The extra point try was unsuccessful and the score 6-0 early in the first quarter.
What followed was a punt on every series of the first half for South Dade as the Norland defense asserted itself.
However, the Vikings failed to capitalize because of penalties and special team miscues.
Enter the third quarter.
South Dade made noticeable adjustments on the offensive line at half time. Head coach Nate Hudson's unit came out more cohesive and energized to begin the second half.
The Bucs immediately began to move the ball with ease breaking a 50 yard run and then connecting on two deep passes. However, they were unable to get into the end zone.
"We dominated most of the second half. One thing we showed tonight is resilience," said Hudson reflecting back after the nail-biting game.
"We knew we were going to be challenged…we grew up tonight."
The maturity he spoke of was his team's unwillingness to allow Norland to close the door, even after struggling so much on offense because of Norland's defensive dominance.
The Norland offensive line, however, began to wear down in the second half. The runs from Wright and his back mates were far less effective. That lead to the Viking defense growing weary from extended drives.
South Dade seemed to be renewed and picked up momentum. So late in the fourth quarter, the Bucs caught a tipped pass by Viking defender Emmett Rice and wide out Darnell Durham jogged in for a score. After converting the extra point try, the score was now 7-6 with just three minutes remaining in the game.
Norland responded immediately and moved the ball down field. Senior QB Rod Robinson connected with senior wide out Jordan Robinson on a fourth and long pass that kept their comeback hopes alive. Later that drive, Robinson would hit his wide out Robinson again for what looked to be the go ahead score with under 30-seconds left in the game.
But after the Norland bench erupted in celebration, they would calm down to learn the play was being called back because of an 'ineligible man downfield' penalty.
On the next pass play, Robinson threw an interception picked off by South Dade's James Wiggins.
"I told him, hey you owe us one," said Hudson of Wiggins.
"That's what we expect from a division one player," the head coach said of his University of Miami commit.
Norland is left only to think about what could have been. And the road only gets tougher with Miami Central waiting this weekend in a big district 6A match up that will determine a lot about who is truly a state-championship caliber team. Norland certainly has the defensive credentials, can their offense catch up? Only time will tell.
QUICK HITTERS
Miami Central has made a QB switch and it has led to two consecutive blow out wins. The latest was this past week against Jacksonville First Coast. Out is senior Jerrod Thomas and in is sophomore TiJuane Morten. There is reason to be optimistic about the sophomore but let's see how he performs against a real defense.
Dwyer is still rolling and they continue to pose the biggest threat to St. Thomas Aquinas in their quest for a state title.
St. Thomas Aquinas, for their part, made quick work of a rebuilding Plantation team this week and look ahead to Cypress Bay in another game where they will be heavy favorites. They won't appear to get their first real test until September 25th at Hallandale, the budding Broward County power loaded with Division I talent. Then things get interesting with a road tests at Deerfield after a bye and a home date with Ft. Lauderdale. Closing out the season with another stiff road test at Blanche Ely and the home finale against nationally ranked Pembroke Pines Flanagan.
American Heritage-Plantation held back Northwestern and now look to a tough two game slate with Coconut Creek and Norland.
Carol City continues its strong statements behind freshman RB Nayquan Wright who rushed for over 230 yards against Lakeland. Keep an eye on them this week on the road against a much improved Hialeah-Miami Lakes team. Most of the kids are neighbors and a rivalry game could be brewing if HML can begin to compete.
Booker T. Washington lost a tough game against Miami Jackson dropping them from most polls and rankings, they are now settled in however, with freshman Daniel Richardson as their starter at QB. Keep an eye on Edison in this district, expect them to be a stiffer test than they've been in pervious years.
American Heritage (Delray) got back on track after losing to Bergen Catholic in New Jersey, coming home to down Glades Central.
SMALL SCHOOL LOVE: Keep an eye on North Broward Prep and standout WR C.J. Riley. They are 2-1 and looking to give Archbishop McCarthy all they can handle in their Gulf Coast Football Conference.