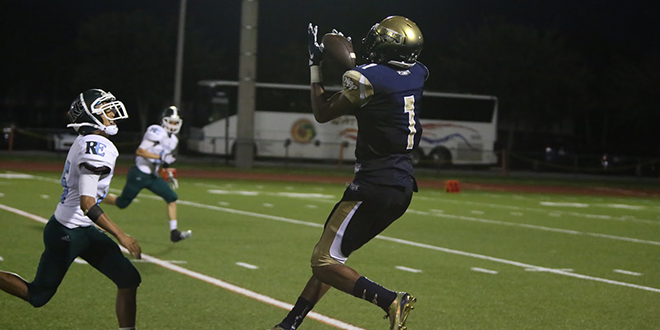 1,724 yards, 26 touchdowns, 75 catches, 19 D-1 scholarship offers, one wide receiver from North Broward Prep. That would be C.J. Riley, possibly the best wide receiver that the school has ever seen. Riley may have just finished his North Broward playing career, but his football career may be just beginning. Riley will be going to play division one football, and has the ability and skill to make the NFL.
"I'm just trying to be one of the best receivers in the nation," Riley said. "I think the only way to do that is when you step on the field you can't hold back anything. You have to dominate your opponent at all times to be the best."
For opposing defenses, Riley's presence is dominating. His 6'4," 180-pound stature gives opposing defensive backs nightmares, forcing major mismatches in the secondary. Out of Riley's 24 receiving touchdowns, at least ten of them were corner fades into the end-zone, in which Riley snatched the ball from the defender—the slang term of what "mossing," someone is, has turned into "Riley-ing," someone at North Broward.
Riley has also shown breakaway speed after the catch, making even tougher to stop him. If teams decide to play man-to-man with their top cornerback—as Archbishop McCarthy did with sophomore Logan Giordano—Riley usually makes them pay by catching short screen passes, and taking them a long way (usually to the house). Here's an example of one on a 67-yard touchdown against McCarthy.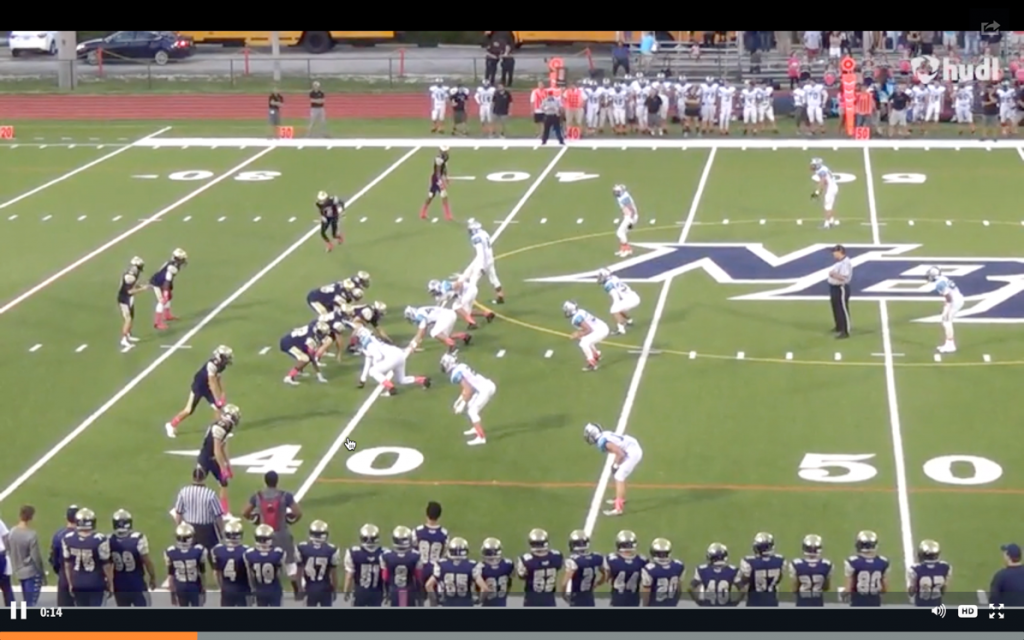 As the video shows, Riley's first pivot and fake is so deadly, he's already past the first defender—which would be the cornerback he's matched up with. After he breaks free, his speed is simply too much for the defense to catch up to, and before you know it: oom, pay-dirt. But what happens when you double Riley? Well, he'll beat you over the top.
Here is an example when Saint Andrew's tried to double Riley, and he clearly made them pay:
In this case, Saint Andrews tries to make it seem like they're sending single coverage on Riley, but they clearly have a safety lined up to double if the Eagles pass. North Broward does pass, and the safety comes over to double. However, the fade pass is into the corner of the end-zone, which allows Riley to use his massive wingspan to reach his arms out away from the two Scots' defenders. But most impressively, Riley is able to haul in the pass, while also placing his feet in bounds with outstanding footwork for the touchdown. Even in a double where he doesn't get over the top, Riley finds a way to win.
And as for putting your best cornerback against Riley and playing a one-on-one matchup, well that's when Riley will just moss you. There's simply no cornerbacks even near his size, and he just overmatches them on a jump ball.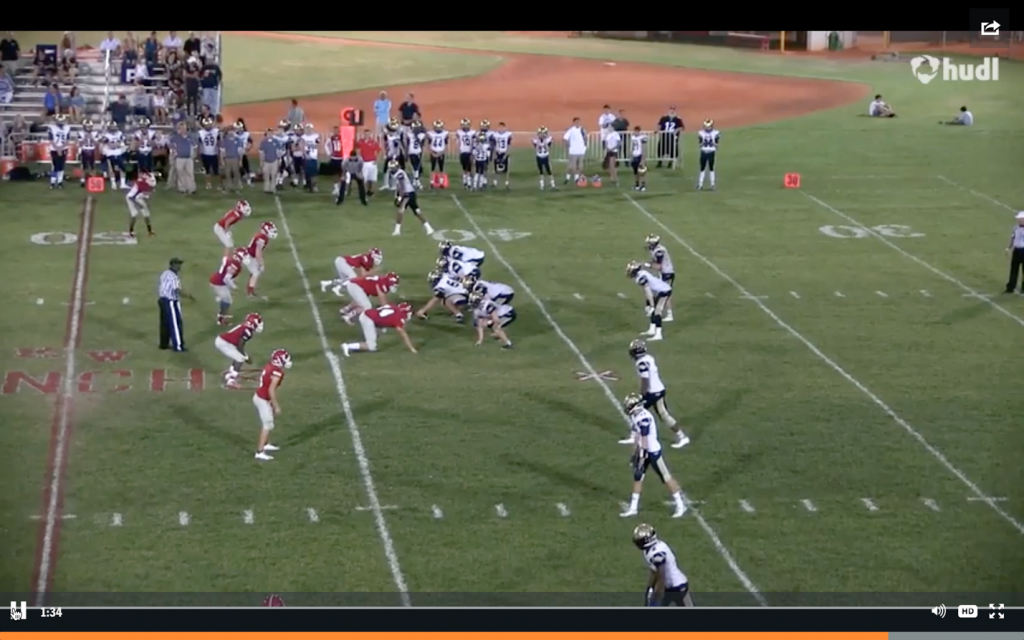 Here's an example against Key West, as they placed their top corner on Riley
As the video shows, the throw from quarterback David Vozzola isn't even right on the money, but as long as he gives Riley a chance, he comes through. Right from the start, it's obvious that the Conchs' cornerback is fearful of the one-on-one coverage. Then, Riley and him are close during the post route, but the throw is a little short. Even so, Riley stops, jumps over the top of the defender, and makes the catch. His height enables him to reach over the corner with ease, and his power forces the cornerback to fall after the collision, and Riley cruises for six points.
Beastly, right? That's C.J. Riley. If the quarterback just gives him a chance to make the play, he'll make it.
Perhaps what is most impressive about Riley is not his outstanding catches, or lightning-quick speed, or even his dirty footwork. Instead, it's his team-oriented attitude and well being that has colleges drooling over him.
In a lot of cases, star players on teams are the ones to sacrifice the least. They'll only play offense, they want the ball in their hands at all times (if not they complain), and during the off-season they don't attend nearly as many team workouts or practices as the rest of the team. In essence, they're selfish. And there's nothing the coaches do about it because it's their star player.
The case is the exact opposite for C.J. Riley.
On North Broward—a smaller sized team—Riley not only plays both sides of the ball, but he plays with as much intensity on defense as he does on offense. Also, he's the team kick returner. And in 2015 alone, Riley returned two kickoffs for touchdowns, including one against GCFC champions Archbishop McCarthy. Riley also attended almost every off-season workout, and some players noted that Riley has the best attendance at practices or workouts among the team. He's also a captain of North Broward, and represented the team during every game this season, and most games last year by being one of the four players to walk out to midfield for the coin toss.
"I came to North Broward only wanting to play receiver, but when I got here coach Nottage told me that he needed me to play defense too," Riley said about his team oriented attitude, "At first I wasn't too sure about playing defense but the team needed me to do it so I had to step up to the plate."
Riley gives his all to this North Broward team 100% of the time, and is extremely hard working, and sacrificing. At one point during his junior year, Riley offered to punt for North Broward after their punter cramped up during a game. Riley's great character brings out the best of him, and his outstanding drive for greatness had led him on a path that could only lead to success.
C.J. Riley will prepare to graduate in May, but his future is brighter than ever. Not only will he go on to play D-1 football, but Riley has the skill-set, tenacity, and poise to make it to the NFL. Although rated as just a three-star athlete on Yahoo!, there's no doubt that Riley is a five-star—any college coach would love to have him.
"Having an opportunity to play on TV and in front of thousands of people," Riley said he was most excited for playing in college.
Remember the name: C.J. Riley. You'll be hearing it on Sundays in just a few years.