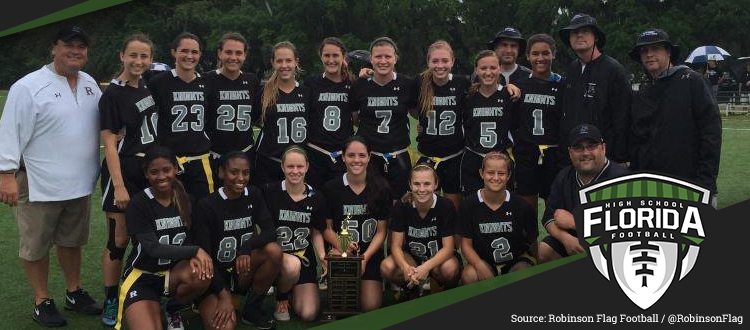 After a week of where most teams were off for spring break, a few things still held true to where we have ranked teams so far this season – those that have had long-term success continue to win – while a couple of others who might have been there are now on the outside looking in. As such Robinson continues to dominated the top of the Class 1A rankings while, FAMU which has been traditionally a strong team has exited the poll altogether and in enters a rival of theirs in the name of the Godby Cougars. Checkout this week's Class 1A Girls Flag Football rankings below.
1. Robinson (3-0)
Last Week: No. 1
Why: Steamrolled through two opponents last week with shutout wins over Blake (41-0) and Brooks-DeBartolo (58-0). They will have two more district games this week against Leto and Hillsborough which should be sure wins, but will finally get a good challenge this coming weekend at the Capital City Classic in Tallahassee.
2. Fort Pierce Westwood (4-0)
Last Week: No. 2
Why: The Lady Panthers get back to work this week after being off for spring break and will take on South Fork and district rival Pahokee this week in hopes to keep the winning streak going.
3. St. Petersburg Northeast (3-0)
Last Week: No. 3
Why: Spring break is over and the Lady Vikings get back to work this week as they take on 2A St. Petersburg and as well as play Seminole Osceola in a cross subdistrict contest.

4. Seabreeze (4-0)
Last Week: No. 4
Why: The Lady Sandcrabs will take on Spruce Creek Tuesday night before take on 1A No. 10 Mainland on April 5th.
5. Orange Park (2-0)
Last Week: No. 5
Why: The Lady Raiders will finally retake the field this week for the first time since Week 2 as they host Baldwin in a key District 1A-4 contest before heading to Tallahassee on Friday to compete in the Capital City Classic.
6. Monsignor Pace (5-0)
Last Week: No. 6
Why: The Lady Spartans get back to the grid this week when the host Miami Carol City in a key District 1A-14 matchup.
7. Harmony (2-0)
Last Week: No. 8
Why: Took care of business by defeating Kissimmee Gateway 28-6 last week and will take on Edgewater and East River in two key District 1A-10 contests this week.
8. Glades Central (4-0)
Last Week: No. 9
Why: Getting back to work and keeping things on task will be the key goal for the Lady Raiders this week as they come off spring break as they travel to Wellington and Lake Placid this week, the latter a District 1A-11 contest.
9. Godby (3-0)
Last Week: HM
Why: The Lady Cougars got back to work and did so nicely shutting out East Gadsden (41-0) while taking out previously ranked FAMU (38-6) in a key subdistrict contest.
10. Mainland (4-0)
Last Week: No. 10
Why: The Lady Buccaneers will host Flagler Palm Coast and Matanzas this week as the return from spring, the latter game being a District 1A-9 contest.
Dropped Out: No. 7 FAMU (1-2)
Honorable Mention
Not listed in any order
Armwood, 2-0; Boca Ciega, 4-0; Chiles, 2-0; Choctawhatchee, 1-0; Coconut Creek, 4-0; Dunedin, 4-0; Englewood, 2-0; Lincoln, 2-1; Miami Edison, 3-0; Miami Jackson, 3-1; New Smyrna Beach, 2-1; Niceville, 0-1; Oxbridge Academy, 2-1; Paxon, 2-0; Seminole Osceola, 3-1; Spoto, 3-0; Stranahan, 3-0; Suncoast, 3-1; Terry Parker, 3-0; West Port, 3-0