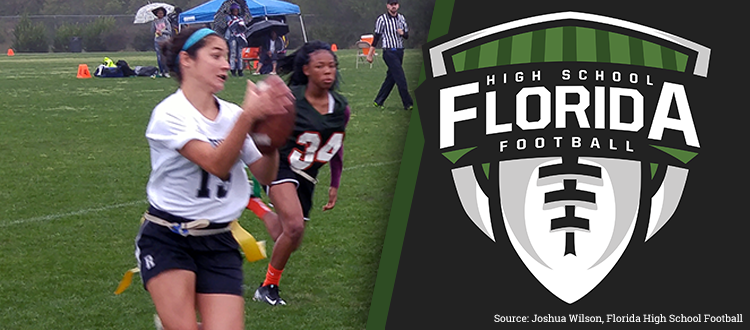 With a week of up and down surprises and a lot of surprises, the Class 1A Flag Football Top 10 rankings saw some major shifts in the rankings. However, the Robinson Lady Knights keep a hold of the top spot after going 2-0 on the week. Mainland makes the big jump after shutting out arch-rival and No. 4 Seabreeze.
1. Robinson (9-1)
Last Week: No. 1
Why: Solidified top spot with 19-13 win over 2A No. 3 Plant and 50-0 win over Chamberlain. Hosts Spoto today in only game of the week.
2. Fort Pierce Westwood (7-0)
Last Week: No. 2
Why: Easy wins over Lake Placid 34-0 and previously undefeated Glades Central 26-7 keeps Westwood undefeated and in the second spot and should lock up the top seed for the district tournament by the end of the week. Will take on Martin County and Okeechobee this week to wrap up the regular season schedule.
3. Monsignor Pace (8-0)
Last Week: No. 5
Why: Went 3-0 last week taking out Hialeah Educational 54-0, Keys Gate Charter 45-0 and previously ranked 2A Everglades 20-6 to stay undefeated on the season. Should clinch the top spot in the district fully as they play Miami Carol City later in the week.
4. Mainland (9-0)
Last Week: No. 9
Why: A dominating win over arch-rival and previously No. 4 Seabreeze 18-0 was enough to jump the Lady Buccaneers five spots in the rankings all the way up to No. 4 now. Mainland went 3-0 during the week with wins also over Flagler Palm Coast 18-0 and Port Orange Atlantic 27-0, Bucs have now posted shut outs in 7 of their 9 games, allowing only 13 points.
5. Choctawatchee (8-0)
Last Week: HM
Why: Following up their performance at the Capital City Classic the previous weekend before, Choctaw dominated Crestview in pair of wins this week, shutting them 19-0 and 25-0 and finally moving the Lady Indians into the rankings for the first time this season.
6. Godby (6-2)
Last Week: HM
Why: The Lady Cougars bounced back last week after a dismal performance at the Capital City Classic to remain right in the hunt to make it to the district tournament by knocking down a previously undefeated Chiles team, 15-7, and notching a subdistrict win over Rickards (48-0).
7. Chiles (6-1)
Last Week: HM
Why: Although the Lady Timberwolves did go 2-1 with a pair of games last week, they shocked the state with a 28-0 win over previously No. 3 Lincoln who had done excedingly well just a couple of days before at the Capital City Classic in starting the week. The followed things up with a close 15-7 loss to Godby and 26-0 win over Crestview.
8. Coconut Creek (5-0)
Last Week: 10
Why: The Lady Cougars crack the Top 10 for the first time this season last week and have proven so far they can play as they keep playing tough defense on teams giving up just under 6 points per game on average with two shutouts coming the process including one against Pompano Beach (49-0) last week.
9. Seabreeze (6-1)
Last Week: No. 10
Why: The Lady Sandcrabs took a hard fall last week losing to a Mainland team that now jump them in the rankings and taken the hope of having the top seed in the district tournament away. However, they did bounce back with a 20-0 win over Deltona and will have games against DeLand and Warner Christian this week.
10. Spoto (7-0)
Last Week: HM
Why: Lot of teams fell but Spoto remains undefeated and moves up after wins over Brandon 20-7 and King 28-0. We will know just how good Spoto is today when they travel to No. 1 Robinson.
Dropped Out: No. 3 Lincoln (6-3), No. 6 Orange Park (5-2), No. 7 Harmony (6-1), No. 8 Glades Central (7-1)
Honorable Mention
Not listed in any order
Baldwin, 4-2; Boca Ciega, 7-0; Brandon, 5-1; Brooks-DeDartolo, 5-1; Clay, 3-1; Dillard 6-0; Dunedin, 5-1; Englewood, 6-1; Glades Central, 7-1; Harmony, 6-1; Jones, 2-0; Keystone Hights, 5-1; Lincoln, 5-3; Miami Edison, 6-0; Ocala Vanguard, 5-3; Orange Park, 5-2; Oxbridge Academy 5-2; Paxon, 4-1; Pembroke Pines Charter, 5-2; Seminole Osceola, 6-1; St. Petersburg Northeast, 4-2; Stranahan, 5-1; Suncoast, 7-2; Tarpon Springs, 5-2, Terry Parker, 6-0, Westside, 5-1, West Port, 8-1