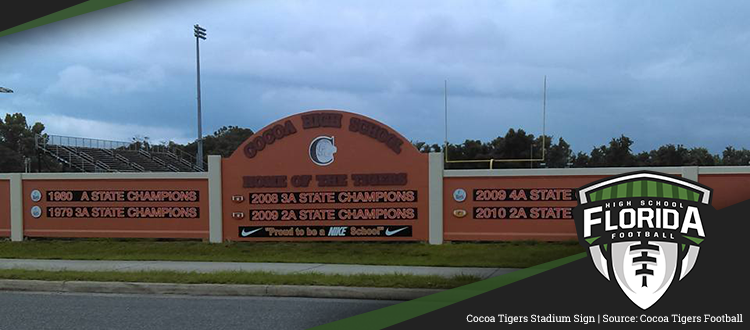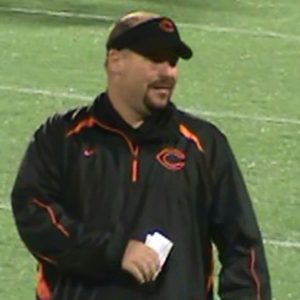 COCOA TIGERS
Head Coach: John Wilkinson
District: 4A-5
2015 Record: 10-3
Offensive Formation: Multiple
Defensive Formation: Multiple
RETURNING ATHLETES
Name, Height, Weight, Year, Info & 2015 Stats in parenthesis
• QB Bruce Judson, 5-10, 200, Sr. (7,000 total yards, 100 TD through junior season)
• RB Timmy Pratt, 5-10, 185, Sr. (1,607 rushing yards, 15 TD)
• LB Jekevius Henry, 6-1, 180, Sr. (111 tackles, 4 sacks)
• DE Howard Stewart, 6-0, 220, Jr. (68 tackles, 6 sacks)
• LB Zach Beagle, 6-0, 210, Jr. (119 tackles, 1 INT)
• LB John Smith, 6-0, 185, Jr. (105 tackles, 3 sacks, 1 INT)
• OL Naceiya Gilmore, 5-10, 265, Sr. (3 year starter)
• DL JD Lennear, 6-0, 225, Sr. (35 tackles, 3 sacks)
• C Josh Padrick, 6-0, 270, Jr. (2 year starter)
• WR Juwan Armstrong, 5-9, 170, Sr. (13 catches, 215 yards, 4 TD)
• WR Javon Spencer, 5-8, 165, Sr. (9 catches, 169 yards, 1 TD)
NEWCOMERS ON THE FIELD
Name, Height, Weight, Year, Info & 2015 Stats in parenthesis
• RB Javian Hawkins, 5-9, 165, Jr. (1,105 rushing yards, 14 TD; Astronaut transfer)
• DT Ian Newton, 6-1, 300, Sr. (29 tackles, 2 sacks; Heritage transfer)
• RB Lasedrick King, 5-7, 180, Sr. (1,060 rushing yards, 11 TD; Heritage transfer)
• DE CJ Bartley, 6-2, 175, Sr. (77 tackles, 3 sacks; Heritage transfer)
• DB Dezmon Morgan, 6-3, 190, Sr. (28 tackles, 2 INT, Melbourne transfer)
• DB Josh Ramirez, 5-10, 145, Sr. (19 tackles, 3 INT; Heritage transfer)
• QB Brad Canarie, 6-2, 185, Sr. (465 passing yards, 3 TD; Astronaut transfer)
2016 SCHEDULE
* – denotes district game
• Aug. 28 vs. Trinity Christian (Jacksonville), 2
• Sept. 2 at Bishop Gorman, Nev., 7 MT
• Sept. 9 TBA
• Sept. 16 vs. Lake Highland Prep, 7pm*
• Sept. 23 at Viera, 7pm
• Sept. 30 TBA
• Oct. 7 vs. Mainland, 7pm
• Oct. 14 vs. Jones, 7pm*
• Oct. 21st at Astronaut, 7pm*
• Oct. 28th at Atlantic (Port Orange), 7pm*
• Nov. 4th vs. Rockledge, 7pm
STORYLINES TO FOLLOW
Exceptional Experience: The Cocoa Tigers have eight offensive starters returning and nine returning starters on defense. Senior quarterback Bruce Judson and company will have plenty of firepower on offense and defensively, seniors Jekevius Henry and JD Lennear must step up. 13 seniors and another five juniors, the Tigers' core group is full of talent and experience; something that is key when facing off against teams like Bishop Gorman, Nev. and Viera. Under head coach, John Wilkinson the Tigers are 121-24 and have reached the Class 4A state semifinals for the past five years. Looking to get back to the state championship game for the first time since 2010, senior experience will lead the way for this 2016 team.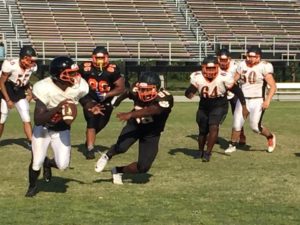 Super Schedule: To start things off, the Tigers host Trinity Christian (Jacksonville) a team that is fresh off a Class 3A state title over American Heritage (Delray). The following week, Cocoa heads out west to face powerhouse Bishop Gorman in Las Vegas, Nevada. Bishop Gorman finished last season ranked 1st in the state of Nevada and 7th in the nation. That's only the first two weeks. During this tough schedule, the Tigers will be tested each week. They have two holes to fill in the schedule (weeks three and six) and yet despite this, it is not an easy road for head coach John Wilkinson. So far they already have four teams that reached FHSAA regional finals or further; a Class 3A state champion, a 7A runner-up and of course Bishop Gorman who dominated Nevada. This tough schedule will test Cocoa early and often.
Talented Transfers: The Tigers have seven transfer athletes, four of which are from Heritage (Palm Bay). With two additions in the backfield in Javian Hawkins (Astronaut transfer) and Lasedrick King (Heritage transfer), Cocoa's rushing attack will be fun to watch and difficult to stop. Last year's team averaged 344.2 rushing yards per game so expect that number to jump with Hawkins and King joining Timmy Pratt on offense.  6'3 defensive back Dezmon Morgan (Astronaut transfer) joins 5'10 defensive back Josh Ramirez (Melbourne transfer) to add height and speed to the Cocoa defense. Will the transfers hurt team chemistry? Possibly, but they surely add more talent to this already strong Cocoa team.
KEY NON-DISTRICT GAME TO WATCH
Sept. 2 at Bishop Gorman, Nev. – The Tigers are used to traveling around the nation for games. Last season, Cocoa traveled to Ohio to face St. Edward High School, a team that finished number one in the state after an OHSA Division 1 Title and ranked 6th in the nation. Bishop Gorman is entering this season 3rd on MaxPrep's Xcellent 25 rankings. This game is something to keep your eye on as it is a true test against a top nationally ranked opponent for the Tigers. Did I forget to mention: it's going to be 104 degrees in Vegas and drop down to the 70s at night. I'm no weatherman, but expect the dry heat to have an effect on Cocoa when they face Bishop Gorman.
KEY DISTRICT GAME TO WATCH
Oct. 21 at Astronaut – In case you completely breezed through the newcomers to watch section of this preview, do me a favor and look again. Notice anything? Out of the seven transfers, two are from Astronaut. Running back Javian Hawkins and quarterback Brad Canarie will be facing off against their old team on the road in an important district game. Last year this game determined who was district champion as Cocoa won at home. 49-7.
THE OUTLOOK
This spring, the Tigers had an inner team scrimmage instead of a regular spring game. However, we can expect similar results from last season despite little information from the spring. Year in and year out, the Cocoa Tigers have been one of the better teams in the state of Florida. A difficult schedule indeed, the Tigers have a lot to prove on the field. However, they have defensively struggled against elite competition. Last year they surrendered 131 points in three losses to IMG Academy, St. Edward, Ohio and Booker T. Washington. For the Tigers to reach the semifinals, they must tighten up on defense.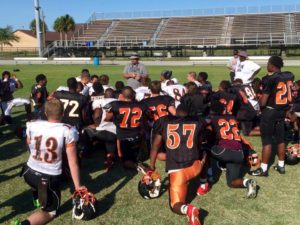 For the past five season, Booker T. Washington has booted Cocoa out of the playoffs and have put them out of the state semifinals. If Tigers meet the Tornadoes for the sixth straight year in the Class 4A Regional Final, quarterback Bruce Judson will have to have the game of his life. In last year's 33-14 loss, Judson threw two interceptions and Timmy Pratt was held to 52 rushing yards. Judson, Pratt and wide receivers Juwan Armstrong and Javon Spencer must step up in the playoffs if the Tigers have any sort of state title aspirations.
Armstrong and Spencer will be the top targets for Judson and they must deliver when the ball is thrown their way. A week one matchup against Class 3A Champs Trinity Christian is a perfect opportunity for the two wide receivers to show off their talent and to prove themselves. Week two is the ultimate road test for the Tigers. Traveling to Nevada to face a top national team in Bishop Gorman, the Tigers' defense will have to pull an upset out west. Anything can happen in the wild wild west.
For the past five years, Cocoa has been 8 quarters away from a state title. Head coach John Wilkinson knows how to win and there's a reason he schedules teams like Viera and Mainland in addition to Bishop Gorman and Trinity Christian. It will be no easy task but this can be the year for the Tigers. Expect Cocoa to breeze their way into the state playoffs in hopes of finally winning a state title. The combination of a very difficult schedule, a smart head coach, and senior leadership should be enough for the Tigers to capture their second football championship in school history and first since 2008.