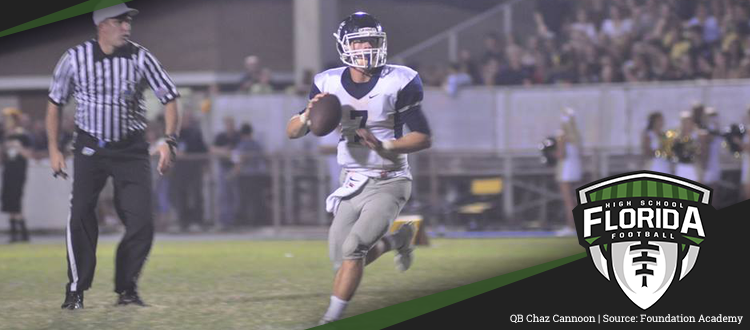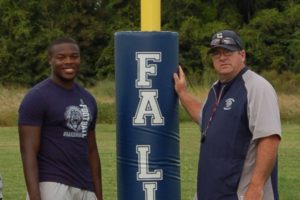 FOUNDATION ACADEMY LIONS
Head Coach: Brad Lord
District: 2A-4
2015 Record: 8-4
Offensive Formation: Wing-T
Defensive Formation: N/A
RETURNING ATHLETES
Name, Height, Weight, Year, Info & 2015 Stats in parenthesis
• RB Jaquane Patterson, 5-10, 185, Sr. (552 rushing yds on 55 carries, 5 TDs; Offers from Indiana State and University of New Hampshire; All-District player, 2nd Team FHSF Class 2A All-State Team Elite Team, FACA team)
• CB/WB/RB Lance Axson, 5-11, 175, Jr. (2 INTs, 90 IR yds, 2 TD IR; 45 tackles, 1 sack, 2 CF
All-District player, 3rd team FHSF Class 2A All-State Team Elite Team)
• CB/SS/ATH Lester Axson, 6-3, 185, Sr. (4 INTs, 170 IR yds, 28 tackles, 11 passes deflected; Offers from University of Connecticut, Furman, and James Madison; All-District Player, FACA Team, 2nd FHSF Class 2A All-State Team Elite Team)
• QB Elijah Stimmell, 6-3, 190, So. (483 passing yds, 4 TDs, 15 rushing yds)
• QB/FS Cory Rahman, 6-3, 180, Sr. (32 tackles, 3 INTs; 7 rushing yds)
• RB/DB Anthony Recchia, 5-9, 160, Sr. (16 tackles, 2 sacks; 92 rushing yards on 7 carries)
• DL/FB/OL Dillon Hall, 5-9, 205, Sr. (39 tackles 5 sacks; All-District Player)
• OLB/SS/WR Evan Thompson, 5-11, 200, Sr. (87 rushing yds on 20 carries, 5 TDs; 161 receiving yards, 7 catches; 76 tackles, 4 sacks, 76 KO yds, 1 CF; All-District Player, FHSF Class 2A All-State Team Elite Team, FACA Team; Offer from Florida Tech)
• OLB/FB/TE Kyle Krueger, 6-0, 190, Sr. (65 tackles, 5 sacks, 3 INTs, 33 INT yds, All-District Player)
• K/P Brandon Barnes, 5-9, 160, Sr. (37 KOs, 1,542 KO yds; 5 P, 145 P Yds, 1 in the 20; 33-35 PAT, 2nd Team FHSF Class 2A All-State Team Elite Team, All-District Kicker
• FS/P Chaz Cannon, 6-1, 176, Sr. (20 tackles, 1 INT, 10 KO, 390 KO yds, 9 P, 392 P yds, 4 P in the 20; average 43 Yds per punt, longest P 60 yds; All-District Punter)
• OL/DL Sydal Barton, 6-2, 333, Sr. (24 Pnk Blks, 35 tackles, 1 sack, 2 Fmb Rec, 1 TD FR; 2nd Team FHSF Class 2A All-State Team Elite Team, FACA Team, All-District Player)
NEWCOMERS ON THE FIELD
Name, Height, Weight, Year, Addition Info in parenthesis
• FB/DE Warren Sapp Jr., 5-11, 190, So.
• ATH/S Austin Mathis, 5-10, Jr. Transfer
• WR/S Luke Chase, So.
• DE/OL Gian Reyes, 6-2, 195, So.
2016 SCHEDULE
* – denotes district game
• Aug. 26 at West Orange, 7
• Sept. 2 vs. The First Academy (Orlando), 7
• Sept. 9 at Carrollwood Day (at Skyway – Tampa), 7
• Sept. 16 at Northside Christian, 7
• Sept. 23 vs. St. Petersburg Catholic, 7
• Sept. 30 vs. Cornerstone Charter, 7*
• Oct. 7 at Jordan Christian Prep, 7
• Oct. 14 at Victory Christian, 7*
• Oct. 21 at Harvest Community, 7
• Oct. 28 vs. West Oaks Academy, 7
Nov. 4 BYE WEEK
STORYLINES TO FOLLOW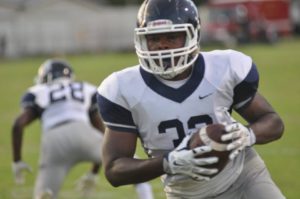 Can the Lions repeat as district champions?: Last season, it came down to a 34-28 overtime win over Victory Christian Academy for Foundation Academy to claim its first district title in school history. This year, the Lions will have to dig deep and follow the senior leadership of running back Jaquane Patterson and cornerback Lester Axson. After changing the offense after week four last season to a Wing-T concept, Foundation Academy rushed for 2,400 in only eight games. This year, look for Patterson and company to add to those numbers. District 2A-4 has four teams and expect Foundation and Victory Christian Academy to compete for the title just like last season.
Will the offensive line deliver?: According to coach Brad Lord, the strength of the Lion offense is their offensive line. Led by three 2015 All-District players Sydal Barton, Jordan Boast, and Eddie Loss, the o-line is big, strong and moves well. With big time depth and two physical tight ends in Kyle Krueger and Kenny Ames, while Jaquane Patterson should have no problem running up the gut of any defense. As long as the offensive line stays disciplined and healthy, coach Brad Lord shouldn't have to worry. However, if the Lions are plagued by injuries, it could mean trouble for quarterbacks Elijah Stimmell and Cory Rahman.
Kicking and screaming?: It's hard to find a kicker in high school who is consistent and has a booming leg. Well no need to go searching for coach Brad Lord; he has two. The Lions return All-District kicker Brandon Barnes and All-District Punter Chaz Cannon. Barnes was 33-35 on PATs last season and Cannon averaged 43 yards a punt landing four punts inside the 20. Barnes finished 63rd in the state according to MaxPreps for most PATs made. Cannon and Barnes are a kicking duo that will cause problems for the defense on special teams.
KEY NON-DISTRICT GAME TO WATCH
• Sept. 2 vs. The First Academy (Orlando) – When these two teams faced off last year in week two, the Lions traveled to The First Academy and came home with a 28-14 loss. Jacob Murphy and Gabe Walker, now graduates of Foundation, were the ones doing the scoring while on defense, the Lions gave up three touchdowns and 157 rushing yards to Daquan Newkirk, a now graduate of the First Academy. All of that is set in stone. This season, the Lions are hosting the Royals seeking for revenge. For coach Brad Lord this game is an early test to see just how serious the Lions are about making a deep run in the playoffs.
KEY DISTRICT GAME TO WATCH
• Oct. 14 at Victory Christian – As we mentioned before, last year's district title came down to this one game. Regulation time wasn't enough for the two teams as the Lions escaped at home 34-28. One month later in the 2A Regional Final, Victory Christian edged Foundation, 12-7 to advance to the state semifinals. Clearly there will be little love found between the two sides during this year's matchup. Victory Christian will be hosting, but if senior Jaquane Patterson and head coach Brad Lord mean business, then the Lions can return home lined up for a second-straight District title. This is one of the most important games this season for Foundation Academy and perfect opportunity to make a statement on the field.
AUDIBLE FROM THE COACH
"Our offensive line has really pushed it in the off season. They were outstanding at Down and Dirty camp and we look for that to carry over into the season. If we stay focused and get better each week we should make a run for the district championship." – Head Coach Brad Lord
THE OUTLOOK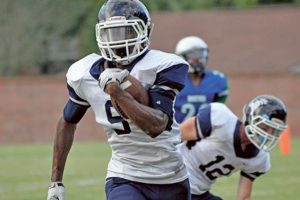 Returning with nine starters on offense and eight on offense, the Foundation Academy Lions have the tools set in place to repeat as District champions for the first time in school history. In its spring game, Foundation Academy defeated Seffner Christian, 48-14, on May 13 at Walker Field. Jaquane Patterson led the Lion rushing attack with two touchdowns and 101 yards. In the second quarter, the Lions broke the game open by scoring 28 points. Defensively, Lester Axson returned an interception for a touchdown during the scoring spree in the 2nd quarter. Warren Sapp Jr. recovered a fumble among several turnovers the Lions forced. If anything was a signal of how this season will go, this surely was a big one for coach Brad Lord.
The Lions can repeat if they play the way they did against Seffner Christian. Replacing senior quarterbacks Jacob Murphy and Deondre Pride will be difficult for the Lions. At the quarterback position, sophomore Elijah Stimmell and senior Cory Rahman will start off sharing duties. Stimmell has big game experience including throwing for 151 yards and a perfect 4-4 last season when the Lions defeated Agape Christian, 35-8. As for Rahman, he is a "very gifted athlete and is a dual threat" according to coach Brad Lord. Behind a strong offensive line with three returning All-District players, as stated above, both Stimmell and Rahman will have a fair amount of time in the pocket to pass.
Expect Foundation Academy to put points on the board in the fall. With a talented backfield led by Jaquane Patterson, the rushing attack is key for offensive success. Patterson will be joined in the backfield by a stable of athletes which includes Lance Axson, Anthony Recchia, Lester Axson, Evan Thompson, Dillon Hall, Cory Rahman, Warren Sapp Jr., and Kyle Krueger. Robert East, Foundation's offensive coordinator has plenty to work with in the fall in hopes of returning to the playoffs.
Last year the Lions claimed the school's first ever football district championship. Under coach Brad Lord, Foundation Academy is 44-38. A roster filled with experience and talent, a strong schedule, luck on their side, the Lions can compete and repeat in the fall. Unless of course Victory Christian and the rest of the District has anything to say about that, the Lions should feel confident about this upcoming season. As coach Brad Lord stated, as long as the team stays disciplined and healthy, Foundation Academy should make a run for the district championship.