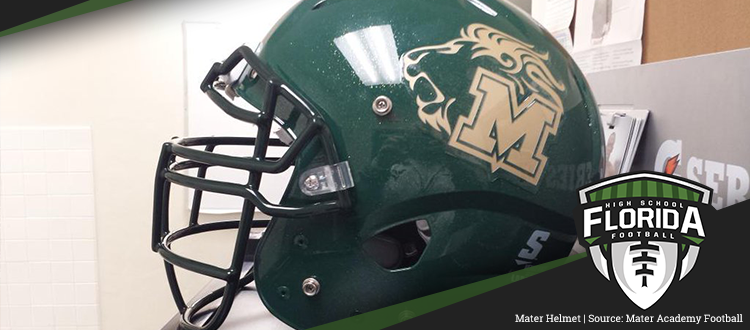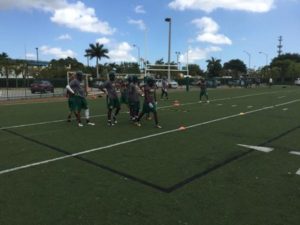 MATER ACADEMY LIONS
Head Coach: Rocco Casullo
District: 7A-4
2015 Record: 11-2
Offensive Formation: Multiple
Defensive Formation: Multiple
RETURNING ATHLETES
• DB Latavious Brini, 6-2, 190, Sr. (55 tackles, 3 forced fumbles, 4 INT, 2 interception return TD)
• RB Daniel Doriscar, 5-8, 185, Sr. (122 carries, 1,128 yds, 17 TDs)
• WR Tyreek Benton, 5-10, 180, Sr.
• DB Darius Nixon, 5-10, 180, Sr.
• FS Nez Dacosta, 5-10, 180, Sr.
• LB Jonathan Francois, 6-1, 225, Sr.
• QB Marlon Serbin, 6-0, 175, Jr.
• DB Rayne Tangea-Doster, 5-11, 175, So.
• SS Devonta Lopez, 5-11, 175, Sr.
• OL Andy Gonzalez, 5-11, 220, Sr.
• OL Claudio Hernandez, 6-3, 250, Sr.
NEWCOMERS ON THE FIELD
• QB Kaywon Hanna, 5-7, 165, Sr. (transfer from North Miami)
• DB Jordan Silva, 6-1, 185, Sr.
• WR Eric Demps, 6-0, 176, Sr. (transfer from Nova)
• CB Terrell Williams, 6-1, 170, Jr.
• OLB Jarell Knight, 6-4, 210, Sr.
• WR Marcus Lodge, 6-3, 175, Jr.
• TE Devon Elam, 6-4, 210, Sr. (transfer from Saint Thomas Aquinas)
• DB AJ Thurston, 5-8, 165, Jr.
• RB Montavious Brini, 6-2, 190, So.
• LB Edwin Sosa, 6-0, 210, Sr.
• DL Daniel Walker, 6-3, 270, Sr. (transfer from Nova)
• OL Frank Melgarejo, 6-0, 210, So. (transfer from Coral Reef)
• WR Travon Roberts, 5-8, 161, Sr. (transfer from Norland)
• WR Lio-undre Gallimore, 5-8, 159, Sr. (transfer from Norland)
• LB/DE Mikel Jones, 6-2, 215, So. (transfer from Champagnat Catholic)
2016 SCHEDULE
• Aug. 26 at Miramar, 7
• Sept. 2 at South Miami, 3:30 (at Tropical)*
• Sept. 10 vs. Reagan, 7 (at Milander)*
• Sept. 17 vs. Mourning, 7 (at Milander)*
• Sept. 23 at Doral Academy, 7*
• Sept. 30 BYE WEEK
• Oct. 8 at Goleman, 7 (at Milander)*
• Oct. 15 vs Miami Springs, 7 (at Milander)*
• Oct. 21 vs. Westland Hialeah, 7:30 (at Milander)*
• Oct. 28 at Miami Sunset, 3:30 (at Tropical)*
• Nov. 4 at Hialeah-Miami Lakes, 7:30 (at Milander)
STORYLINES TO FOLLOW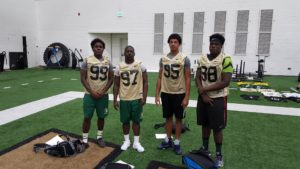 Youth in the backfield: Montavious Brini currently holds 8 Division I offers – heading into his sophomore season. The 6-2 running back is capable of busting his way through the line and is fast enough to outrun defensive backs once in the open field. With Brini in the backfield for the 2016 season, the Lions ground game looks to be in good shape. After dominating their district last season Mater's opponents will throw everything they have at the agile back, in an effort to slow down a prolific Lions' offense. The only question for Brini is how high his ceiling is. And heading into his second year of high school already bigger than several NFL running backs, the future is bright.
Questions behind center: Transfer Kaywon Hanna from North Miami will likely prove to be a heavy asset for the Lions' offense. The athletic quarterback scorched defenses last season on the ground and through the air, but after a losing season with the Pioneers, Hanna is trading in his green and gray uniform for Mater green and gold. But with quarterback Marlon Serbin returning for action, Coach Casullo is faced with a difficult decision. Hanna will be a senior in the fall while Serbin will be entering his junior year, but also has more time at the school. With summer drawing to a close it is likely that Casullo has already picked, or is close to deciding, who will lead the Lions' offense. Whoever it is setting up behind center, they will have an array of tall receivers on the perimeter as well as Montavious Brini teaming up with them in the backfield.
Out for vengeance?: After posting a 46-9 record in four years at the helm of the powerhouse St. Thomas Aquinas, Casullo left Fort Lauderdale for Hialeah Gardens and the Mater Academy Lions. In his first year with Mater, Casullo faced off against his old program in the 7A Regional Finals. With a 60-7 victory over the Lions, the Raiders sent their former coach home. A loss like that is not an easy one to swallow for Mater, and with both programs looking promising in the preseason, it would not be unlikely for them to meet again in the playoffs. Coach Casullo is on the hunt for his third state championship and revenge against his old program while the Raiders look to 'three-peat' as 7A champs could certainly be a storyline that could later this season.
KEY NON-DISTRICT GAME TO WATCH
• Aug. 26 at Miramar – With the limited non-district schedule, it was clear this game would be the non-district game to watch. A win for the Lions over a Miramar program that is considered to be waffling now might not have as a big of an impact as could have had if it was played a year or two earlier. However, it won't take a way from the fact Miramar is a known program and still has some talent that could compete with the Lions and that is why this will be a game to watch to see how Mater gets things going for the season.
KEY DISTRICT GAME TO WATCH
• Oct. 28 vs. Miami Sunset at Tropical – This will be an early afternoon game, but it could also be a potential game that will decide the district as it did last year. Miami Sunset has gone through a coaching change this off-season and the impact of that change are not totally known yet. With that Mater has a solid chance here to win the district outright fully in this game, if they have not done so before getting to this game.
AUDIBLE FROM THE COACH
"We have a lot of experience returning to the team, eight starters on offense and seven on defense," head coach Rocco Casullo said. "We also have a strong mix of newcomers to the program. The team expects to challenge for the district championship and make a deep run into the 7A playoffs. Our strengths are definitely our defense and running game, our quarterback play and kicking will ultimately decide how far we go."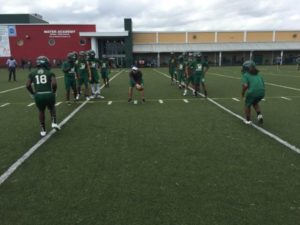 THE OUTLOOK
After reaching the 7A Regional Finals last season and advancing to the playoffs in 2014, anything short of a state finals appearance for the Lions would be a disappointment.
Coach Casullo had led teams to state championships before (twice), and returning more than half of his starters on both sides of the ball, the team looks to be a legitimate title contender in one of the most competitive classifications in the state.
In 2015 Mater Academy boasted the highest scoring offense in the district, scoring 450 points on the year, good for a 32-point average. On the other side of the ball, Georgia commit Latavious Brini leads a defense that held opponents under 10 points six times. But as the season progressed, that stingy defense lost its edge. In the last five games of the year, a defense that gave up an average of 17 points on the year could not hold any opponent under 19 points, and gave up a whopping 60 points in a loss to the eventual 7A champs, St. Thomas Aquinas.
Despite returning eight starters on offense, there are still quarterback questions for Mater. Perhaps the addition of Hanna to the team will prompt both he and Serbin to new heights. Or, as evidenced by several similar situations in the NCAA and NFL, the competition between the two will prove detrimental to the team. As of now, it is still unclear who will be taking snaps come the Aug. 26 kickoff.
Many new faces on Mater this season came to the school via transfers. Quarterback Kaywon Hannah and a trio of receivers in Eric Demps, Travon Roberts and Lio-undre Gillmore will see considerable playing time with a high-powered offense in place. As for the defensive side, Brini will have LB Mikel Jones lining up alongside him, causing havoc for opponents.
After the Lions clashed with the Sunset Knights twice last season, both teams are sure to be looking ahead to their Oct. 28 matchup at Sunset. Sunset won the district outright, going undefeated against district opponents. On the other hand, Mater lost just one game in the regular season, a 24-16 loss at home to the Knights and the Lions were ultimately district runner-ups. Just three weeks later the two teams met again in the play Regional Semifinals. This time Mater got the best of Sunset and advanced to the Regional Finals.
Mater and Sunset will battle it out atop the district this season, battling for seeding in the playoffs which both teams already have their eyes set on. Several teams in the district are losing a considerable number of seniors and the high number of returning starters for Mater will be helpful as they clash with teams full of underclassmen.
Casullo's experience and the Lions' talent on both sides of the ball is enough to lead the team back to the posteason. The real concern is what Mater can do once they get back into the cutthroat 7A playoffs.