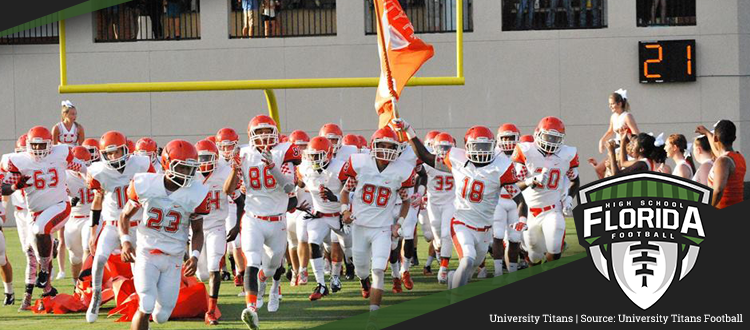 UNIVERSITY TITANS (ORANGE CITY)
Head Coach: Brian Kells
District: 8A-2
2015 Record: 8-2 (on the field record)
Offensive Formation: Wing-T; Multiple Formations
Defensive Formation: 5-3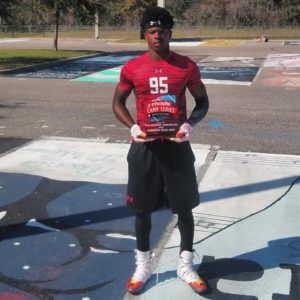 RETURNING ATHLETES
Name, Height, Weight, Year, Info & 2015 Stats in parenthesis
• RB Lorenzo Lingard, 6-1, 190, Jr. (703 rushing yards on 112 attempts, 6.3 YPC, 8 TD; Offers from Florida State, University of Miami, Alabama, Auburn, Clemson, Duke, Florida, Georgia, Georgia Tech, Iowa, Louisville, Nebraska, Notre Dame, Ohio State, Oklahoma, Pitt, South Carolina, Syracuse, Tennessee, USF, Bowling Green, Florida Atlantic, Georgia Southern, Marshall, and Troy)
• RB/DB/WR Lawrence Coleman, 5-10, 5-11, 180, Sr. (1,000 all purpose yards, 5 TD)
• QB Cody Braden, 6-1, 175, Jr. (900 passing yards, 5 TDs)
• LB Cody Collins, 6-0, 205, Sr.
• LB Peyton Henley, 5-10, 190, Sr.
• DL Jacob Paradis, 6-2, 250, Sr.
• DL Trevor Gregory, 6-3, 270, Jr.
• OL Dru Braten, 6-4, 280, Sr.
NEWCOMERS ON THE FIELD
Name, Height, Weight, Year & Addition Info in parenthesis
• RB Marquis Mickens, 5-10, 215, Sr. (1,144 rushing yds, 12 TDs, 154 receiving yards, 1 TD; Offers from Central Michigan, Florida Atlantic, Kentucky, Louisville, Marshall, Memphis, Toledo, Troy and Western Michigan; Transfer from Lake Mary)
• DB/WB Micah Mickens, 5-10, 180, Jr. (Transfer from Lake Mary)
• DB Marlon Harris, 6-1, 195, Jr. (First year starter)
• LB Cody Collins, 6-0 205, Sr. (Transfer from DeLand)
2016 SCHEDULE
* – denotes district game
Aug. 26 vs. Deltona, 7
Sept. 2 at New Smyrna Beach, 7
Sept. 9 at Bishop Moore, 7:30
Sept. 16 at Seminole (Sanford), 7*
Sept. 23 at Lake Brantley, 7*
Sept. 30 at Lyman, 7*
Oct. 7 at Oviedo, 7*
Oct. 14 at Winter Springs, 7*
Oct. 21 at Lake Mary, 7*
Oct. 28 vs. Lincoln, 7
Nov. 4 BYE WEEK
STORYLINES TO FOLLOW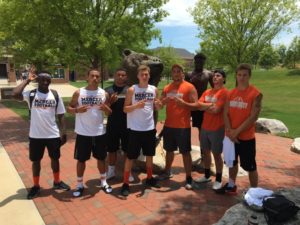 Explosive backfield: Alone, Lorenzo Lingard is enough for any offense to be dangerous when running the ball. The number 2 running back in the Class of 2018 with offers from Florida State, Miami (FL), and Alabama, to name a few, looks to add onto his sophomore year success. Now add transfer, Marquis Mickens from Lake Mary, a 5-10 senior who has offers most notability from Memphis and Kentucky, you have yourselves a back field like none other. I haven't even mentioned senior Lawrence Coleman, an all around pure athlete who had over 1,000 yards of all purpose-yards last season for the Titans. Of course, a nearly unstoppable running game calls for sneaky play action passes from quarterback Cole Braden who threw for 900 yards as a sophomore.
Defensive Blunders: The Titans are taking their biggest hit on the defensive side of the ball. Although the team is returning with 7 starters on defense, University lost five core pieces including second team all-state Qua Brown, a safety and punt returner who is headed to Southern Illinois. In addition to Brown, the Titans lost safety Jimmy Nealy, cornerback Tre Dann and cornerback Lulu Hamilton. Not to mention, all-state honorable mention linebacker Matt Zook graduated and will be attending Warner University in the fall. These are big time losses for a team that started out 5-0 last season. However, there is hope. Micah Mickens, the brother of Marquis, will be joining the defense and Marlon Harris and Devin McGhee return with key experience that will help the young Titans up and coming.
Redemption Year: Any Titan fan knows what happened last season. After earning the school's first playoff berth, the team self-reported an ineligible player on the team and had to forfeit all 10 of it games and missed playing in the postseason. This season is a chance for Coach Kells and company to redeem themselves and possibly make a playoff run. However, before we jump head to November, University must find a way to duplicate or improve upon last season's 8-2 record in a rather tough district.
KEY NON-DISTRICT GAME TO WATCH
• Sept. 9 at Bishop Moore – If the Titans want to make a statement early in the regular season, then this is their opportunity. Fresh off of a Class 5A state championship season, the Bishop Moore Hornets are not a team to be messed with. For University, this is one of the toughest games outside of their district foes. Both teams graduated the majority of their defenses from last season, so this could be a high-scoring matchup. Lorenzo Lingard might run into trouble against Bishop Moore's Notre Dame commit Jonathon MacCollister and Michigan State Commit Donovan Winter, both key defenders for the Hornets. We expect this one to stay close and could possibly end in a University upset over Bishop Moore.
KEY DISTRICT GAME TO WATCH
• Sept. 23 at Lake Brantley – One of two losses last season for the Titans came against Lake Brantley. Heading into last year's game, University was undefeated on a five-game winning streak. Lake Brantley narrowly escaped winning 24-20 and in the end, on top of the district standings. However, the Patriots graduated quarterback Jared Bernhardt who threw for 1 TD, 102 yards on 6/11 passing and rushed for an additional 189 yards. This is a revenge game for Coach Kells and University. Expect these two teams to compete for the district champinoship again, so this could very well determine who finishes on top once again. Now, the Titans must hope history doesn't repeat itself.
AUDIBLE FROM THE COACH
"Last year the kids worked really hard and we had some success, but we're in a pretty tough district, so going 8-2 is not easy," – Head Coach Brian Kells
THE OUTLOOK
As I mentioned above, Lorenzo Lingard is the number two running back in the nation for the class of 2018. With numerous division one offers, Lingard will have to live up to expectations hoping he can finally stay injury free for one full season. The Titans now have two backs that combined for over 2,000 rushing yards and 20 touchdowns in Lingard and transfer Marquis Mickens. The dynamic duo of Mickens and Lingard should put points on the board for Head Coach Brian Kells. Quarterback Cole Braden had a great sophomore year and should have an even better junior season in hoping to lead the team to the playoffs.
In this year's spring game, Mainland defeated University 13-7 after three quarters of varsity play. Mickens debut for the Titans was put on hold due to a mild knee sprain. However, Kells isn't worried and said plainly, "He's got a great future for us, so we wanted to make sure we'd have him ready in the fall," he told the Daytona Beach News-Journal. Wide receiver Lawrence Coleman averaged 8.4 yards per touch and that appears to be promising for the offense. If Coleman can compete at a high level, the Titans offense is one that will be hard to stop when they start scoring. Simply put, the Titans are loaded on offense.
Defensively, University will have work to do. In a rather tough district, role players will have to step up big time. We expect the high-powered offense to carry the young but talented defense for the first few games. Replacing four defensive backs plus all-state linebacker Matt Zook is no small task for coach Kells. DeLand transfer Cody Collins should help along with Peyton Henley who can be an effective linebacker if need be. Micah Mickens joins his brother on the Titans and as we mentioned above, will be a big key in defensive success. Despite losing star players, the experience is still there on both sides of the ball with 15 starters returning.
Last year left a sour taste in the players' mouths of University. For the first time in school history, the Titans had reached the playoffs and were expected to face Mandarin in the regional quarterfinals. Except that matchup never happened and the Titans didn't play in the postseason. That was then and this is now. All you can do is ask yourself: what if?
Well, opportunity is knocking on the front door of coach Brian Kells' office. With one of the best running back tag teams with Lingard and Mickens in the state of Florida, the Titans must prove that they were meant to play in last year's regional quarterfinal. They did, of course, go 8-2 and made the case in court that the ineligible player had little contribution to the team's success. The ineligible player participated in 37 plays out of more that 1,400, but as the school and the team learned, player contribution has no bearing in cases involving ineligibility. Mistakes were made and if the Titans want to play in the postseason and prove that they earned it last season, University must simply unite as one and answer the question "what if?" on the field of play. Expect this year's University's football program to be playing with a new-found passion for proving themselves on and off the field as a successful and disciplined program and one that, if they play their cards right, a postseason team.