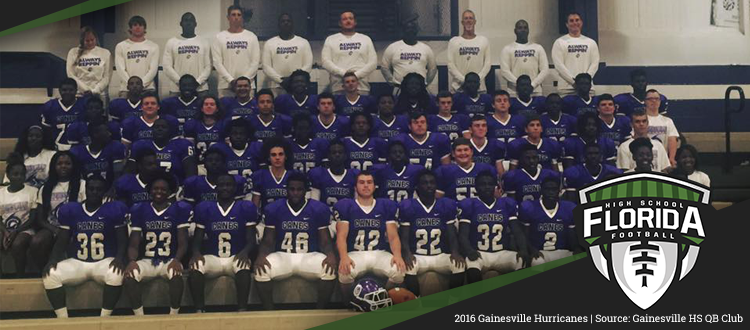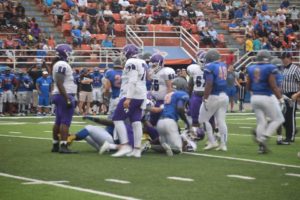 GAINESVILLE HURRICANES
Head Coach: Mark Latsko
District: 6A-5
2015 Record: 8-5
Offensive Formation: Spread/Unbalanced Power I
Defensive Formation: 4-2-5
RETURNING ATHLETES
Name, Height, Weight, Year, Info & 2015 Stats in parenthesis
• OL/DL Deion Webb, 6-3, 315, Sr. (11 tackles, 3 TFL)
• WR Sean Wiggs, 5-10, 165, Sr. (10 rec., 177 yds, 3 TDs)
• WR Tyrik Baker, 5-10, 170, Sr. (12 rec. 146 yds)
• LB Thomas Kemp, 6-1, 190, Sr. (40 tackles, 1 TFL, 1 sack)
• SS Javon Smith, 5-10, 175, Sr. (100 tackles, 6 TFL, 4 sacks, 2 INTs)
• OL/DL Josh Williams, 6-0, 315, Sr.
• OL Cordell Peters, 6-2, 315, Sr.
• LB Ty Boyd, 6-0, 200, Sr.
NEWCOMERS ON THE FIELD
Name, Height, Weight, Year, Additional Info in parenthesis
• QB Luke Matthews, 5-10, 155, So.
• CB Kaijon Scott, 6-3, 165, Sr.
• WR Isaiah Wilson, 6-1, 175, Sr.
• FS Micaiah Lacroix, 6-4, 192, Sr.
• RB Moon Bryan-Mitchell, 5-10, 160, Jr.
• RB Willie McKnight, 5-10, 175, Jr.
• WR Jalen Kelsey, 6-1,, 170, So.
2016 SCHEDULE
* – denotes district game
• Aug 25. vs. Columbia, 7:30
• Sept. 2 at First Coast, 7
• Sept. 9 at Clay, 7
• Sept. 16 vs. Lake Weir, 7:30*
• Sept. 23 vs. North Marion, 7:30
• Sept. 30 vs. Forest, 7:30*
• Oct. 7 at Buchholz, 7:30
• Oct. 14 at Vanguard, 7:30*
• Oct. 21 vs. Leesburg, 7:30*
• Oct. 28 vs. Eastside, 7:30
• BYE WEEK
STORYLINES TO FOLLOW
Rebuild on the way?: From what it looks like, this could certainly be the case for the Hurricanes. When you lose 29 seniors, that will certainly be an issue you can't ignore. However, when you lose 29 seniors and several assistant coaches to crosstown rival Eastside, including Cedderick Daniels who was named to the head coaching position at that school, that can certainly be an issue. The question will be if Gainesville can come through this challenge given the toughness of teams like Vanguard and Forest down in Ocala who will also be in the mix for District 6A-5's two playoff spots.
Hardwood meets gridiron: For the first time in several years, the Hurricanes will be tapping into the hardwood of the Gainesville varsity basketball team to fill in holes at skill position slots. Kaijon Scott, Isaiah Wilson, Micaia Lacroix and Kishon Mayes will all have a spot on the roster for the Hurricanes and it appears they are going to need to contribute quickly to keep things going for the Hurricanes, who did lose a crop of talent from last year's regional finalist team.
That schedule is burning hot..well somewhat hot: Gainesville certainly has one of the state's toughest schedules and will play six teams that reached the playoffs last season, including Eastside who had made it in with just one win. Columbia and North Marion expected to be tough challenges right out of the gate in the first half of the schedule with First Coast looking to possibly rebound in the process as well. District foes Vanguard and Forest will certainly be challenges as well in trying to lock up the two playoffs spots for District 6A-5.
KEY NON-DISTRICT GAME TO WATCH
• Oct. 7 at Buchholz (at Citizens Field) – This is a city rivalry game not to miss. This year will be the 45th meeting of the two teams and according to the Gainesville Sun the last few games have come down to the wire with Buchholz winning last year's contest 32-28 after winning the game in 2014 with a game winning field goal, 23-20. Even if both teams are down when this game comes around, you should expect to see a big turnout that a rivalry game should have.
KEY DISTRICT GAME TO WATCH
• Oct. 14 at Vanguard – This will be a statement game for the Hurricanes. Not only did the Hurricanes fall flat against the Knights last season in the regular season, in part thanks to a few player suspensions, it put the Hurricanes on the road during the playoffs. However, the Hurricanes did get revenge, but with Vanguard bringing a lot of their skill guys back this season, this is a must-win game for the Hurricanes to make a statement to the local area as well as the state.
THE OUTLOOK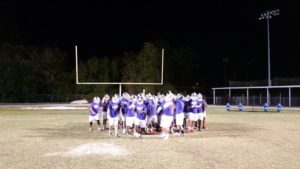 After having some great season over the last seven years, the Hurricanes might be facing their toughest challenge in a long time.
Gone is three-year starter quarterback Caelan Christian, receiver Dock Luckie, offensive lineman Andrew Markham as well as defensive lineman Jordan Giberti just to name a few of the key players lost due to graduation. Christian has a big season last year which he accounted for nearly 3,000 yards of the Hurricanes' offense.
Stepping in under center this year will be Luke Matthews who is the son of former Florida Gator quarterback, Shane Matthews. Matthews who saw limited action last season will certainly have to pick up the speed and tempo of the game to keep the Hurricanes in position to win games. He will also have to do this without some season and well experienced receivers which could make things tough depending on who they are playing.
However, not everything is a total loss cause when it comes to experience as Thomas Kemp and Javon Smith are back in the secondary for the defense. Smith, who had 100 tackles last season from his linebacker spot will certainly be called upon to help be the senior leader the defense will need as they fill in some holes with new and inexperienced athletes.
There might be a little brightness for the Hurricanes as they managed to climb back to a 10-point defeat to West Orange in their spring classic At one point, according to the West Orange Observer the Hurricanes were up 14-0 on West Orange after exploiting the Warriors' young secondary before falling behind 35-14 as the start of the fourth quarter.
Overall, the Hurricanes might have some growing pains this season, but if they can come together and make the correct moves while winning the games they need to, the Hurricanes will certainly back in position to get back into the playoffs come early November.