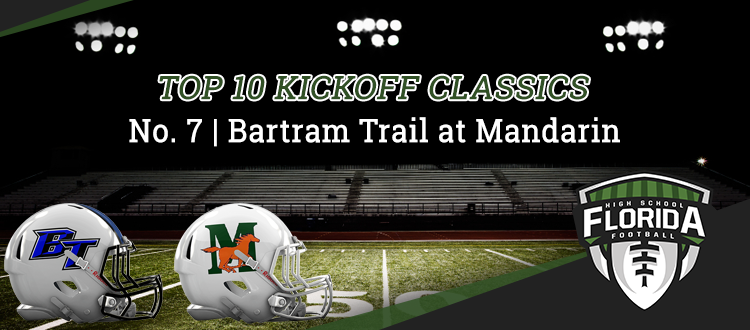 7. Bartram Trail at Mandarin
When: Friday, 7:00 p.m.
Where: The Corral, Jacksonville
Why: There is a lot to love about this kickoff classic as an annual playoff contender in Bartram Trail takes on a team that has been on the rise the last three seasons in Mandarin. Bartram Trail features three quarterbacks on the roster this season, all which could eventually sign Division I scholarships. The Bears defense though has some areas to work upon and how things have progressed with that will be seen in this game. For Mandarin, new head coach Quinn Gray takes over after Brian Braddock, who turned the program around in just three seasons, left for a rare opportunity to coach at his alma mater, St. Augustine. Gray, known by some as a former quarterback of the Jacksonville Jaguars has high expectations for the Mustangs this season. One of those expectations includes keeping the team on track after finishing the best season in school history. That run last year included a trip to the regional finals in Class 8A. What issues need to be worked out between both teams will likely get worked out here before the season openers next week.
Predictions
USA TODAY HSS Score Predictor: Mandarin 35, Bartram Trail 28
Josh's Prediction: Bartram Trail 30, Mandarin 24
Who do you think will win?