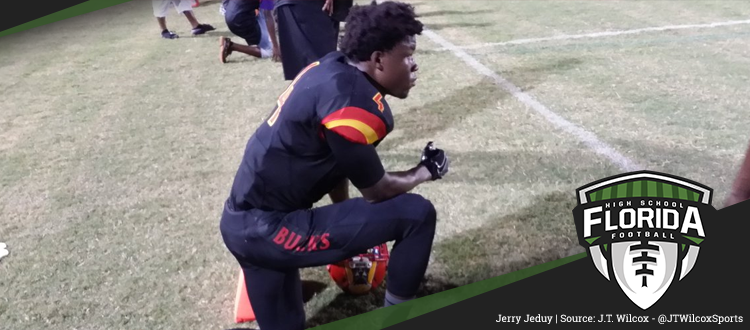 DEERFIELD BEACH, Fla. – The Chaminade-Madonna Lions faced a tough loss on Saturday night as made the trip up to Deerfield Beach to take on the Bucks in a preseason kickoff classic, falling 27-14.
THE BIG PLAYS: The game started off quickly with the Bucks scoring on the third play of the game as receiver Jerry Jeudy hold in a 74-yard touchdown reception for a 7-0 lead.
Chaminade-Madonna, however, responded quickly to Deerfield's touchdown to with Xavier Williams taking in the end zone from 60 yards out to tie the score at 7-7 by the end of the first quarter.
In the second quarter, the Bucks found their stride with QB Nick Holm finding WR Leroy Henley Jr. for the second score of the game while running back Jakari Norwood scoring from 30 yards out to take a 20-7 lead going into the half.
However, Chaminade-Madonna wasn't totally done with their night as they got things going a little bit more comfortably in the second half to close the gap with a 75-yard touchdown run from RB Shaun Shivers.
In the end, though, Deerfield Beach put the final nail in the coffin of a comeback for the Lions as Jeudy found the end zone again for a 70-yard touchdown pass from Holm to take a 27-14 lead to end the game.
STAR OF THE GAME: Jerry Jeudy was the ultimate start of the game for Deerfield Beach. The highly recruited receiver had two touchdown receptions on the night including a 70-yard touchdown reception that sealed the win up for the Bucks.
QUOTABLE: "Today's game was a great match-up between two great football teams. I know some people look at the score people understand that it's a great game. Coach Jones and I are great friends as well as the rest of their staff. I know once they get and put their fingerprints on that program they are gonna make big noise this year and I know I'm going to be a big fan of theirs and routing on them through the season." – Deerfield Beach Coach Jevon Glenn
VIDEO: Courtsey of South Florida High School Sports.
WHAT'S NEXT: Chaminade-Madonna will have next week off before returning to the gridiron at home against North Miami Beach on Fri. Sept 2 with kickoff at 4:00 p.m. ET. Deerfield Beach will open up the season next week at home against Hallandale with kickoff slated for 7:00 p.m. ET.