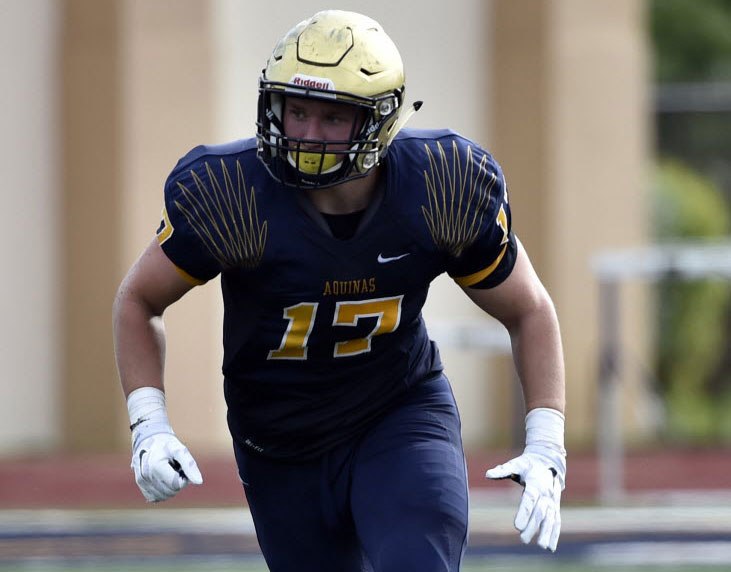 FloridaHSFootball.com is a partner of USA TODAY High School Sports
Thanks to Hurricane Matthew, St. Thomas Aquinas had two weeks to think about its triple-overtime loss at national No. 1 Bishop Gorman. The Raiders made poor Fort Lauderdale pay on Friday for the wait, 42-8 in a District 7A-14 tilt.
Kyshaun Bryan put the Raiders on the board in the first quarter with a 12-yard run. Aquinas quarterback Jake Allen made it 14-0 when he connected on a 20-yard pass play to wide receiver Joshua Palmer.
RELATED: For more high school sports news and scores, visit USA TODAY High School Sports
Defensive lineman Tyler Dunning recovered a fumble and rumbled 65 yards to put the Raiders up 21-0 early in the second quarter. Michael Epstein made it 28-0 on a 40-yard run and just moments later, sophomore running back Daniel Carter ran it in from the 48 to make it 35-0. Late in the first half, Allen was already resting on the bench and backup quarterback Beau Fillichio threw a 25-yard touchdown pass to Tavares Kelly to put the Raiders up 42-0.
Fort Lauderdale's lone score came in the fourth quarter on a 10-yard run by Alonzo Clark.
With the win, Aquinas leads the series 12-4-1. The Flying L's, who dropped to 3-3, (1-1 in district), will play McArthur on Friday. The Raiders (4-2, 1-0 in district) will play Boyd Anderson on Friday.
Follow USA TODAY High School Sports on Twitter at @USATODAYhss