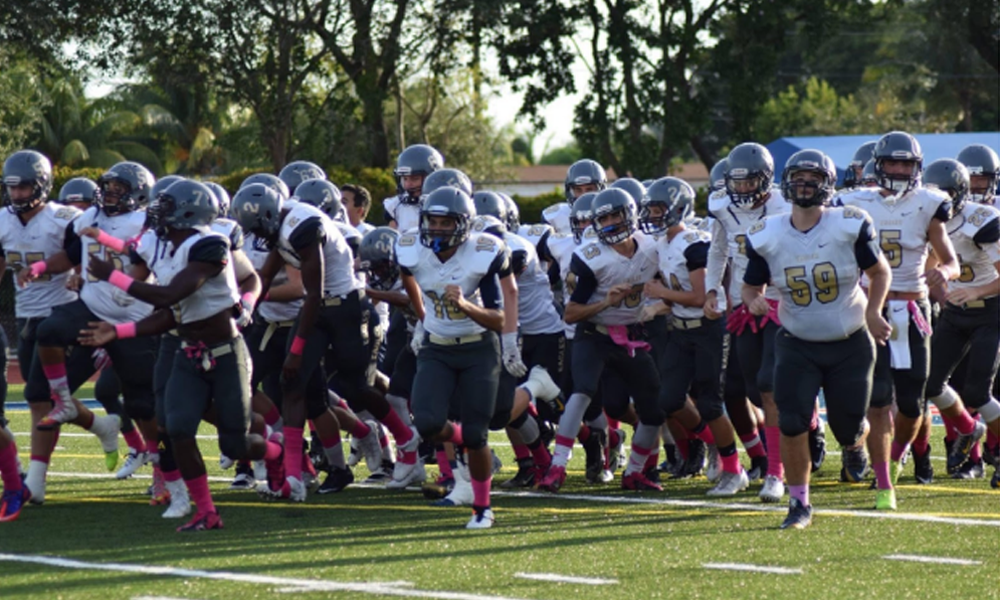 North Broward Prep (6-1, 6-1) at Coral Glades (2-5, 2-4)
When: Thursday, October 20th, 7:00 P.M.
Where: Coral Springs Sportsplex
North Broward Prep will seek to avoid an Archbishop McCarthy hangover on Thursday night as the Eagles visit Coral Glades High School to take on the Jaguars in a road conference showdown. Thursday marks the second time North Broward travels to Coral Glades this year, as Coral Springs Charter's home field is also there. The Eagles won that game against the Panthers, 33-0.
North Broward and Coral Glades have met in each of the last two seasons with the Eagles coming out on top 54-0 and 35-12, respectively.
North Broward Prep
WHAT TO KNOW: Eagles' starting quarterback Logan Shooster is out for at least this week and is expected to be the rest of the regular season after suffering a hand – his throwing hand – injury in last week's loss to Archbishop McCarthy. Sophomore quarterback Christian Paillet will make his first career start. Paillet threw two interceptions in just five pass attempts in relief of Shooster, but did have an 80-yard touchdown pass to Kevin Austin late in the fourth quarter and should be able to perform better with a full week of practice to prepare.
Along with Shooster, North Broward is pretty banged up entering a short week with a game Thursday. 6'3" Defense end and tight end Kenny Henningsen and bruising linebacker and fullback Dorian Coles' statuses are uncertain at the moment with injuries.
OFFENSE: It will be interesting to see the changes head coach Rex Nottage and offensive coordinator Derrick Mays make on offense with the injury to Shooster. Presumably, Paillet will start at quarterback, but the Eagles could also use the wildcat formation with four-star receiver Kevin Austin and star senior running back Dymitri McKenzie, which worked effectively last week. One aspect is for sure: There will be a lot of rushes, as the Eagles are averaging 226.3 yards per game on the ground. A lot of credit can be given to the offensive line that has had an excellent season, led by senior center Justin Bentayou, senior Hunter Greggs, Kallen Jennings, and a younger group of guards and tackles.
DEFENSE: North Broward's defense will look to rebound after being on a bit of a skid the last few weeks. After letting up just 32 points through their first four games, the Eagles have omitted 28, 28, and 29 points the last three games. Defensive Coordinator Akeem Cedeño will also have a thin secondary with Shooster out at cornerback, but Anthony Gomez returns after a one-game absence and sophomore Justin Dolles looked sharp in the start last week. Aside from a few big runs last week, the North Broward run defense has been sharp highlighted by a strong defensive line with seniors Kallen Jennings, Henningsen, and Ivan Bronnikov. Against teams under .500, the North Broward defense has let up an average of just 11.8 points per contest.
GAME OUTLOOK: Simply put – even with injuries – the Eagles are a much better team than Coral Glades and should walk with a win if they don't make mistakes to hurt them. The Jaguars have a strong return game on kickoffs, so North Broward's kickoff game will need to be ready this week to not let the Jaguars return any kicks or have favorable field position. I believe we will see a lot of wildcat offense Thursday, which should be beneficial with the lack of size or talent on the Coral Glades' defense to match the Eagles' offensive line or talent level of Austin or McKenzie. Expect Mays and Nottage to look to pound the ball with the young Paillet not looking sharp last Friday. Defensively, the Eagles should look to pressure junior quarterback Cameron Brooks and have sharp play against the Jaguars' passing game, the main source of their offense.
Coral Glades
WHAT TO KNOW: The Jaguars are a team in transition. In their second year under head coach Chris Baldwin, Coral Glades has made impressive strides and improved, but are still long ways away from being a conference contender. The Jaguars are nursing a five-game losing streak after winning their first two against Inlet Grove and Pembroke Pines Charter.
OFFENSE: The Jaguars throw the ball a lot, and don't run much. Coral Glades relies on junior quarterback Cameron Brooks, who has thrown for 707 yards and six touchdowns this season, although also throwing five picks. Coral Glades has rushed for just 327 yards on the year, led by senior running back Dion Gonzalez-Laporte. Coral Glades is averaging just over 21 points per game, 106.9 passing yards per game, and 49.6 rushing yards per contest.
DEFENSE: Defensively, Coral Glades has not been great. Against a Coral Springs Charter team that had been averaging just over 10 points per game, the Jaguars allowed 24 points, and have given up 42 points to Calvary Christian, 35 to Archbishop McCarthy, and 24 to Pompano Beach. Coral Springs Charter running back Michael Carrion rushed for 149 yards on just 18 carries against the Jaguars last week, which should mean good news for McKenzie, Austin, and Dorian Cole carrying the ball.
GAME OUTLOOK: A miracle will need to happen for Coral Glades to pull off an upset over one of the top two teams in the Gold Coast Conference, North Broward, but it's a little likelier than before with Shooster out and the other injuries the Eagles are dealing with. Coral Glades' defense will need to stack the box against the run and not let McKenzie beat them, if Paillet is in, pressure him and force him to make the throws to win. North Broward shouldn't put up the same amount of points it would if Shooster was in, so take advantage of that. Coral Glades should try to exploit an area of weakness for North Broward – special teams, and offensively hope Cameron Brooks is on his game at quarterback. Gomez should be lockdown at corner, and Justin Dolles played well last week, but trying to run slant routes and pick up yardage may be the way to go for Coral Glades. Forcing the Eagles to make mistakes is the best – if any – shot for the Jaguars to pull off an upset at home Thursday.
In the end, although the Eagles won't score as much because Shooster is out, which will force North Broward to stick to the run game and use up a lot of the clock, I expect a dominant defensive effort from the Eagles Thursday.
PREDICTION: North Broward Prep 24, Coral Glades 3.