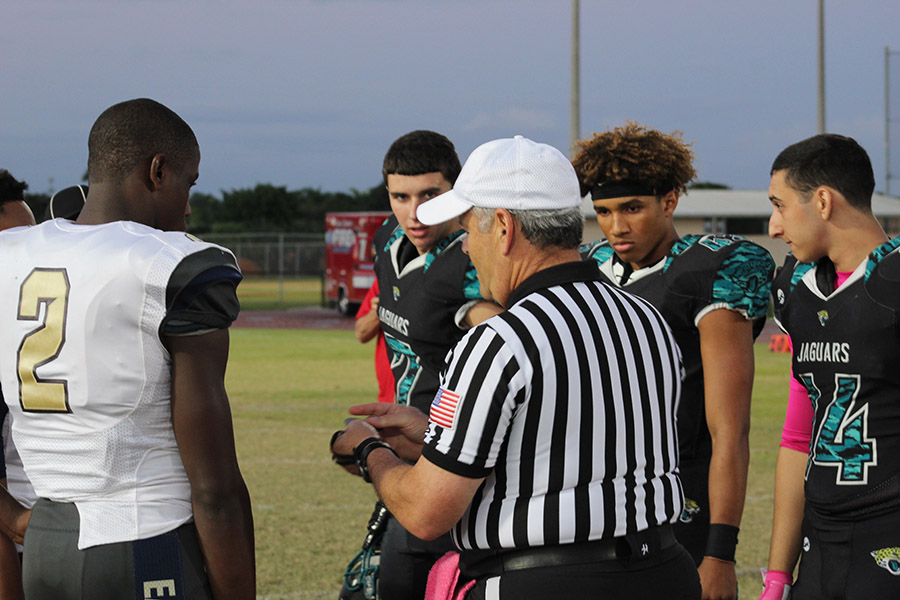 CORAL SPRINGS, Fla. – Phew.
After being favored by 33 on the road, injury-plagued North Broward Prep squeaked away with a 27-7 conference win over Coral Glades on Thursday night.
The Eagles – playing without starting quarterback Logan Shooster and star running back Dymitri McKenzie had just five touches the entire game, all in the second half – scored with under 10 seconds left in the first half when sophomore backup quarterback Christian Paillet hit four-star receiver Kevin Austin for a 21-yard touchdown to give North Broward (7-1) a 7-0 lead heading into the half.
"We were flat," North Broward Prep head coach Rex Nottage said after the game. "I was hoping last week's loss would motivate these guys but unfortunately our success in the past against [Coral Glades] made us complacent. But hats off to [Coral Glades], they're much improved, and they gave us a real challenge tonight."
Up 13-0 late in the third quarter, North Broward linebacker Kirby Burns stripped Jaguars' wide receiver Donovan Samuels and recovered the ball at the Coral Glades' 40. Four plays later, Paillet hit tight end Kenny Henningsen for a 22-yard touchdown, which stretched the North Broward lead to 20-0.
Coral Glades (2-6) missed two field goals in the first half, one from 30 yards out, and the other from 37.
Despite pitiful offensive play from North Broward, their defense was dominant. Akeem Cedeno's group forced two turnovers and held Coral Glades to just a touchdown, which was a 60-yard screen pass from Cameron Brooks to Dion Gonzalez-Laporte early in the third quarter.
The Eagles' defense has held opponents to just 9.8 points per game on the road this season.
"We saw a lot of things that we saw on film and were prepared for, and the guys just went out there and executed," North Broward Prep Defensive Coordinator Akeem Cedeno said after the game. "It was tough to give up that one touchdown but I think everything was kind of as we saw it, and we just went out and stuck to our game plan and did our job."
Austin, who has multiple Division I offers including Notre Dame and Michigan State among many others, made a ridiculous touchdown catch over a Jaguars' defender to put North Broward up 27-7 on Coral Glades late into the second half.
Austin had three out of the four Eagles' touchdowns, each a catch from Paillet.
"I don't think Kevin played his best game tonight, but just the playmaking ability he has really helped us tonight," Nottage said. "We're thankful to have him on our team."
Paillet finished the game strong in the second half with three touchdown passes after going just 3-for-13 in the first half. Paillet seemed to grow more confidence as the game went on, his second half play was a big reason for North Broward pulling away with the win. He finished with four touchdowns and no interceptions.
"He settled down a lot," Nottage said of Paillet. "We have to give a little more time in the pocket, but his first half stats compared to his second half stats are a major difference, so that was a huge confidence builder for him."
The Coral Glades' defense did their part throughout the night, holding the Eagles to what was tied for their lowest scoring total of the season, forcing a turnover, and holding North Broward's prolific offense to seven points at the half, and rushing attack to under 100 yards and no touchdowns.
Questionably, Coral Glades strayed away from their passing game with junior quarterback Cameron Brooks, and elected to rely on their rushing attack, which was shut down the whole way; the Jaguars rushed for under 30 yards.
Coral Glades will try to snap a six game losing streak as they travel to Westminster Academy next Friday, while North Broward Prep will host Calvary Christian next Friday in a big conference showdown.