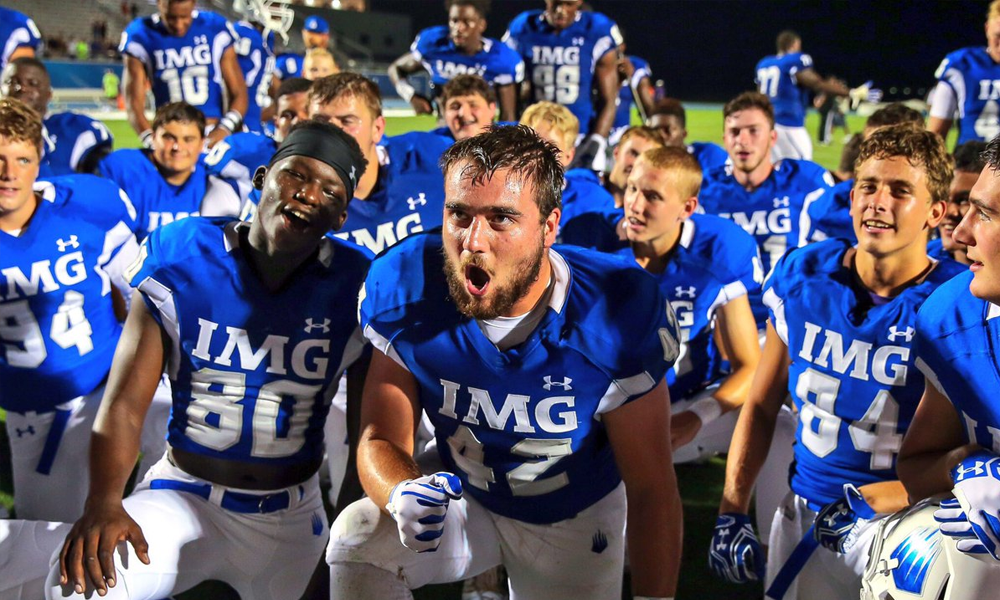 FloridaHSFootball.com is a partner of USA TODAY High School Sports
Jacksonville Trinity Christian Academy was giving IMG Academy fits when the Conquerors were run over by a Tank.
Tank, the nickname for Georgia commit Robert Beal — the No. 3 defensive end in 247Sports.com's rankings — stepped in front of TCA quarterback DJ Matthews' pass and ran it back 21 yards to put IMG up by two touchdowns in a nationally televised 34-21 victory on Friday.
It was also another huge game for IMG quarterback and Texas A&M commit Kellen Mond, who ran for three second-half touchdowns and had a first-half touchdown pass. Mond has run for 11 touchdowns this season, five shy of the school record of 16 set by current Alabama running back Bo Scarbrough during the IMG's first season in 2013.
The Conquerors stayed in the game until late, thanks to two second-half touchdown catches by Shaun Wade, considered one of the nation's top defensive back recruits and an Ohio State commit.
Wade connected with Matthews for a 37-yard pass play to cut IMG's lead to 20-14 with 6:02 left in the third quarter. After back-to-back touchdown runs by Mond of 15 and 29 yards, Legend Brumbaugh connected on a 30-yard touchdown pass to Wade.
RELATED: For more high school sports news and scores, visit USA TODAY High School Sports
Mond ran it in from the 7-yard line to put IMG up 13-7 early in the third quarter. The drive was extended by a fake punt by IMG and a fortuitous 37-yard pass play from Mond to Brian Hightower that went in and out of the hands of Trinity defensive back Tyreke Johnson.
Conquerors running back Rasheed Martin scored on a pitchout from the IMG 12-yard line to put Trinity Christian up 7-0 with 2:32 to go in the first quarter. An IMG punt forced the Conquerors to start at their own 1, but Matthews marched the team 99 yards in 13 plays.
The Ascenders came back a minute later on a leaping 24-yard touchdown catch by Jhamon Ausbon off a pass by Mond. Trinity Christian blocked the extra point, however. That's was all the scoring for the first half as Trinity outrushed IMG 115 to 23 and the Conquerors' talented defensive backfield held Mond to 94 yards passing.
It was IMG's 25th consecutive win.
It was the third meeting between the schools. IMG defeated the Conquerors 28-7 in 2014. Trinity Christian defeated the Ascenders 27-24 in 2013.
The Ascenders (7-0) play Friday at Long Beach Poly (Long Beach, Calif.). The Conquerors (5-3), who have won three consecutive 3A state titles, play Friday at the Episcopal.
Follow USA TODAY High School Sports on Twitter at @USATODAYhss